When celery is real cheap, I buy several bunches to use when the price goes too high or I need some and don't have any fresh.
After washing the celery and letting it dry, I remove all the leaves. I put them, whole, on baking sheets lined with paper towels. I warm the oven on the lowest setting for about 8 minutes, then turn it off and put the baking sheets in. The oven isn't warm enough to harm the paper towels, but will help dry the leaves out. I rewarm the oven and stir the leaves around every few hours until the leaves are completely dry and brittle. I crumble them up and put them in jars.
They come in real handy when I want celery flavor without celery pieces in things like gravy, sauces and dips, and for making my own salt-free herb blends.
I slice the celery stalks up, blanch them 3 minutes, and let them drain. When they are dry, I freeze them in 1 cup portions in freezer bags.
By Copasetic 1 from North Royalton, OH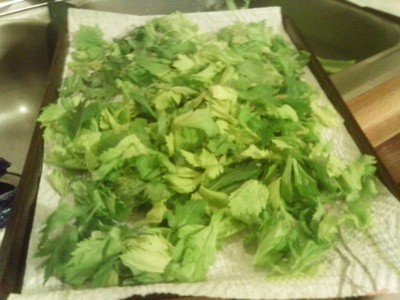 February 15, 2011
0

found this helpful
I've often dried the celery leaves when there are lots of them on a bunch, but have never tried freezing celery at all other than in soups or stews.
We rarely see much inflation in the price of celery here in Florida as it grows so well here up around Sanford, and it's also very easy to grow in pots. But in areas where you have long hard winters, I can certainly see the advantage of buying and preserving one way or another in preparation for the seasonal higher prices.
I've found that the celery leaves I dry here at home are very aromatic and have much more flavor than any I've ever purchased dried, so a little goes a long way. Good cornbread dressing or stuffing just can't be made without celery, fresh or dried.
Thanks for the freezing tips Copasetic 1. I may try that one day myself and will gladly pass the information along.
Thumbs Up.
Pookarina
February 15, 2011
0

found this helpful
I had never thought about drying them myself. Thanks for that tip.
September 9, 2012
0

found this helpful
You do not have to blanch the celery before you freeze it. I have frozen celery for years and never blanched it.
September 9, 2012
0

found this helpful
Can't believe I never thought of this! Great idea! Sometimes I will use celery seeds instead of celery but some people are turned off by something that looks like "little bugs"..LOL..I will definitely try this now. Thanks!
Instead of throwing away your leafy celery tops, make your own dry celery flakes to use for flavoring in cooking anything from soups to stuffing to omelets by drying and storing them. All you have to do is place on a baking sheet in your oven at 200 degrees F for a half hour to 45 minutes.

They also freeze very well. ;-)

By Deeli from Richland, WA
Answers:
Dry Your Own Celery Leaves
Back in the 1940's, my mother would put the celery leaves into a brown paper bag. Then she would hang the bag in the pantry to dry. Once dried, they were stored in air tight containers. This can be done with many herbs, mints, etc. (08/31/2009)

Dry Your Own Celery Leaves
What a great idea! I am going to try this right away!
Thanks, (01/27/2010)

May 20, 2016
0

found this helpful
See posts of using microwave to dry. I do this. There is a UTube video that shows this. Within a few minutes, you can have your batches ready for storage. Better color and flavor are retained.