Solutions
Share a solution for this guide today!
Questions
Do you have a question related to this page?
Photos
Here are photos related to this page. Rate the photos that you like the best.
Click here
share a photo.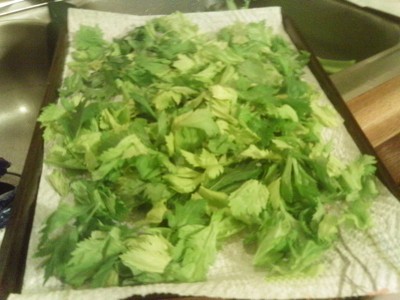 When celery is real cheap, I buy several bunches to use when the price goes too high or I need some and don't have any fresh. After washing the celery and letting it dry, I remove all the leaves. I put them, whole, on baking sheets lined with paper towels.
READ MORE
Archives
Here are archived discussions related to this page.
Dry Your Own Celery Leaves
Instead of throwing away your leafy celery tops, make your own dry celery flakes to use for flavoring in cooking anything from soups to stuffing to omelets by drying and storing them. All you have to do is place on a baking sheet in your oven at 200 degrees F for a half hour to 45 minutes.
They also freeze very well. ;-)
By Deeli from Richland, WA
---
Dry Your Own Celery Leaves
Back in the 1940's, my mother would put the celery leaves into a brown paper bag. Then she would hang the bag in the pantry to dry. Once dried, they were stored in air tight containers. This can be done with many herbs, mints, etc. (08/31/2009)
RE: Dry Your Own Celery Leaves
What a great idea! I am going to try this right away! Thanks, (01/27/2010)