My 5 month old Pit/Lab mix is losing patches of fur. It started with a patch on his head and we just figured he had scrapped it on something in the yard. But it's been a month or two and now that the fleas are coming around he is scratching way more than the other dogs, and he's making the hair loss worse.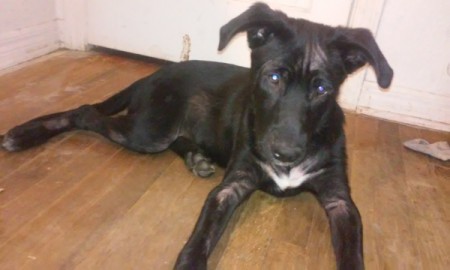 Our other dogs are perfectly fine, they all eat the same food, and I can't afford a vet at the moment. He is happy and healthy aside from the patches. I've looked up mange and allergy symptoms and what you can buy to help, but like I said, finances are tight, so if there is a home remedy that I can use in the mean time, I'd like to know what is safe. He has such pretty fur. I'd hate for him to lose it all.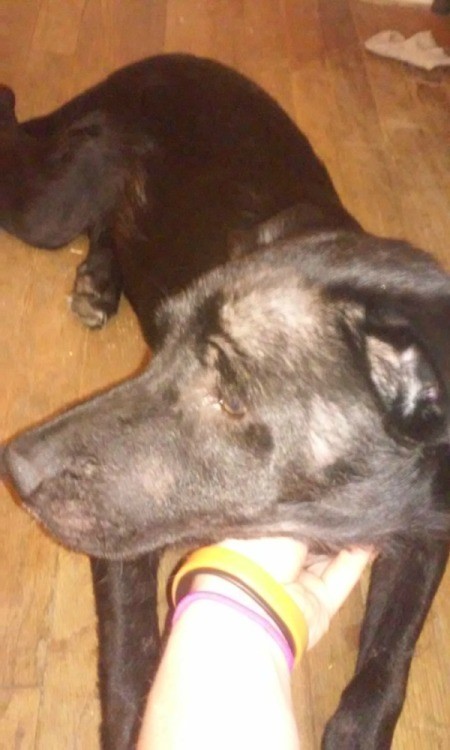 August 10, 2016
0

found this helpful
I read that olive oil helps
September 16, 2016
0

found this helpful
I just want to say that my dog Millie looks like your dog and has the same problem. It is getting worse. I went to the vet and they did a crape test but couldn't find anything and now they are doing more tests. If I have the result, I will let you know what is it, it might help you as well, I hope.
Why is my 15 month old Lurcher bitch losing hair on her front and rear legs? She has also started to lick her legs, no other part of her body is affected by this.
By rainbow1972 from England
September 26, 2008
1

found this helpful
Best Answer
Dermatitis mange or allergy. My nieces dog had hair loss and the vet told hers was due to allergies. He recommended the same allergy antihistamine that can be bought in the dollar stores for people once a day. If it is allergies, be sure to get the pills with out the heavy red die. In people the heavy red die gives what feels like a urinary track infection to some people. But when tested usually no urinary track infection shows. So why risk the discomfort for your dog.
My daughter has a beautiful dog with dermatitis mange. In an instance like this there are different things that can be done. For one a good bath using a flee tick and lice shampoo on the chance microscopic bugs are to blame, another is changing the food to lamb and rice. Some vet's say dog's have an allergic reaction to the beef in food. Also my daughter gives her dog omega three capsules. The same kind that people take. It puts oil in his skin and makes for a beautiful coat.
What was really interesting is when one of my daughters dogs got into the pine pitch, she used baby oil to get it out before bathing. She had to bath him twice, but he smelled good for several days after word. And his hair was beautiful!
P.S. If the dog has chewed and scratched him self raw in places, a vet may order an antibiotic to help heal it. Good luck with your dog.
June 23, 2013
1

found this helpful
Does anyone with a mini dachshund have a pal with ear margin seborrhea with necrosis and vasculitis? Our vet has limited experience with this. He had a biopsy done on Tig's ears where the 'notching' is occurring. It was found not to be another thing called pemphigus, thankfully. He has him on Pentoxifylline liquid 1.2 ml two times a day. Please respond to my email if you have experience with this issue; I will very much appreciate it! Email me at: diana_sneddon AT bresnan.net Thanks!
I've had my Pom-Chi for just about 2 months, he's only 3 1/2 months old. The past couple weeks I've noticed that he has been chewing on his skin on his front legs a lot and when he does that it has an odd sound like cartilage cracking. He has been itching constantly and it looks like he has dandruff! He has been loosing hair too on his stomach, chest, and front armpits. It's very thin. He is black and the hair there looks grey and if I pull gently on it, it comes out very easily.
I am very worried about my little baby:( I took him to the vet and we did tests for mites and they came out negative. She said that the normal hair loss for Pomeranians was on their legs and heads. He isn't losing any of that hair so it is an odd place for that.
I'm going to switch his food and get different shampoo to see if that will help, but please please help me! I'm very sad my little baby has to suffer like this.
By mtee7
March 23, 2012
0

found this helpful
Best Answer
I have a dachshund and have been battling itching, scratching and crusted skin for about 2 1/2 years. Went on GreatDaneLady.com and she had some very good advice about these conditions.
Take your dog for a thryroid test if that turns out good. Go on Nzymes.com and get the nzymes pak for allergies and within 6 months using the above in conjunction with shampoo and 4 Health or Blue dog food she is living a very good life relatively scratch free. Like some one else said the dog food you buy in the grocery store or pet store is full of stuff they don't need. Great Dane Lady is a very good source of information. Good luck!
March 23, 2012
0

found this helpful
Best Answer
This sounds a lot like a food allergy. But it also could be thyroid. There are good posts on this site about alternative diets for food allergy. My dog was allergic to many foods and I ended up feeding him brown rice and canned salmon until he died at 17 years old. I had to figure this out on my own. The vets dont study much about alternative diets.. Good luck.
Today I noticed that my dog was licking underneath her right leg. When I checked her, I noticed that underneath her right leg she did not have any hair unlike her left side were she has hair. What can this be and is it something I should be concerned about? She is 5 years old and a Shih Tzu.
By Nelson from Hackensack, NJ
November 18, 2008
0

found this helpful
Best Answer
It sounds to me your dog is still traumatized by the surgery and her nerves are getting the best of her which would cause her to lose her fur and as for the vomiting it is probably caused by her ingesting her hair like fur balls to a cat when they clean themselves.. When she goes to the vet again love her while she is there so she won't be so upset cause she remembers what happened the last time she went there, take her home and pay lots of attention to her and give her a special treat.
I agree with the last person keep a journal of any changes in her environment and her habits. Good Luck and God Bless!
September 23, 2010
0

found this helpful
Consult your veterinarian before the problem escalates.
I have a 9 yr. old Chow, who is losing her fur, on her bottom and now along the sides of her body. The vet gave me medicine for allergies, but it is not working. Someone told me to try Gold Bond powder and another said give her vitamin A. She does not scratch the areas, and it is not irritated.
Does anyone have any suggestions that may help her?
By Ann
By guest (Guest Post)
Flag
December 16, 2008
0

found this helpful
Best Answer
Some dogs are allergic to wheat or corn in their food. Corn is very common in most dog foods and treats, and if there is an allergy, the dog's hair will fall out and they will begin scratching. Our dog is allergic to corn and we started buying a natural, corn-free food at our local pet store and it helped tremendously. Also, we started bathing him with a gentle oatmeal shampoo to keep his skin from drying out.
September 26, 2013
0

found this helpful
My Chow has the same problem and it turned out she had a thyroid problem she was put on pills and all her fur grew back and she is like a different dog.