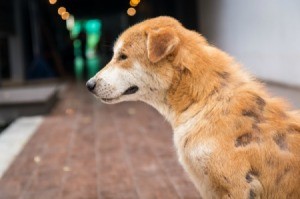 Why is my 15 month old Lurcher bitch losing hair on her front and rear legs? She has also started to lick her legs, no other part of her body is affected by this.
By rainbow1972 from England
Answers

September 24, 2008
0

found this helpful
Best Answer
I believe your dog has mange. It is a treatable skin disease but you must see a vet to cure it. Certain types of mange can also be passed onto the puppies from the mother. Definitely speak to a vet.

September 24, 2008
1

found this helpful
Best Answer
It's possible that your dog has food allergies. My dog loses hair if I feed her certain dog foods. I was making all her dog food last winter, but I quit doing that for the summer. Right now, I'm giving her an all natural dog food and she's doing very well, but the food is expensive.
I'll probably go back to making my own dog food when the weather cools off again.

September 26, 2008
1

found this helpful
Best Answer
Dermatitis mange or allergy. My nieces dog had hair loss and the vet told hers was due to allergies. He recommended the same allergy antihistamine that can be bought in the dollar stores for people once a day. If it is allergies, be sure to get the pills with out the heavy red die. In people the heavy red die gives what feels like a urinary track infection to some people. But when tested usually no urinary track infection shows. So why risk the discomfort for your dog.
My daughter has a beautiful dog with dermatitis mange. In an instance like this there are different things that can be done. For one a good bath using a flee tick and lice shampoo on the chance microscopic bugs are to blame, another is changing the food to lamb and rice. Some vet's say dog's have an allergic reaction to the beef in food. Also my daughter gives her dog omega three capsules. The same kind that people take. It puts oil in his skin and makes for a beautiful coat.
What was really interesting is when one of my daughters dogs got into the pine pitch, she used baby oil to get it out before bathing. She had to bath him twice, but he smelled good for several days after word. And his hair was beautiful!
P.S. If the dog has chewed and scratched him self raw in places, a vet may order an antibiotic to help heal it. Good luck with your dog.
Answer

this Question
I have one dog, well right now 5 because my dog just had 4 puppies. We just moved into a house with roommates and one of the roommates has a dog that has some skin condition (don't know what it is) and the dog stinks really bad.
I didn't notice the dog had much hair loss because it is a big dog and I never really got to close to it.
Read More...