Judy
Gold Post Medal for All Time! 677 Posts
January 9, 2017
0

found this helpful
My sister's dog had many allergies, and was doing this as well. She had creams and oral medications from the vet. I would go to another vet. The symptoms subsided in her dog, but never went away completely. The goal is to keep the dog as comfortable as possible.

January 9, 2017
0

found this helpful
I would say he is doing this because he itches. Have you tried benadryl or something for it?? Check with the vet first to make sure he can take it orally.
that won't stop it, but would stop him from pulling at it.

January 9, 2017
0

found this helpful
He has been in antibiotics and steroids and has an anti fungal cream. He doesn't itch very much normally. When he starts the hair pulling it is due to itch. The cream seemed to give the best results. A different vet is a good idea.

January 9, 2017
0

found this helpful
It could be mange. Whatever it is seems to be causing intense itchiness. While you are searching for a diagnosis here are some things that helped my dog when he had intense itching in his ears from infections that fluctuated from bacteria to fungal. Besides treating his ears with the appropriate creams and ointments I noticed that the inside of his ear flaps were weeping a clear fluid sometimes. I suspected that this fluid might be causing further irritation and itchiness so I started to wash just that area with a mild soap and water. He allowed me to do this without pulling away, so the warm wash soapy washcloth probably felt good. It worked and stopped him from scratching, at least giving the treatments time to work. You could try washing the reddened areas.
It may help with the itch. I also put my dog on a grain free and lactose free diet. His biggest improvement came when I gave him a teaspoon of fish oil. I noticed improvement in only two days. I give it to him once a week now. I just started the fish oil a few weeks ago so I'll have to give you an update in about a month. You need an accurate diagnosis before treating the areas. Cortisone cream may help with the itch but you have to be careful because the cause or infection can grow very quickly while the cortisone is shutting down the immune function, i.e.. the irritation of the skin. I hope this helps and that you find a solution soon. He's lucky to have such a caring owner.

January 9, 2017
0

found this helpful
I've been on the hunt for a better diet for him but it's tricky cause he has also been diagnosed with pancreatitis and so must have low fat. Foods that have low sugar and carbs seem to have too high of fat content. Ugh. I have started putting apple cider vinegar on his food as well as a probiotic powder to help if it's a systemic yeast infection.
The vet also (besides the antibiotics and steroids) gave us antibacterial wipes to clean the areas with before we put the anti fungal cream on. Sadly the cream makes him itchy where I put it (for about 10 mins after) so as much as we can he goes for a walk after the cream goes on to help distract from the itchy cream.
Since the first post he has also got to the inside of his hind leg (with a doughnut on) looks the same as the tail area. He now has a cone of shame on and can't get to it at all.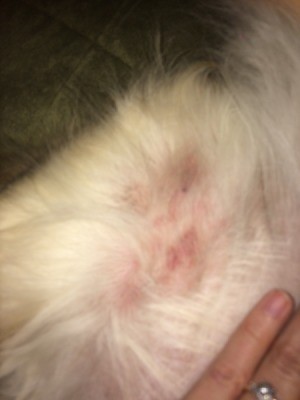 January 18, 2017
0

found this helpful
We rescued a small dog who has a lot of skin problems. She takes prednisone and cyclosporine she also gets allergy shots. She is bathed with a shampoo for sensitive skin or one with oatmeal

April 9, 2017
0

found this helpful
It may be Seasonal Flank Alopecia, Bacterial Folliculitis, Anxiety Disorder....however due to her age Im not really sure and I don't know her other symptoms. My dog has the bacterial follicultis and is on an antibiotic for two weeks. She is also on a new antihistamine and receives epson salt baths every other day. So far so good and we are hoping for full recovery or path in which to handle these issues should they occur again in the future. Most of these things I learned by researching on Google and once her hair started falling out on her back I did take her to the vet because I definitely didn't feel comfortable treating that off of Google so I learned a lot there too.
With yout dog's skin turning black where the hair has come out it makes me think of seasonal flank alopecia but I'm not sure. Like I said my dog's hair started to fall out on her back and she suffered no other symptoms than that except for itchiness.
The hair loss etc is a very hard symptom to address as it occurs as a result of a number of conditions.
Good luk, best wishes and happy Googling!