My dog is itching really bad on her back and tail. It is starting to move up to her face around her eyes. She gets sores on her and has an odor. What do I do?

By Kris from New Caney
Recent Answers

By readabook09/02/2010
Rinse her daily with the hose when she comes in from outside, in case it is something she is picking up outside that she is allergic to and/or use a natural shampoo that is soothing to the skin. Considering the sores and the smell, you should consult your vet.

By Sherri07/14/2010
Hello,
I have worked for a Veterinarian for over 27 years. Your baby needs to see his Veterinarian asap. Your Dr. will do a skin scraping of the skin (painless) and put it on a slide and then under a microscope to determine what is going on. It could be anything.. maybe mites, mange. please go your dog is suffering with this condition.

By Tina07/14/2010
My Sophia has been itching too (mostly her butt). She did the same thing last year and I went crazy trying to help her and then it just stopped. When it came back again around the same time this year I figured it was allergies.

Thanks to you guys on here (always helpful) and my groomer I found a mix that finally worked! I gave her Children's Allergy Antihistamine (Diphenhydramine HCI 12.5 mg) and Vitamin E. The children's antihistamine is a grape chewable and since she is small (About 10 lbs) I give her half...It tastes good and she just eats it! I give them both at bedtime, because the antihistamine makes her sleepy. A benefit to us both, she is relieved and sleeps, so do I. ;) She is so much better. And mommy feels better when her baby feels better. I know you all know how that feels ;)

Now please, if your dog has sores, like some of you have mentioned, please take him or her to the vet, but this worked for us and I hope it works for some of your Fur-babies.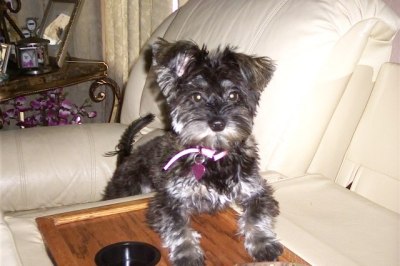 By Myrna07/13/2010
Consult a vet. Your pet needs medical attention and treatment for skin disorder.

By Lisa07/13/2010
The fact that there is an unusual smell makes me feel very concerned. If you haven't already, please give her vet's office a call. I imagine they'll want to you to take her in, so they can examine her, but sometimes they'll give general advice over the phone. Best of luck. I hope she's feeling better soon!
Archives
Thrifty Fun has been around so long that many of our pages have been reset several times. Archives are older versions of the page and the feedback that was provided then.
I'm not sure on her breed. She is actually my mom and stepdad's dog. Shortly after moving from Texas to Louisiana the dog started scratching and wouldn't stop. She is scratching herself to the point of breaking the skin and losing her hair. The vet has claimed for a few years now that it is allergies but nothing he has tried has worked. They recently found out she has a tumor but the vet won't operate until the scratching clears up. They are going to bring her to me in Texas and hope she will clear up so we can have the operation instead of put down. There has already been two dogs lost this year. She's always had flaky skin... So I'm thinking that maybe it is dry skin. Is there anything that someone might know of that might help and show rapid results so I can get her in to a vet and have the operation done? -Zane
---
RE: Dog Itching
Vitamin A is important for skin as may other nutrients. I have found that what the vet attributes to allergy may actually be malnutrition. Commercial dog food may not be good enough for some dogs, (03/03/2005)
By Barbara
RE: Dog Itching
It sounds like your dog has "doggie acne". I have a cat that has "kitty acne". He has the same symptoms as your dog. He has to get a Depol shot every 6 to 8 weeks and within 2 days of getting the shot he stops scratching completely. Depol is a steroid shot and isn't good for the liver so shouldn't be given sooner than 6 wks apart. I have spent hundreds of dollars on my cat trying to find the cause and cure for his "acne" and Depol is the only thing that works. (03/03/2005)
By Augie
RE: Dog Itching
Sounds like dry skin to me too, now I am not a vet, but my dog has/had dry skin and this what the vet suggested to us.
First of all either change his food to something with veal in it and you can also a vitamin E or olive to his food. It helps to condition the skin and you will start to see results in a few days.
Hope this helps you out! (03/03/2005)
By
RE: Dog Itching
My dog had a terrible itching problem until I changed her food. She used to be on a non-allergy food from the vet which was about $40 for 30 lbs. Now she is on one from Pet Smart which is about $20 for 30 lbs....it's been great! Good Luck! (03/03/2005)
By
RE: Dog Itching
I was recently told of a similar problem someone had with their dog. Different medications were used, nothing seemed to help. The dog owner finally stopped feeding her dog any chicken based dog food. Her dog apparently was allergic to chicken. She feeds her dog high quality lamb and rice food. Her dog is fine now after the diet change. (03/03/2005)
By mkymlp
RE: Dog Itching
There's no reason to put a dog to sleep for having allergies. Veterinary medicine has progressed to much. The vet you were going to just wasn't qualified to take care of it. The tumor needs to be removed. She's depending on you guys. Did she have the problem in TX? Louisiana is a swamp. It's one of the worse states for people with allergies because of the high mold/humid issue. I'm not surprised the dog has problems. She really needs to be seen by a veterinary allergist to find out exactly what she's allergic to or you will continue to treat the symptoms without solving the problem. Dogs can get allergy shots to if necessary. But that might not even be necessary because you might be able to remove the offending substances. The poor thing is miserable & doesn't understand it. Did someone change her food after moving to LA? If you don't buy a dog food that's natural it can have bad effects because many dogs are allergic to the crap in most dog foods. You could even feed her human food if you can't afford a natural dog food. There are many sites that would help you with that. I'm not talking about a raw diet. I'm just talking about good fat free human foods. Buying chicken in bulk, veggies, rice, fruits etc. It's even easier if she's an only dog. That kind of food fills them up better so she won't require as much. You can also give her essential fatty acids, EFA's, that gives the skin & hair a much needed boost. I hope this info is helpful to you. (03/03/2005)
By Vicki
RE: Dog Itching
There's a website you should check out "Dr.Willards Water" It says the water normalizes all livings things that are in an unhealthy condition, whether it's people, animals, vegetation.. It recommends putting 1/2 cup of the Willard Water in your dogs bath to relieve itching. This is a very interesting website, I haven't tried the water yet but plan to soon as I'm able. Good Luck! There is no greater unconditional love than we get from animals. Bless you for trying to help this poor creature of Gods :) (03/03/2005)
By auntdarween
RE: Dog Itching
You can find medicated shampoos for dogs, but there is one type that you can find in a lot of stores, even Wal-Mart or Target and that is dog shampoo that contains oatmeal. It is soothing to their skin just like oatmeal baths are to humans with itchy skin from eczema, chicken pox, etc. Usually these shampoos are not too expensive either. It might help. (03/03/2005)
By Robin
RE: Dog Itching
There is a product called IN for Innovator. It's sold at Petco stores as well as over the internet. This works wonders on dogs with skin problems. I would guess your dog has a flea allergy that is causing this problem but the IN will take that away. It takes several weeks before it fully works but the coat grows back in beautifully. I have 5 Borzoi and have used it on them when they were going to dog shows to help keep their coats in good condition. (03/04/2005)
By Roberta
RE: Dog Itching
Also try vitamin E (Not more than 50 icu) and an oatmeal bath. (03/04/2005)
By Fran Marie
RE: Dog Itching
i soak my dog in oatmeal. yes real oatmeal. i make a slurry out of a cup of oatmeal and 2 or 3 cups of hot water. swirl it around. strain it and you have a muddy looking water. i lather that all over. it seems to help.
You can also put veggie oil in their food for the dry skin. also try benedryl that may make her sleepy but it would stop the itching momentarily (03/04/2005)
By sandy.
RE: Dog Itching
Try adding a bit of cod liver oil to his food daily. The vitamins in it along with the natural oil will help his skin. (03/04/2005)
By Suzie
RE: Dog Itching
I would get a second opinion from a different veterinarian. The dog could have something besides allergies and blood tests and other types of tests can rule out those possibilities. Also, dogs can be tested for allergies just like we can. It was very helpful for us. If your vet has done all of these things, you will probably know what is causing the itching and can treat it appropriately. I can't stand the thought of your poor dog itching like crazy for that long. (03/04/2005)
By guest
RE: Dog Itching
My in-laws had the same problem -- they live in Florida, so probably even similar climate. They finally went to a farm supply store and bought a salve called Bag Balm -- it's used on cows' udders. It worked for their dog! Good luck! (03/10/2005)
By Becki in Indiana
RE: Dog Itching
I had the same problem with my boarder collie mix. I changed her food from a corn based dog food to a no corn based food. She doesn't scratch any more.. A lot of dogs are allergic to certain ingredients in dog food. Check the label. I called my local feed store and they helped me make the change. Good luck! (03/10/2005)
By 4jrsmom
RE: Dog Itching
I have had people tell me evening primrose oil is excellent for dogs skin and coat. Supposed to work wonders with problem skin (10/18/2005)
By J05
RE: Dog Itching
For what it is worth, I have 4 dogs who never had this problem, but recently inherited a cocker spaniel who started scratching like made after about 1 year old, to the point where he has been pulling his tailfeathers out. These are all the things other owners and vets told me to do. I have done them systematically, and they have helped but not alleviated it. My next step is the vet and Steroids. (ps. we also live in Texas).
1. change his dog food immediately to one that is not corn based. They can't process corn (so smaller poop) and alot of docs are allergic to it. (NutriPet, Iams and Eukanuba all have one)
2. Oatmeal shampoo (available at the grocery store in the dog section)
3. Sentinel or "permanent" flea medication (only good for flea larvae, they will still pick up adult fleas every time they go outside, even in winter if it is a warm winter).
4. Add a tablespoon of veggie oil to their food.
5. Add one tablespoon of canned dog food with omega fatty acid. (I use one with turkey in it because it also has phenoalamine, which is a natural sedative to my over-anxious, slightly psychotic dog)
6. Garlic supplements makes the dogs skin unappetizing for fleas. (or you can put some garlic powder in the dog food). If the fleas don't bite, the dog won't itch, even if they jump on him.
7. Don't over-bathe because it dries the skin out. And don't use a hair dryer to dry him. (which makes it difficult in the winter).
8. Up to 25 milligrams of Benedryl twice a day. I put a caplet in a tiny piece of peanut butter bread. It helps, alot!. Also, it helps to calm him a bit because he is a bit spastic.
9, Dried tea leaves are also a natural repellent to fleas. They used to use them on oriental carpets to keep them clean. Just sprinkle some cheap black tea on his hair and brush or rub it in. The tea leaves will brush right out.
Hope this helps a little.
ps. Find another vet. I have been finding that vets who are good for emergency purposes for my other dogs, seem to have no common sense when it comes to allergies or daily issues. If you are in the Dallas area, I could probably recommend a couple. Good Luck (11/28/2005)
By Lori
RE: Dog Itching
I agree completely, find another vet, and get that poor puppy on some high-quality food...like Nutro or Eukaneuba, NOT Pedigree or Science Diet. chose the rice and lamb ('sensitive stomach') type formulas with fewer protein sources, and no wheat or corn. You'll need to switch over gradually over about 10 days (1/10 at a time) so as not to upset her digestive system. Find out what she's allergic to, and you'll have half the battle won! Best of luck, Anne (11/28/2005)
By Anne from MD
RE: Dog Itching
I had a Lhaso Apso (recently passed) who had itchy skin. bathing remedies only lasted a day or 2. Vet told me to give him chicken skin (cooked). I mixed it in his food and after 3 mths his itching all went away. He had chicken skin in his food after that 2-3 times a week. Some breeds are prone to dryskin. I heard fish oil also helps. (12/02/2005)
By Debbie
RE: Dog Itching
Sorry didn't fully read your post: moving from Texas to Louisiana - I would bet money its chiggers and not dry skin. Spray the yard good and bathe him. Ask your neighbors what they use to get rid of them in their yard. I use Diazon. After a rain storm walk around barefoot where theres less grass and see if your feet begin to itch too. If the yard is infested you can have it fixed in 2 seasons. (12/02/2005)
By Debbie
RE: Dog Itching
I buy this soap from this lady of ebay it is homemade all natural and this helps. Soap in a Box Pet Shampoo. I also buy this Vitamin from walmart that in the pet section that is for skin. (01/17/2006)
By tee1964
RE: Dog Itching
My dog has sores like crazy from itching herself to death I use that bag balm and it works great I've been using it for a couple weeks and now its healing really good. labs have very bad allergies. I also use that lamb and rice dog food and that seems to help! (04/23/2007)
By amanda
RE: Dog Itching
My dog is scratching at same spot all the time. Can it be dry skin? He is a long haired Shepperd. (08/26/2007)
By shania2403
RE: Dog Itching
I wanna bring this post back to life. I have been trying to figure out my dog's itch. With all this feedback I have a better plan of attack to give my buddy Scooby some relief! Poor fellow scratches from sunrise to sunset.
Thanks everyone for your feedback! ~Wendola~ (09/25/2007)
By ~Wendola~
How do I stop dog itching? She looks like she's got some sort of mange or just really bad fleas.
Ken from Houston, TX
---
RE: Dog Itching
First a good moisturizing shampoo and make sure she has no fleas by using a monthly flea treatment. Next check her diet to see if her food is high in omega 3 and 6. These are essential for moist skin in dogs. Most quality dog foods are high, but my vet suggested an omega 3 and 6 capsule supplement (about $20.00 month). Gave my dog two caps daily and within two weeks itching stopped and fresh hair came in. If it continues have vet check for mites. (10/06/2007)
By Darnie C.
RE: Dog Itching
My dog was scratching because I'd switched his food and he was allergic to it. Scratched the hair off the hind legs before we figured it out, changed his food he quit scratching and grew it back. Sometimes it's just dry skin, give wheat germ oil capsules, or vitamin E, or a small amount of bacon grease. (10/08/2007)
By Crystal
RE: Dog Itching
Take your dog to the vet for a correct diagnosis. You don't want to fool around if it's mange, and a lot of animals are allergic to fleas. (10/08/2007)
By Maryeileen
RE: Dog Itching
I just tried Duck and Potato on my dog. He also got the shot which helped a lot. His bright pink skin became white again. It has be 3 weeks and he is still doing good. I just hope he stays that way. The new food is called "Penicle". (10/08/2007)
By Lisa
RE: Dog Itching
I have my dogs on a raw diet (Natures Variety). I noticed a big difference when I gave them bee pollen in their food. They rarely itch. I had read that it is good for allergies and is very healthy for them. I also give them fish oil and vitamin E capsules. Good luck. (08/26/2008)
By Maryanne
RE: Dog Itching
My Labrador gets a summer itch. The most effective treatment we have found is Tryptophan (250 mg twice a day) and fish oil. This year we also had her clipped as soon as the hot weather arrived. That seemed to help, too. (02/10/2009)
By Rex
Please help. My little Dachshund/Cocker is chewing herself up. She chews, scratches and licks every part of her body. I went to the vet and she had some fleas on her, so he said she had a flea allergy and charged me $250. Enough of that.
I am a senior and I can't spend that amount on me. She has no fleas now. She has been given a bath with oatmeal shampoo and rinsed with witch hazel. She has to wear a little shirt so she won't itch as much, but now it isn't working. It did last year. She only itches in the Spring, Summer and Fall. In the nicer weather. Please help Cricket.
By sassier299 from Burtchville, MI
---
RE: Dog Itching
If your dog has a flea allergy she doesn't need to have tons of fleas. One or two will throw her into fits of scratching. Advantage isn't terribly expensive and really works. You can also give benadryl to relieve itching (ask the vet how much) but if fleas are the source of the problem that has to be addressed. (06/04/2009)
By Glenn'sMom
RE: Dog Itching
If your dog is bathed and treated, then try the benadryl. My vet says that most dogs do fine without fancy $35-50 bags of cornless dog food. Dog food companies want us to think that way. I buy my dog food at the feed store. No frills there. My lab has seasonal allergies and benadryl works. I always have to keep him flea free because he reacts strongly to bites and looses hair and gets secondary skin infections. (06/04/2009)
By Amma-Linda
RE: Dog Itching
My son swears by Dawn dish liquid. (06/05/2009)
By notwrong
RE: Dog Itching
Thank you very much for all the good advice. Cricket thanks you too (06/05/2009)
By sassier299
RE: Dog Itching
If the fleas are gone, try a dose of Benadryl. My dad goes through this all the time with his rat terrier. Benadryl is the only thing that stops the itching. The dawn dish liquid is supposed to get rid of fleas. (06/06/2009)
By Coll3
RE: Dog Itching
From one Cricket to another, lol! The Dawn and the Benadryl will work great, just be very careful with the amount of Benadryl you use. I assume these people are talking about the cream. Go as sparingly as possible and work your way up to the amount that works for your Cricket.
Also once every other month for about a week, you should switch to Aloe Vera gel or something. Even with the cream she can build an immunity to the Benadryl and switching for a week will give her system the break it needs to prevent that. I use Benadryl and Aloe Vera gel on my dachshunds all the time though and it works great. (06/06/2009)
By Cricketnc
RE: Dog Itching
You have gotten some very good advice. I would only add that it would be nice to put a teaspoon of brewer's yeast in her food once a day. It will help her repel fleas. (06/06/2009)
By coreenhart
RE: Dog Itching
When I lived in FL (flea heaven) the vet told me to put a tiny bit of garlic powder in the water (I had 2 cats and 2 chihuahuas) and that any shampoo would kill fleas. The secret is that you have to keep it sudsy for at least 10 minutes. We had to bathe them all (a neat adventure with the cats) quite often. One flea can really bother them if they happen to be allergic and fleas multiply faster than rabbits! (06/06/2009)
By lavonneann
RE: Dog Itching
I agree with the posts that state a teaspoon of oil (vegetable, cod, or fish) added to the dog food every day, infrequent shampooing, and benadryl tablets given on his worse itchy days. You will have to ask the mg per pound for your dog size. Maybe also a new vet, as they charged you so much and didn't solve your dog's problem. (06/06/2009)
By gondodeb
RE: Dog Itching
I just took my dog to the vet for the same reason. Each year during the spring she itches and chews on her self and I give her benadryl pills and rub the cream on her and that helps her a lot. But this year seemed a lot worse, so the vet gave her a cortisone shot. She didn't have any fleas, she has seasonal allergies and they will go away as the pollen eases. Usually when I stop sneezing, she stops scratching. I have given her an aspirin on her really bad days because she felt feverish. I had called and got the weight measurements from my Vet as you should do. I hope this helps, our babies are important to us. (06/06/2009)
By trbrown22
My Corgi scratches and scratches although he is treated with Frontline flea and tick medicine and sees a vet regularly. We also use prescribed medicated shampoo, and steroids. He is brushed regularly, but nothing seems to help. Any suggestions you have to combat this? Please advise. Thanks.
By Sonja S. from Hemphill, TX
---
RE: Dog Itching
It could be his dog food. Most dog food is filled with artificial preservatives, flavors and colors that can cause an allergic reaction in some dogs Try giving him an all-natural dog food for a while (or make your own dog food) and see if the itching stops. He could also be allergic to grass. In that case, you might have to start giving him anti-histamines. (06/16/2009)
By Patty Lynn
RE: Dog Itching
I read on The People's Pharmacy that a mixture of 1/3 Listerine, 1/3 baby oil, and 1/3 water sprayed on the skin and fur will relieve itching, soothe skin and help cure hot spots on dogs and horses. (06/18/2009)
By Pam S.
RE: Dog Itching
Thank Heavens I found a solution. I was constantly taking my dog, a Shih Tzu, to the vet for itching of the inside of his ears. I narrowed things down myself. I noticed that any beef from the table made his ears worse and when he ate the food he got worse. I went to Pet Smart and looked for something natural. No soy, wheat, or grain, no beef or chicken. The name of the food is "Blue" and put out by the Blue Buffalo Company. It is an all natural food and since he's been eating it his ears have cleared up. Hope this helps. (06/18/2009)
By busdrivr
My poor baby is itching a lot. She has no fleas, I have been giving her children's Benadyrl, but she is still itching. Any suggestions, before I take her to a costly vet? I am recently unemployed, but of course I will take her to the vet if she does not stop itching soon. Thank you all.
By Dog Itching for Relief from Orange County, CA
---
RE: Dog Itching
Sulfadine is great and so is baking soda/water paste. Make sure they can't lick each place, so a Victorian collar might be in order. Baths with baking soda in the cool water also help. Good luck. (07/23/2009)
RE: Dog Itching
After a lot of testing, I found out my dog was allergic to corn. Most dog food has corn in it. When I eliminated corn from his diet, he got better. Also, I bought Dramamine for dogs online at Ped Meds. 100 dog Dramamine pills = $6.00 (generic name = Banophen). It calms my current dog down nicely (for us it is used when we travel). (07/24/2009)
By mulberry204
RE: Dog Itching
Before I'd go the drug route I'd try putting olive oil on his food; it's good for dry skin. Just a suggestion. (07/24/2009)
By TXBetty
RE: Dog Itching
Our little Yorkie mix had the same problem. He itched and bit so much that his hair just about all fell out. Like you we didn't think we could afford to take him to the vet, but he was so miserable that we took him. He was allergic to grass and the debris off my husband's shoes from farm work.
Regardless the doctor gave him a shot and now we have to give him 1/2 pill every other day (Medrol 4mg) that we call his "itchy" pill. The pills are only about $15 and last over a month at a time, well worth it. His hair has grown back and he isn'tmiserable anymore, we felt so guilty by not taking him sooner. You might could just ask your vet for the Medrol 4mg, and not be charged a visit. Hope this helps. (07/24/2009)
By sanmer25
***
*** For about the past 3 weeks my dog (a Pitbull/Lab mix) has been itching terribly. I called my vet and they said it is probably just seasonal allergies and fleas and told me to treat her for both. I have had her on Benadryl (6 pills per day) and she has been Frontlined.
However, I don't think the Frontline is working. I know she has fleas. I have given her baths in Dawn dish liquid and also a tea tree oil/aloe shampoo. By her back end she is almost bare and is scabbing over. It looks awful. She gnaws at herself and itches all the time. I have tried different things such as hydrocortisone salve for dogs, and Dr. Golds itch relief. I did the oatmeal in the sock back when it first started, but it didn't seem to help.
I am willing to try anything to save myself a vet bill, but I am thinking it is about time for the vet. Does anyone else have any recommendations? I am going to get some plain tea tree oil at the natural store to give that a try. Does anyone know if that would be OK to put on her area that's scabbed?
She doesn't have any problem other then in her back end. I would appreciate any help out there. I am willing to try it all, but if nothing works Friday she will go to the vet. Thanks so much for your help.
By luvmydogs from ME
---
RE: Dog Itching
Take the dog to the vet and have it looked at. If the skin issue hasn't cleared up with their tried suggestions; then it's time to pay the vet instead of spinning wheels waiting for answers and causing delay that makes it a longer period to heal and maybe even more money. (09/14/2009)
By Lorelei
RE: Dog Itching
I don't know, but I've read, that some dogs are allergic to corn, a main ingredient in many dog foods. It's worth checking out. (09/14/2009)
By Carol L.
RE: Dog Itching
Your dog may be allergic to some of the ingredients in his food. It's a very common problem lately. Try to buy a hypoallergenic dog food, or learn to make your own. One of the things that works for my dogs was to buy Dad's Naturals and mix it half and half with homemade dog food. My recipe involves a large crockpot. I put a pound of dried beans in the crockpot and let them soak for about 6 hours, and then I add a heaping cup of rice, 2 cups of vegetables, and 1 tablespoon of any kind of bouillon. I fill the crockpot to about 1-1/2 inches from the top and let it cook on low all night. In the morning give it a good stir. My dogs love it and there is no more itching. Good luck. (09/15/2009)
By Patty Lynn
RE: Dog Itching
Always remember when applying Frontline or any flea med, no baths 2 days prior or afterwards. The flea meds will not be as effective. (09/17/2009)
By missysmom
RE: Dog Itching
I had itchy dogs for years. Don't know which did it, but I changed to ProPlan Lamb and Rice dog food and Advantage. I heard the "allergy to hay" excuse from my vet for years. I learned from a friend, who had a Lab, that some dogs are allergic to the dye in common dog foods. I think my dog would have died if I hadn't found out the secret to stopping it.
Your dog is going to need a shot of steroids to stop the itching after you have used the Advantage. (I never had luck with Frontline.) ProPlan isn't cheap, but it solved the problem. Advantage is available from your vet or online from veterinary supply companies. (09/17/2009)
By graymare47
RE: Dog Itching
Yes, it is time for a veterinary visit. Your Dr. can give your fur baby an injection to control the itching and maybe a prescription to prevent an infection from the raw skin. I have worked for a veterinarian for over 27 years and I know this will help. Good luck. (09/17/2009)
By K9cats
RE: Dog Itching
K9 Advantix is heaven sent. There is nothing better. Our little dog also had to start taking Medrol for the allergy, he has grown all his hair back that he had lost. He had been so miserable that we feel guilty for trying all these home remedies and letting him get so bad. (09/17/2009)
By sanmer25
RE: Dog Itching
Thank you all for your info. I am trying everything really. I did change her food to California Natural, which my vet said was the best for her and she seems to like it. It's not dyed. I did take her to the vet as I said in an earlier post and they put her on some meds and gave me some "special" shampoo. It has been 6 days today and she is doing so much better! She has stopped her itching and her hair where she has gnawed it so much is coming back as well. She is much happier now and so aren't I :) (09/17/2009)
By luvmydogs
RE: Dog Itching
Please try this:
Everything you described was happening to our dog. She had fleas, but not enough to make her go through what she did. Even the vet tried different things on her. By accident we learned of an cure, and a possibility to what it was that started all this.
We have 2 types of grasses in the yard, plus some ivy and miscellaneous plants. We were taking her out front in the beginning. She to where she was having problems and acted scared whenever we'd take her out there. We were confused as to what she was scared of so we started taking her out back putting her in the doggy pen area with the least plants and trees in it.
Next hubby and I started letting her go to the bathroom on concrete driveway every time instead of the yard. Bingo! She started doing better, her biting, whining, crying, and itching subsided and then stopped. Her fur started getting better. Now it may have been a deep allergy to the one or both grasses, or plants, but we are not sure which. What we do know is there is a big improvement and she is happier than she ever been.
Experiment with this idea maybe it will be what the problem is before you spend any more money at the vet. You should see some improvement in behavior in a 3-4 days, but do give your dog a bath to get rid of excess dead skin tissue that is already there along with the area change. Good luck! (09/17/2009)
RE: Dog Itching
This time last year our dogs had fleas and one was very allergic to the bite. We had been using Frontline, but it apparently stopped working. We also live in New England (MA). We switched to K9 Advantix and it worked great. Capstar will kill fleas in 24 hours, but does not last like Advantix. Capstar can be used on young pups and pregnant dogs. Good luck. (09/18/2009)
By Merlene
RE: Dog Itching
Glad to hear you got some good advise, but please don't use Dawn on her. My Pug got worse from it! I use Avon Skin-so soft original now. It's soothing. (09/26/2009)
By chrissym15
Answer This Question
Add your voice to the conversation. Click here to answer this question.