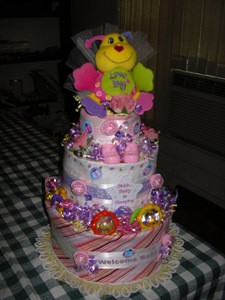 This is my second diaper cake, a "Love Bug" cake. I made it for a friend at work. I used; 56 rolled up diapers, receiving blankets, baby rattles and such, washcloths, a love bug to top it off and lots of curling ribbon for color. She loves it.
I made my very first one for my first grandchild's shower. it was such a big hit, I decided to sell them. This was my first order. I have already got 3 others to do. They really sell themselves. I get laid off sometimes quite a bit so this a is a perfect way for me to make extra money on the side.
By Tmmy from Herrin
Ad
---
Feedback Forum
Feedback about this article is posted here. Want to contribute? Click above to post feedback.

By barb06/03/2009
Does anyone know how to advertise that you make diaper cakes? How do you know how much to sell them for also?

By Theresa Lyons05/14/2009
Love it. Is there any way to show how you do the first step and a few others for us impaired crafters?

By Janet [11]05/14/2009
Very nice. Good luck selling them!

05/12/2009
Very cute. I'm sure it costs a lot for the supplies to make one, about how much does it cost to make one and how much profit can a person make on one cake?
Post Feedback
Add your voice to the conversation. Click here to share feedback.