Repairing Fabric Upholstery
Knowing a good way to fix fabric upholstery can extend the life of your furniture. This guide is about repairing fabric upholstery.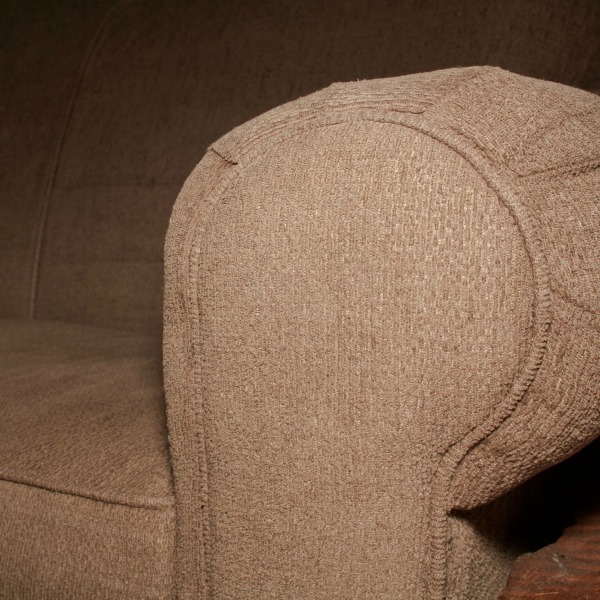 Filter

: All Articles
Sort

: Relevance
Think of spray glue as a help with spiffing up your upholstery! My husband, the practical one, used spray glue to glue the tapestry placemats that I had decided to use as sort of antimacassars in a contrasting pattern (you know, they are those doily things on sofas, etc.) on a wing chair we had which had bad wear on the arms. Then later, we used the spray glue to hold on another piece of fabric on the seat cushion when it started to wear there. The fabric underneath is shot, anyway, so no harm done - and it does hold them in place!
By pamphyila from Los Angeles. CA
I have a bleach stain on the front flat leg of my beige microfiber couch! Do you have any tricks for removing this stain?
September 7, 2015
0

found this helpful
Bleach removes color from almost all fabrics, including microfiber. The "stain" you see is where the bleach removed the fabric color. So, a bleach spot cannot be removed to show the original color as that color is now "bleached out".
September 7, 2015
0

found this helpful
A possible fix-if the bleached area is not very large, you can color the entire area with a permanent marker of the closest color range. You will at least have less of a color difference.
September 8, 2015
0

found this helpful
Bleach is not a stain; bleach removes the original colour, so there is no way to "remove" the whitish splotch that is left. You can try, as the previous poster suggested, colouring over it with a jiffy marker, if it is not large. I suppose it might be possible to re-dye that part of the couch, but I do not know how to do that, nor have ever heard of anyone who did it. If it is too big to cover with jiffy marker, you might have to cover it with an afghan or a throw of some sort.
This is a guide about repairing a cat scratched couch. Cats love and need to scratch, for example, to groom their claws, to stretch, and mark territory. Unfortunately, sometimes this results in damaged furniture.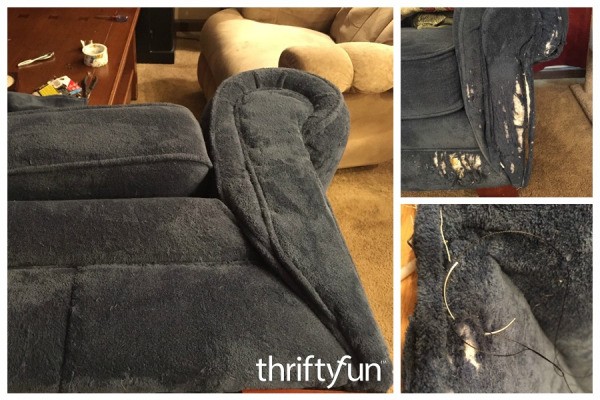 Read More...
I have 20 yr old Sanderson floral fabric covered sofa for which I have some extra fabric to have new cushion covers made. However, there are a couple of parts of the fabric which I cannot replace that have wear in dark places. Rather than just use a 'Crayola' type marker, are there professional indelible markers for this purpose? The fabric is cotton/linen/nylon and is washable, so I do not want the colour to run. Many thanks!
July 14, 2016
0

found this helpful
I was steaming my sofa but must of had the pressure high not sure now I have light white patches can it be fixed
My cat used a portion of the sofa arm for claw sharpening, leaving a damaged area. I have plenty of the (white) original fabric. I thought of cutting a patch and fusing it with an iron to the damaged area. What sort of fusible product would I use?
February 4, 2016
0

found this helpful
I don't know how to repair it but I use a spray bottle of water to train my cats not to scratch or get on the tables or counters; it works great!
August 5, 2016
0

found this helpful
Use fabric glue, it will probably work better than the iron on stuff. Make sure the edges of the patch won't fray.
I have very badly damaged (due to cats scratching) upholstered couches. I also have a two year old so I would be interested in an inexpensive solution that could make them look better. I don't care for slip-covers and the blankets that I have covering them look sloppy. I also don't want to be a hyper mom about the furniture if something gets spilled. Any suggestions would be greatly appreciated.
By scrump7 from Cleveland Heights, OH
My husband sits in a lift chair that he has had for only 2 years. Because of the pain that he has he puts his heel on the leg rest. The fabric is starting to breakdown and thread is starting to pull apart. Does anyone have a solution to fixing the fabric or what to cover it with?
Thanks
November 12, 2015
0

found this helpful
As he will continue to use the leg rest for lift, cover the entire area with real or fake leather, rubber, poly-something durable, and attach with glue, stitching, etc. This would repair the area and prevent future wear for a long time, perhaps until the chair needs to be replaced.
November 12, 2015
0

found this helpful
i would suggest first contacting the company who manufactured the chair, explain the problem and how it occurd, and ask if you can purchase fabric to match the chair to fix the problem. there is a good possibility they will send you a piece for free but at the very least you may be able to purchase the matchng fabric. then do something like is suggested above. good luck
I have a tear in my couch, not leather, some kind of fabric. It's 2-3 inches long, almost like a slit. I just needed some idea of how to fix it easily and not costly?
By Rachel
April 9, 2013
0

found this helpful
Can you sew it by hand? Otherwise you can cut a piece to fit from underneath if there is material there or off the back if it doesn't show and super glue that patch you cut over the rip. Glue the edges of the fabric underneath as well to prevent fraying. If all else fails you can cover with a slip cover. Good luck.
April 10, 2013
0

found this helpful
There are excellent iron on fabrics at a fabric store that can be ironed on the back of your torn fabric. If your cushion has a zipper take the cushion out and iron the fabric on the back, closing the tear. If your cushion does not have a zipper you can open the stitching along the edge with a seam ripper to remove the cushion. after ironing the tear closed, hand stitch the cushion back inside the fabric covering. If you are not a crafter/seamstress get a friend or ask for help at a fabric store. This method will show the least when you are finished.
How do I fix underneath my recliner rocker foot rest which has a large rip and the foam padding is dropping out when the foot rest is raised?
By Kym
April 13, 2015
0

found this helpful
Is this that cheap stuff they put under furniture just to keep the stuffing from falling out? Remove it all. Find a thin fabric that is a dark or light color depending on your fabric. A cheap cotton sheet will work.
Cut it to fit with a little left over. Fold over the edges and a staple gun puts it on.
Related
© 1997-2016 by Cumuli, Inc. All Rights Reserved. Published by
ThriftyFun
.
Page
generated on September 26, 2016 at 5:32:42 AM on 10.0.2.251 in 4 seconds. Use of this web site constitutes acceptance of ThriftyFun's
Disclaimer
and
Privacy Policy
. If you have any problems or suggestions feel free to
Contact Us
.