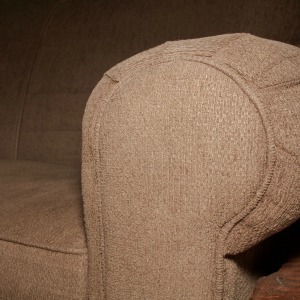 Knowing a good way to fix fabric upholstery can extend the life of your furniture. This guide is about repairing fabric upholstery.
Ad
---
Solutions: Repairing Fabric Upholstery
Read and rate the best solutions below by giving them a "thumbs up".
Think of spray glue as a help with spiffing up your upholstery! My husband, the practical one, used spray glue to glue the tapestry placemats that I had decided to use as sort of antimacassars in a contrasting pattern (you know, they are those doily things on sofas, etc.) on a wing chair we had which had bad wear on the arms. Then later, we used the spray glue to hold on another piece of fabric on the seat cushion when it started to wear there. The fabric underneath is shot, anyway, so no harm done - and it does hold them in place!
By pamphyila from Los Angeles. CA
I have very badly damaged (due to cats scratching) upholstered couches. I also have a two year old so I would be interested in an inexpensive solution that could make them look better. I don't care for slip-covers and the blankets that I have covering them look sloppy. I also don't want to be a hyper mom about the furniture if something gets spilled. Any suggestions would be greatly appreciated.
By scrump7 from Cleveland Heights, OH
Give a "thumbs up" to the solution that worked the best! Do you have a better solution? Click here to share it!
Questions
Here are questions related to Repairing Fabric Upholstery.
I have a tear in my couch, not leather, some kind of fabric. It's 2-3 inches long, almost like a slit. I just needed some idea of how to fix it easily and not costly?
By Rachel
Ad
---
---
Most Recent Answer

By Lizzyanny [9]04/10/2013
There are excellent iron on fabrics at a fabric store that can be ironed on the back of your torn fabric. If your cushion has a zipper take the cushion out and iron the fabric on the back, closing the tear. If your cushion does not have a zipper you can open the stitching along the edge with a seam ripper to remove the cushion. after ironing the tear closed, hand stitch the cushion back inside the fabric covering. If you are not a crafter/seamstress get a friend or ask for help at a fabric store. This method will show the least when you are finished.
We've just bought a new fabric sofa and I left a plate on it. I cannot remember, but I assume that the plate was hot. It has now left a mark on my sofa cushion, is there anything that I can do to remove it?
By Sarah from Seattle, WA
My cushion on my sectional is some kind of yarn fabric. My dog clawed at it and it looks like sting cheese. Is there any way I can fix it? I just got the sectional as a gift from my friend.
How do you repair a damaged mocha color micro suede sofa done by bleach? please help I just bought it.
By Wendy T. from Detroit, MI
Ad
---
---
Most Recent Answer

By Frugal Sunnie [11]03/02/2013
You can buy a small pot of fabric paint (any craft store) or dye (be sure to follow dye package instructions) to try 'painting' in the bleach spots.

Carefully apply a light layer of colour to the spots with a cotton bud (cotton swab or Q-Tip if you're in the US).

You might be tempted to apply heavily but resist the temptation-it's better to let the first application dry to see if you're going to need to apply another coat. It may take several applications to completely cover but one heavy application will take forever to dry and may not look right. Several thin applications are much better than one thick one for the best appearance.

Put a plastic colander (spaghetti strainer) over the spots you've 'painted' and let dry undisturbed for at least 48 hours. Check the coverage and reapply if necessary until you reach the right coverage.

BtW, this usually works with bleached spots on carpeting:) Good luck, let us know what ends up working for you!
Our cats tore up a corner of thecouch, clear to the wood. How can we fix it and keep them from doing it again?
By Debbie
---
Most Recent Answer

By Louise B. [5]04/16/2012
I don't know how to repair the couch, but I keep my cat from shredding the corners by draping throws or afghans over the arms. Since the cat didn't bother the front of the couch, this has proved effective. You also need to try to provide other appropriate cat scratching posts.

My cats don't like carpet covered posts or even a real block of wood, but they do like a cat scratch box made from pieces of cardboard glued together. I got this from my neighbour, but I do not know where she purchased it. However, the cats like it, and I can put catnip in it, which certainly enhances its appeal.
Help! I visited my son and new daughter-in-law's home the other day and accidentally caught something on their seat cushion. When I pulled away, I tore a large hole. I took to an upholsterer, no luck (not enough material). I called the manufacturer (no luck, discontinued). I feel terrible. Any ideas? Thanks so much!
By marcamp from Philadelphia
---
Most Recent Answer

By Myrna [13]03/11/2011
IF the family likes this idea of repair, you could buy complimentary colored fabric and make cushion covers with a zipper, so all cushions match the furniture (sofa/chair). The daughter-in-law could go with you to shop for the fabric. If the project is not something you care to tackle, have a professional seamstress/upholsterer do the work. A professional upholsterer may know how to mend the tear so it doesn't make it worse, but a zip covering would certainly conceal the patch work and can be washable.
Can anyone tell me how to brighten up the inner lining of a baby pram? The fabric is mostly white and where the sun has got at it, it has become yellow. It is a polyester mix. Many thanks.
By prinnie from England
We are moving from a trailer to a house and I need help! I have a couch that my cat ripped up the sides and front. It is comfortable and sturdy. I hate slipcovers. They seem to fall off every time you sit down. Is there any other way to bring it back to life? I would really appreciate the advice. THANKS!

CJ from Liverpool, OH
---
Most Recent Answer

By Christine F. (Guest Post)11/08/2008
I would be pleased if anyone can give me any idea as to what I can put on the wall to stop my kitten stripping the wallpaper. It happens mainly on the corners.
The heat of my blow-dryer burned my sofa and gave it a hole. The area looks dark and fragile. How can I repair the burn without making it worst?
---
Most Recent Answer

By www.sofa911.com (Guest Post)07/27/2007
If your sofa is not too old, you can contact the manufacturer and order the piece that's damaged.
You will need to provide them with some serial number information located in the bottom of your sofa. After you get the new pieces delivered, you need to contact a furniture repair service that could install this for you. Do not contact an upholstery shop for they will try to overcharge for this type of repair. In the Houston area you can contact me @ www.sofa911.com
Archives
Thrifty Fun has been around so long that many of our pages have been reset several times. Archives are older versions of the page and the feedback that was provided then.
My two adorable cats have used the sides of my couch and chair as a scatching post. Other than the frayed corners the furniture is in excellent condition. Any creative ideas as to how to repair those edges?

Susan1151
---
RE: Furniture Repair: Upholstery Damage From Cats
You could put decorative fabric piping around the edges, I'd think. Does that seem like it would work? (09/19/2004)
By truleelee
RE: Furniture Repair: Upholstery Damage From Cats
If your couch sits close to the wall, then the back panel on the couch can be removed and used for visible repairs. You can use another piece of material that matches in similiar color to close the back. I have personally done this... it does work. (09/20/2004)
By Syd
RE: Furniture Repair: Upholstery Damage From Cats
I just bought a great sofa bed that was perfect for my extra room. However, it did have some cat scratches on it. Not very noticeable because the fabric is plaid but I want my furniture to look nice. so, I bought a bottle of fabric glue at the fabric store. I am hoping if I put it on lightly, it may make the fibers stick back on and never show. You might try this too. (10/17/2005)
By Pat
RE: Furniture Repair: Upholstery Damage From Cats
For a simple solution in avoiding upholstery damage by kitty, pick up the two sided tape pet centers sell (It works better than any carpet tape you can buy at home centers). The tape comes in strips, and is very sticky. It's not cheap, but well worth the price of around $11 per package. Use it on areas that are tempting. It's barely noticable and discourages kitty from using the furniture. Whenever an area seems to have gotten noticed by feline simply put a strip in that area.
My cat seems to have gotten the message and given up on the furniture. She 'gets it' that her scratcher is the only acceptable place to do her deed. By placing tape in strategic areas, and not having to cover every stitch of furniture in it, appears to be discouragement enough from going any further with clawing. It's been a year since any new incident. The tape stays on, however, just in case. We all know cats! (03/24/2008)
By JakiS
My dog has been getting on our fabric upholstered recliners when we are out and her claws have made some tears on the seat (when she scratches herself). Is there a glue that won't dry shiny or something to reinforce them so they won't shred anymore?
By Lorraine from Portland, OR
---
RE: Repairing Tears in Furniture Upholstery
There is a product called Fray Check or something like that. It is available in fabric stores. I don't know if it would work for something like that, and I don't know what it looks like when dry or wet. (10/31/2010)
By redhatterb