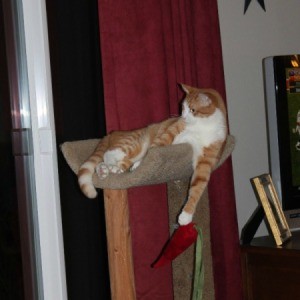 One of our cats, Mario, has taken to scratching our fabric furniture and over the last four years our couch and love seat have taken a serious beating, along with several other pieces. We have tried it all. We did the noisemakers when we catch him scratching, we tried trimming his nails (at great personal damage - he's not a fan), we tried the nasty tasting sprays (if like me you've done this, you will come to regret it during this project), we did the double stick tape, we let him go outside, and we have three (3) scratching posts - which he does use, but we've also caught him laying on the scratching post while clawing the couch. If it weren't for the fact that my son sleeps with that cat and looks for him to cuddle the moment he gets home from school, that adorable cat might be gone. He also pees on the floors, but that's another story. As it is, since Mario the cat is only 4, I covered the damage with packing tape figuring it looked a little classier than duct tape and counted it as a lost cause... until recently.
Last weekend we hosted an open house to celebrate my 40th birthday and the completion of our kitchen remodel. I'd invited a lot of people that had never been to my house before and decided it was time to do something about our hideous couches. Replacing them was not an option - especially after the remodel costs.
NOTE: This takes a long time. I strongly recommend picking a series to watch on Netflix while you work. I ended up working on this until 5:30 in the morning two nights in a row since the party was in a couple days. I am a master procrastinator.