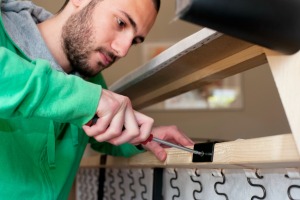 So my slightly obese roommate has managed to damage our very nice couch. From what I can tell, the frame has cracked/splintered in two places on the part of the couch where your back would rest from him crashing down onto it. What would the best way to repair this? Do I need to cut into the fabric? Thanks for your help.
Pete from Boston, MA
Answers
By Ted Norris (Guest Post)
May 2, 2008
0

found this helpful
If it's a clean brake get some Gorilla Glue and have a way to push it back in place, put the glue on one side of the brake, DON'T use very much clamp it or hold it in place somehow and let the glue do it's thing, if you get a good fit useing this glue the wood around the glue joint will brake first, it's strong stuff.

May 3, 2008
2

found this helpful
Turn the sofa upside down, carefully remove the staples around the bottom. The sides of the back probably have a tack strip, so pry that off also, being careful not to rip the fabric. Keep removing whatever you need to expose the broken frame. Then using a good wood glue and clamps repair the broken wood. replace the fabric in the order it was removed. If necessary, take pictures as you remove each piece so you remember how it is constructed.
By Melissa (Guest Post)
July 27, 2008
0

found this helpful
The back of my couch frame was sat on and the wood seems to be broken off almost completely. I'm not sure if glue will repair this completely or if there is any way really.
Any suggestions other than glue? Or will the glue work perfectly fine? How long should I leave the glue on to dry if that is the only way?

December 21, 2021
0

found this helpful
JD Weld is even stronger than gorilla glue, with less overflow.

May 30, 2022
0

found this helpful
I would get a dowel. Drill holes on each side, glue, connect with the dowel.
Answer

this Question
The wooden seat slat of the sofa frame is broken in half. The break is thorough enough that replacement is a must. It is also located at one end of the seat frame, thus an area of high wear and tear. Is replacing the slat possible without disassembling a great deal of the sofa? What materials will be needed? I've no prior experience with this type of repair. Information would be greatly appreciated.
By K.I.D.
Answer

this Question
I have a suede 2 piece sectional. The back of the couch wood broke kinda in half. Can you tell me what to do and if I remove the staples should I get a staple gun to put the fabric on and can the wood in the back be saved?
By Fia from Pittsburg, CA
Answers

Louise B.
Silver Feedback Medal for All Time! 337 Feedbacks
December 16, 2014
0

found this helpful
This does sound like a repair that you might be able to do yourself, but I would suggest you find someone who can help you, since you do not sound like you have a lot experience with home repair. I would think that you have to replace the broken piece of wood, and if the upholstery material is stapled on, you will need a staple gun to reapply it.
The first thing you need to do is to take it apart and see what you are dealing with. It may be that it is not worth fixing, and that you toss it and find a replacement piece. However, if you think you will be able to repair it, try googling for information about re-upholstery and furniture repair.
Answer

this Question