Freezing garlic can be accomplished as cloves, a whole head, or minced, but it can lose some of it's texture and flavor during freezing. This is a guide about freezing garlic.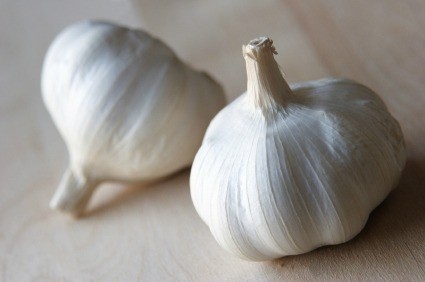 By EllenB 793 1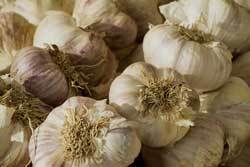 Selecting High-Quality Garlic:
Garlic can be frozen either as cloves or as a whole head, but it will lose some of it's texture and its potent flavor during freezing. Check to see if your garlic is ready for harvest when half the leaves turn brown and the other half remains green (usually the stems have fallen over). Fresh garlic will feel firm and should not contain wet spots, mold or have green shoots around the head.
Preparing for Freezing:
Trim the stems and peel and separate cloves. Leave cloves unpeeled if freezing the entire head.
Best Freezing Method(s):
Garlic can be frozen in a number of ways.
Dry Pack: Peel and chop cloves or leave them whole. Pack them into suitable containers, seal, label and freeze. Grate or break off pieces to use as needed.
Tray Pack: Peel and chop cloves or leave them whole. Lay them in a single layer on a cookie sheet and freeze. Transfer frozen garlic to suitable container, seal, label and freeze.
Garlic Oil: This method preserves the flavor of the garlic the best. However, it needs to be used immediately when removed from freezer. It should not be stored in the refrigerator or at room temperature where it can support the growth of Clostridium botulinum. To prepare, peel cloves. Make a puree with oil in a food processor (1 part garlic to 2 parts oil). Pack in suitable containers, seal, label and store in freezer. Puree will stay soft enough to scoop out as needed for sautéing. You can also leave cloves whole and pour oil over them instead of creating a puree.
Freeze Whole Heads: Leave head unpeeled. Pack in suitable containers, seal, label and freeze. Peel off cloves as needed.
Suitable Packaging:
Freezer containers should be moisture and vapor resistant and should not be prone to cracking or breaking at low temperatures. Containers should provide protection against absorbing flavors or odors and should be easy to label. Suitable packaging for freezing garlic includes freezer-grade plastic bags, rigid plastic containers or glass containers and heavy-duty aluminum foil.
Maximum Storage Time:
10 to 12 months at 0ºF.
Thawing:
Garlic can be transferred from freezer to dishes without being thawed.
Refrigerating Garlic:
Refrigerating garlic tends to lessen the flavor and dry out the cloves.
Can anyone tell me how to store garlic cloves? Can you freeze them whole or do you cut them up? Do you wrap them up in freezer paper or aluminum foil? I have about 15 whole cloves and I don't want them to go bad. Thank you for any help.

Debra from Nahunta, GA
---
Best Answer
March 22, 2009
If I have an abundance of garlic cloves I'll chop them up (this goes fast in a food processor) and place in a log shape on a piece of Saran Wrap then I roll it up and put in a freezer bag. Then I can just break off a piece of the log for the amount I need for a recipe and it's wonderfully fresh and so easy!
---
By Virginia G. 9 12
I love cooking with garlic, but do not like peeling it. So my answer is to buy it in the bag already peeled. I keep the bag in my freezer and when I need garlic, I remove a clove from the bag. Using a box grater or hand held grater (I use a microplane, it works great for garlic), I grate the garlic right into my pot or bowl. Remember though that the clove of garlic is small and will grate quickly even though it is frozen. Grated fingers are not pleasant.
By Virginiag from Porterville, CA

I buy garlic in bulk since it is cheaper, but can't always finish using it before it goes bad. So now, I buy in bulk, and I clean the skin off and chop each clove in half. Then I freeze it in a zip lock bag. When I need to use the garlic, I just take a couple of cloves from the freezer. It saves time and I have garlic at my finger tips.

By SK