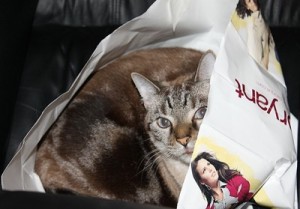 Sir Catty-Kit will be 6 years old in Feb. of 2011. He is half Maine Coon and half Sealpoint Siamese. A friend offered him to us and after one look into his eyes, we said "Yes!" This photo is of Sir Catty-Kit's Shopping Bag Takeover.
Our DIL came home from shopping, went straight to her office and removed all the clothing from the bag. Kit jumped up on her desk to see what was in the bag, and finding it "empty" promptly jumped into the bag.
I realized that Steph hadn't taken out her receipts, and went to get them for her. Kit wouldn't allow me to put my hand in the bag.
I knew we were in for a mama-vs-cat fight, so I picked up bag, cat and all, and took them to the living room and placed them on a chair. Then, the fun began.
There is nothing in the world that Kit loves more than a bag or a box that he can get into. From the time he was a tiny kitten, he's played with every bag, box, basket, or even some of my big wooden bowls that sit on the floor. He'll select one, and stuff himself into it, and he's "king of the mountain". He will not give up his spot for anything.
I continued to try to retrieve Steph's receipts several times, and got smacked every time my hands were close enough. He remains very alert and looks you right in the eye and double-dog-dares you to bother him in any way. He acts as serious as people do when they're playing a highly competitive game.
His eyes will get a little red devil in them, and he'll pretend to be going to sleep just to get you to sneak a hand in and "smack"! He's got you.
He's our darling, and he's as much fun to play with as any person could be. He's smart and loving, and he sleeps right in the bed with hubby and me keeping my feet as warm as toast.
His fur is like 3 layers of rabbit fur, his eyes are as green as Ireland, and being half Maine Coon, he's huge and the most gentle of giant kitties.
He's made up all the games we play like his own version of hide-and-seek, peek-a-boo, chase, and tag. When he wants you to play with him, he'll arch his back like a Halloween cat, and hop sideways. That's your cue to "Come and catch me if you can" and then he runs to hide under the dining room table or maybe the bed. He's a good hider too, and will remain just as still and quiet as a mouse until you find him, then he's off again in the other direction to hide again.
If you hide from him, he'll sneak up on you, and jump at you, then he runs to hide again. This would go on for hours I think. He never seems to tire as long as he's playing with one of us.
We have a special stool that's like one that fits under the counter top that is "HIS". If he wants to be brushed, he'll jump up on his stool and wait. If you want to brush him, you just tell him to go and get up on his stool, and he'll do it right away.
I often feel that he's absolutely disgusted with us for not learning to speak "cat language". He understands people language, so why can't we understand him when he says he wants more tuna?
Kit loves water, and will play in the lavatory. If he wants you to turn on the water to just a drip, he'll jump up on the edge of the vanity top, and tell you verbally to please turn on the water. He'll look right into your eyes and tell you what he wants, but his body language and actions tells you at the same time. He'll start digging at the drain like he thinks that's where the water is going to come from, but that's only part of his game. I think he's really just washing his paws, because he drinks from the faucet, then he'll dig some more, then drink more.
He is the most amusing pet we've ever been owned by, and we've had some great ones. We'd decided we would not get another pet when our last kitty died at age 11. We were so afraid of not living 11 more years ourselves and the thought of having to leave one to someone else never did set well with either of us. If our pet would have missed us as much as we've missed the ones who wait for us now at the Rainbow Bridge, just the thought of it was too painful.
I can hardly stand to think of what we'd have missed had we not taken Kit when he was offered to us. He is as crazy about our son (and vice versa) as he is about us, so should anything happen to us, we know Kit has a home with people he knows and loves. He'll be 6 years old this coming February 14, St. Valentine's Day. If animals have horoscopes, then Kit is an Aquarian, the sign of friendship, and no person or animal could fit that sign better than Kit does.
Ad
---
By Stacey Silva 54 466 09/30/20100 people found this helpful
He's gorgeous!! How I'd love to meet that funny guy! Give him hugs and kisses for me! :)
09/30/20100 people found this helpful
What a lovely story and what a handsome and great member of the family! Thumbs Up Sir Catty-Kit!
By Darla 24 178 10/01/20100 people found this helpful
I just loved reading your wonderful story, thanks for sharing.
By Roseanne 160 10/01/20100 people found this helpful
I've seen your cat's picture before, and always thought he has the most beautiful face. He's very expressive. I can picture him with "red in his eyes", LOL. He sounds like he's so much fun to be around too.

Love the story that goes with the pictures. Perfect.

Thank you for sharing your Sir Catty-Kit.

ww
By Marsha 1 267 10/02/20100 people found this helpful
He looks so alert. I'm betting he is fun to play with, and there's nothing cuter than that Halloween kitty act you described. When they do that, they look just like a Halloween cat even if they are not black.
I've seen cats doing that and wondered if they were just playing or were they after something.

I do so enjoy reading your stories, and especially the ones about the pets and animals. I like them all, but am a horselover first and last.

Thanks for sharing your fur-baby with us.

MisMachado
By Michelle 81 10/02/20100 people found this helpful
I can just see him playing peekaboo. I think he mght be playing peekaboo a little bit here. He's
sure got his eyes on you and doesn't want you to stop playing.

I enjoyed the pics and how you told the story too.

Thanks for sharing.

StarWarsCollector
By Lee 150 10/03/20100 people found this helpful
He sure is a handsome fellow, and it's easy to see that he is a wonderful pet. Your family is lucky to have him and vice versa. Some people treat their pets as family members, and they seem to always be the happiest people in the world.

Thanks for sharing the cute story with the pictures.

Lee
By MamaBeth 1 06/24/20140 people found this helpful
Sir Catty-Kit is a very beautiful boy! He sounds just like my current Maine Coon, Holly. My first Maine Coon, Baby, lived to 18 years, so Kit has a very long life ahead of him.

We have 3 cats now and 2 small dogs. Of course, the cats are boss to the dogs . They, too, are our furkids, as my son is away at school. I couldn't love my fur kids any more than I do. Just wish they'd leave a little bed space for the humans!

MamaBeth
By Shirley U. 2 09/13/20150 people found this helpful
Our cats are twins!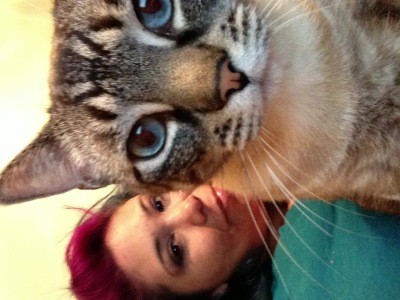 By Shirley U. 2 09/13/20150 people found this helpful
My Mickey Blue Eyes...he's 16 lbs =) BEST cat ever!!!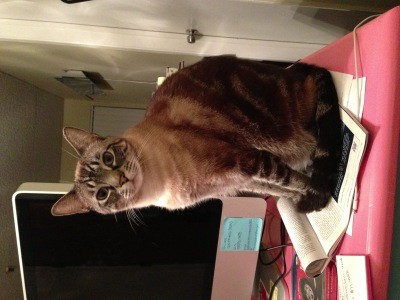 Archives
Thrifty Fun has been around so long that many of our pages have been reset several times. Archives are older versions of the page and the comments that were provided then.
***
***
Sir Catty-Kit will be 2 years old on Feb 14, 2007. He is half Siamese; half Maine Coon Tabby. A friend gave him to us when he was 10 weeks old.
He likes to play Chase, Hide and Seek, Peek-a-Boo and will take over any kind of box he can get himself into.
"Kit" helps my husband and me with everything we do. As we were redoing our Christmas wreath this past Christmas, Kit was in the middle of the wreath "holding ribbon" down for us. It presented just too good a picture to miss.
By Julia from Orlando, FL
---
RE: Sir Catty-Kit (Maine Coon-Siamese)
He is a beauty! We also have a part Maine Coon-Siamese. My son got him at the shelter when he was 8 weeks old. He eventually gave him to us. His name is Java. He is black and very fluffy (long haired) He weighs about 17 lbs and likes to be carried around on our shoulder(UGG). He is almost 12 yrs old now and has diabetes but is doing well. I would send a picture but I don't have a digital camera. (01/17/2007)
By Nancy MC
RE: Sir Catty-Kit (Maine Coon-Siamese)
Well, Sir Catty-Kit makes a very pretty Christmas decoration! I know he is a lot of fun to have around. My Miss Kitty (Bombay) is a loving lapful. (01/17/2007)
By tedsmom
RE: Sir Catty-Kit (Maine Coon-Siamese)
=^..^= What a regal name of course it fits as this is one regal looking guy, how handsome. He is gorgeous and how fun. (01/20/2007)
By meoowmom
RE: Sir Catty-Kit (Maine Coon-Siamese)
He is gorgeous. You should make it a series. Kit on Valentine's Day, Kit at Easter, Kit on Arbor Day:) (01/20/2007)
By thriftyboo