Ingredients:
7 fresh peaches, peeled, pitted, and sliced
5 slices white bread, crusts trimmed
1 1/2 cups sugar
2 Tbsp. all-purpose flour
1 egg, lightly beaten
1/2 cup butter, melted
Directions:
Preheat oven to 350 degrees F. Butter a 9x13 inch baking dish. Place peaches in prepared dish. Cut each slice of trimmed bread into five strips and lay them over the peaches in a single layer. In a medium bowl, combine sugar, flour, egg, and butter and mix until well-blended. Pour over bread and peaches. Bake for 35 to 45 minutes, until golden. Serve hot, just minutes out of the oven, with ice cream or heavy cream.
Cobblers (and pandowdy, slumps, and grunts, too!) are meant to be eaten right away. If necessary, they can be made a few hours ahead and kept, uncovered, at room temperature.
By Jodi from Aurora, CO
Ad
---
Archives
Thrifty Fun has been around so long that many of our pages have been reset several times. Archives are older versions of the page and the comments that were provided then.
Ingredients
3 cups sliced peaches, fresh, canned, or frozen (thawed)
1 Tbsp. lemon juice
1 cup all-purpose flour
1 cup granulated sugar
1/2 tsp. salt
1 egg, beaten
6 Tbsp. melted butter or margarine (not spread)
Directions
Place peaches on bottom of a 10x6x2-inch baking pan; sprinkle with lemon juice. Sift together the dry ingredients; add egg. Toss until crumbly, then sprinkle over the peaches. Drizzle with the melted butter. Bake at 375 degrees F for 30 to 40 minutes, or until bubbly and browned. Serve warm with vanilla ice cream or sweetened whipped cream. Frozen and thawed topping may also be used.
By Connie from Oden, Arkansas
Ingredients
1/2 cup margarine
3 tsp. baking powder
1 cup flour
1 cup milk
1 cup sugar
3 cups sliced fresh peaches
1 tsp. salt
Directions
Heat oven to 375 degrees F. Put margarine in shallow pan. Place in oven until margarine is melted. Meanwhile, sift flour, salt and baking powder into bowl; add milk all at once. Stir just enough to blend ingredients. Spread margarine evenly over the bottom of the baking dish. Pout half of the batter over margarine. Arrange peaches on top of batter. Spread remaining batter over peaches. Bake 45 minutes at 375 degrees F. Can be served with ice cream or whipped topping.
By Robin from Washington, IA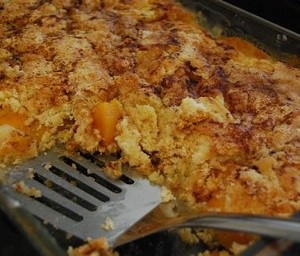 So simple - perfect for summer entertaining when you don't want to spend a lot of time in the kitchen!
Ingredients:
1/2 cup of butter
2 - 16 oz. jars of peaches (may use cans)
box of yellow cake mix
3 Tbsp. sugar
1 tsp. cinnamon
1/2 tsp. nutmeg
Directions:
Open the stick of butter and rub it over the bottom and sides of a 9x13 inch dish. Set aside the butter for later. Open the jars of peaches and pour into the baking dish.
Pour the cake mix directly over the peaches. Mix the cake mix into the peach syrup so all powder is dissolved. Mix the sugar, cinnamon and nutmeg together and sprinkle evenly over the top. Slice your butter into little pats and spread them on top.
Put the pan in a 375 degree F. oven for about 40 minutes, until a golden color. Serve warm with ice cream or cold with whipped cream.
Servings:
12
Time:
10 Minutes Preparation Time
40 Minutes Cooking Time
Source: Work it Moms!
By Lovinglynden from Lynden, WA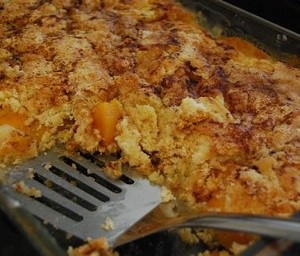 ---
RE: Easy Peach Cobbler
I wish I'd baked one of these first thing this morning. Peach Cobbler is one of my son's favorite desserts, so instead of having it for breakfast, he can have it for dinner tonight.
I also wish I had some nice home-canned peaches, but canned Raggedy Anne's from Publix will have to do this time. :-)
Thank you for sharing, Lovinglynden. (05/03/2010)
By PookaRina
RE: Easy Peach Cobbler
Hi Lovinglynden, I made it. My Raggedy Ann canned peaches were packed in heavy syrup, so I decided that if I used 2 cans, and using all the syrup, I could add a couple Tbsp. of flour to cut the sweet of the cake mix and just add the sugar with spices on top. I ended up adding 4 Tbsp. of all-purpose unbleached flour to the cake mix when I was sifting it. Oh Boy, is it ever good too. I wouldn't change anything more now. It's as easy as pie and really delicious.
Thanks again for the recipe. We all liked it very much. (05/05/2010)
By PookaRina
So easy to throw together for unexpected company or a family picnic.
Ingredients:
1 white or yellow cake mix
1 cup oatmeal
1 stick of butter
1 Tbsp. corn starch
2 large cans sliced peaches in light syrup
Directions:
Preheat oven to 350 degrees F.
Spray a 9x11 inch cake pan with cooking spray. Drain 1 can of peaches and dump into pan along with the second can of peaches WITH syrup. Sprinkle with cornstarch and gently stir into cake pan. You don't have to dissolve or mix completely. In a medium bowl, combine cake mix and oatmeal. Evenly distribute over the top of the peaches. Dot with slices of butter and bake for 45 minutes.
Excellent hot or cold; by itself or a la mode.
Servings:
12
Time:
10 Minutes Preparation Time
45 Minutes Cooking Time
By Bethmom1961 from Danville, Ohio