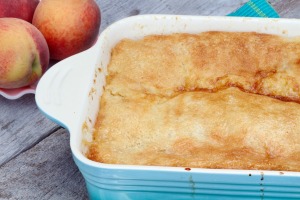 Ingredients
1/2 cup sugar
2 Tbsp. cornstarch
1 can sliced peaches, drained, juice reserved
1 can apricot halves, drained, juice reserved
1 Tbsp. butter
1/2 tsp. cinnamon
1/4 tsp. nutmeg
Topping:
1/2 cup flour
1/2 cup sugar
3/4 tsp. baking powder
1/4 tsp. salt
2 Tbsp. butter, softened
1 large egg
Garnish:
1 cup heavy cream
2 Tbsp. honey, at room temperature
1/2 tsp. cinnamon
Directions
Preheat oven to 400 degrees F. In a medium saucepan, mix together sugar and cornstarch. Stir in 1/2 cup each of reserved peach and apricot juices. Cook over medium heat, stirring constantly, until mixture boils and thickens, 2 minutes. Remove from heat. Stir in butter, cinnamon, and nutmeg. Add peaches and apricots. spoon fruit mixture into a 1 1/2 qt. casserole. To prepare topping, mix together flour, sugar, baking powder, salt, butter, and egg. Spoon over fruit mixture. Bake cobbler until topping is lightly golden, 30 minutes. Transfer casserole to a wire rack to cool slightly. To prepare garnish, beat together cream, honey, and cinnamon at medium speed until soft peaks form. Serve cobbler warm, topped with spiced whipped cream.
By Robin from Washington, IA