How do I fix bleached leather? Can I color it in?
By kwatts
Ad
---
Recent Answers
Here are the recent answer to this question.

By Chris11/11/2009
The bleach has removed the color-coat from the top of your leather. With 20 years in the biz, I am happy to suggest do-it-yourself solutions when possible. In this case, I don't suggest do it yourself is the way to go. You need to match the color, refinish the area and re-topcoat the leather. Color matching is a challenging skill. Do yourself a favor, hire a pro instead of making the area worse. I was able to remove the stain in the pic so it was totally gone.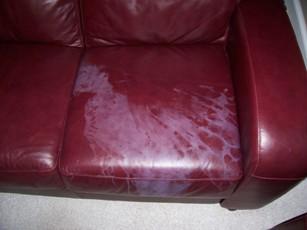 By pam munro [447]11/11/2009
You could also use shoe polish the same color as the leather (the brand Meltonian, available in shoe repair stores has lots of colors - or even use cream makeup the same color) to blend in larger areas.

By kathleen williams [23]11/11/2009
Use a permanent marker to cover the spots, good luck.
Answer This Question
Add your voice to the conversation. Click here to answer this question.