If your canine escape artist is on the wrong side of the fence again, there are some solutions you can try. This is a guide about keeping your dog in your yard.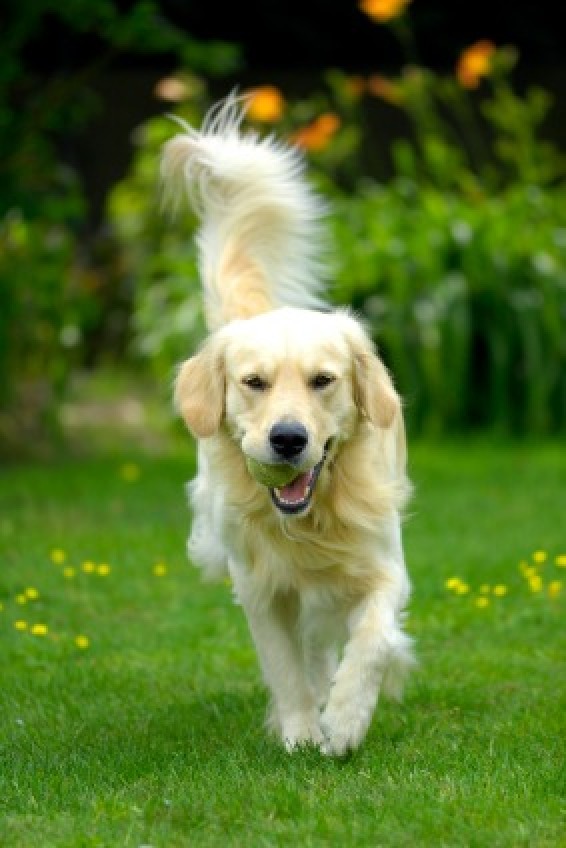 Filter

: All Articles
Sort

: Relevance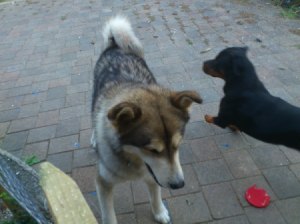 Our 1 year old Rotti has always been an escape artist since we first started keeping him in the back yard with our other dog. In the last few months, after we moved to our new house which has higher fences than the last one, he has been jumping/climbing the fence, getting into our garage and destroying anything he can find, stealing and destroying things from the neighbors garage, and ripping up all the neighbors rubbish bags on rubbish day.
We have tried tying him up, but he just sits there and howls all day, we started getting complaints from neighbors. So we decided to get an invisible fence that gives him a shock if he gets too close to it. That worked for the first half of a day, as it was something new, but as the day went on he started ignoring the shocks and sat right beside the fence which caused the battery to run itself out. We got a new battery and tried again, but as expected he just sat there by the fence and jumping up on it, twitching with every shock that he was getting as he was past the boundary limit that was set, which caused the new battery to die within half an hour!
We don't know what else to do as he is just not getting the hint. We take him for hour long walks but 10 minutes after we get back he is jumping the fence again. He never runs away and will jump back as soon as he hears someone coming because he knows he is about to get told off and tries to make it look like he was never out. We are only renting and are not allowed to adjust the fences, we love living here so don't want to move. He still has his testes as we were planning on breeding him, since he is purebred, but now we are thinking its' not such a good idea and may have to get him neutered, but we cannot afford it right now being only on one income with a baby. Please help. We don't know what to do!
By Missy
April 14, 2013
1

found this helpful
Best Answer
He is a very smart dog to have outsmarted the electric fence. If you haven't already, it would be worth seeing if your landlord will work with you raise the fence a bit.
I also recommend getting him neutered. Our local Humane Society website has links to several spay and neuter options with coupons, assistance programs, and discounts. You should check to see if your Humane Society does too. We were able to get our two kittens fixed through the Oregon Spay/Neuter Fund for significantly less than the vet had told us it would cost.
April 15, 2013
0

found this helpful
Best Answer
I have 2 dogs. One is very well behaved and the other is an escape artist, like yours. Both German Shepherds...I got 2 harnesses, not collars, and with a 3 foot leash, attached the escapee to the "warden"...in other words, I attached the leash to the harnesses on both dogs. The leash isn't long enough to let my climber/jumper get even half way up the fence.
Now my escape artist has to go wherever his brother goes. Just make sure the leash is short enough so the jumper can't get anywhere near the top of any fence, but long enough so they can sit, walk, and lay down comfortably. This is a temporary solution while my escaper is attending obedience classes. Good luck.
Read More Answers...
How do I prevent my Rott from breaking his leash? I live in a trailer park and he has broken his leash. I put him on a chain and now he is breaking my shed. I don't know what to do to fix this problem. He gets excited when he sees people and is pulling on his leash.
June 10, 2016
0

found this helpful
I don't mean to sound like I am scolding you but what is your dog doing on a chain in the yard when you aren't out there with him ? If he is too active for your home and doesn't listen, your next call should be to find a local training class. Big dogs can cause serious property damage if left to their own devices and generally bigger lawsuits will follow if you don't take steps to correct his behavior immediately. Rottweilers are on the aggressive dog list, don't become a statistic to it.
June 10, 2016
0

found this helpful
Rottweilers cannot simply be chained outside your trailer. They are strong, active dogs. You can tire him out, but not by walking him. You'd have to bike or rollerblade while running him.
Are you allowed to put up anything like a strong, wood fence? You need that more than you need a shed right now.
My dog can jump over my 4ft. chain link fence. What can I do to keep her contained?
By Yarbokr from Nashville, TN
April 13, 2009
0

found this helpful
Best Answer
I watch a show called the Dog Whisper and one family had the same problem and he used a plastic mat by the fence that gave off a small charge when he stepped on it, just enough to startle them. The mat was about 20-30 feet long and maybe a foot wide. He did say that someone other than you lay the mat down, so there is none of your scent on it.
Good Luck
April 21, 2009
0

found this helpful
Best Answer
Make a small extension of the fence that slants toward the yard and that will keep the dog from climbing or jumping over.
Read More Answers...
I have a 10 month old yellow Lab who is quite large. I love her to death, but unfortunately the neighbors are not so fond of her. I can't put her on a chain, because there is too much in our yard for her to get tangled up on (basketball goal, five cars, steps, trees, etc). I have an electric fence which works pretty good except for when she gets really excited and runs through it, at which point she won't come back through it.
She's driving my neighbors crazy, because she will steal pillows off of their porch. I just bought her three new toys and I got a new puppy for her to play with in hopes that she would stay home. However just this morning she escaped. Any suggestions short of giving her up and or moving to Alaska?
By heartsoundslikekisses from NC
July 19, 2009
0

found this helpful
Best Answer
Those electric fences cause more problems than they are worth (except to a dog trainer like myself who can then charge you a good sum to retrain your dog to be willing to go into your yard and your vet for when a roaming dog attacks your unprotected dog). You should put up a real fence or get a dog run. Do not chain your dog, that can be deadly and will encourage aggressive behavior. Don't keep your dog in the yard, she is a companion breed and needs a lot of time with you. Take her for lots of walks and play, obedience train her, and if not done already, spay her. Especially if you don't have a real fence, there is nothing to keep her from getting pregnant from any boy who happens along.
July 20, 2009
0

found this helpful
Best Answer
If you cannot afford to fence your yard in (or rent), consider getting a kennel for your dog. Ours is 6x12 feet--we paid extra for a panel for the top. It is really heavy duty chain link and extremely sturdy. While you shouldn't keep a dog in one constantly because they need to be walked daily, they are great for allowing a dog to be outside without you for periods of time. We have it ours on a covered porch for our cat. He has a dog house in it, a litter box, food bowls, and ramps to climb and lie on. He is totally safe from predators. These are much cheaper than fencing in the entire yard, can be taken apart and moved if you get a new place, and re-sold if no longer needed, so they are pretty cost-efficient. They come in several sizes, and different companies make them in differing weights. We can buy additional panels to make ours bigger, but ours is fine for our cat.
Read More Answers...
We recently adopted an approximately 2 year old neutered male miniature Australian Shepherd. I am about at my wit's end with him! After coming home to find chewed things and poo a couple of times, we decided to let him out into our fenced back yard while we were away from the house.
He has consistently managed to get out of the back yard every time we've been away. We've plugged up every hole in the fence we could find. There is another dog out there with him (an older, much larger dog that he has known pretty much all his life). We make sure he has food and water before we leave.
As long as someone is out there watching, he's a perfect little angel, but the minute we have our backs turned, he escapes somehow. I don't want to chain him up, as there are days we're gone 7:30 am to 6:00 pm. I can't leave him inside or he chews everything up and leaves messes on the carpet. I can't let him outside because he escapes. I don't know what to do!
By Camilla N
September 27, 2012
0

found this helpful
Best Answer
Glad that you care because this can be resolved in time. For now, sounds like he really needs to be with you at all times. He has been uprooted from everything he knows. He is afraid and trying for familiar things. It will take time for him to adjust. Do not tie him as this often results in hanging death.
For less than 30 dollars you may wish to buy an electric fence. Little more for wire and stakes. Normally avoided method but if he is unsafe out there, he must stay home. If only he could stay at your side all the time, that would fix the problem.
Another thing he desperately needs is exercise. He is a herder by nature and high activity animal. Jogger in the family? Play ball. swimming. Any physical activity would help, especially if he is with family. You get to wear him out then love him to pieces. He will then be very happy to relax at home, safe and warm.
September 28, 2012
0

found this helpful
Best Answer
Ah, you have a Houdini. So do I, so you have my sympathies. How is your dog getting out? Over or under the fence? Either way, I suggest running an electric wire at the top of the fence, and the bottom. That should catch the dog however he tries to get out. The top wire you might want to put a bit above the fence, not right at the boards.
Also, does he have toys to play with in the yard? Shade and water, perhaps a dog house for upcoming cold weather? What about hiring a pet sitter to come play with him for an hour or so during the day? Good luck, I know where you are coming from with this. <--signed, the owner of a very aggravating, sneaky Houdini.
Read More Answers...
I am looking for some advice. At the moment I own a lovable black Lab. We have two parks in either direction not far from my home where we walk and she has a fair sized back yard to play in. We attach her to a chain only long enough for her to go outside and do what she has to do and comes back in.
I'm considering adopting her a companion in the future, but unsure as to how I can manage both outside. There are busy streets surrounding our house where it would be too easy to wander off without a chain, if I attach another chair to our doorstep it would be impossible for either not to become tangled amongst each other.
I'd hate to put them in an outdoor cage, that would be cutting off less space for them, any advice on how I can manage two dogs outside on some sort of chains? I would like to let them roam as freely as possible without causing any danger to their well being, a large fenced in area is a possibility, but would would be somewhat expensive I imagine, but still a possibility.
By Jo
February 2, 2014
0

found this helpful
Best Answer
Is there a tree or a pole of some kind that you could attach a wire run to? Or could you install a pole? With the dogs' chains attached to the wire, it is more difficult for them to get tangled, and they could have some freedom to move around safely. With the swivel type attachment on the wire, and a regular leash type catch on the other end to attach to the collars, it should work. Hope this helps.
February 3, 2014
0

found this helpful
With no disrespect please don't even consider having another Dog you have enough issues with your unfenced property and the one you have. Is there any reason you can't fence the place?
So I have this beautiful boy; he's a two year old German Shepherd and the past few months we've been having a lot of trouble keeping him in the yard. He's been fixed for over a year now and we live out in the country, but on a hwy. We own 5 acres of land and the yard is fully fenced except for the entrance. He's been going over to the neighbor's as they own an unfixed female German Shepherd. My question is how do we stop him from going over there? I've been keeping him in his run and letting him out a few hours a day (I have to really watch him), but he still goes over there. We play with him, and have two other dogs that he can play with yet he keeps going over there. Even if he's fixed will a male dog still wonder away if a female is near by in heat? I feel like an annoying neighbor because my dog's there more then I'd like. I go get him the minute I notice. He's friendly and all up to date with his shots, but I also worry he'll get hit one of these days. I'm running out of ideas and need any kind of advice.
By Jackie S from Northern Alberta
February 21, 2015
0

found this helpful
You say the yard is fully fenced except for the entrance. Is there any reason why you can't install a gate in the entrance? Then he could just run in your yard.
I just moved outside city limits and have no fence. I have two dogs and have them on a dog run, there are a lot of dogs that run loose. I don't want my dogs getting pregnant from these dogs. Does anybody know if there is something I can do before I get them fenced, are these dogs supposed to be neutered/spayed?
By Melissa S.
October 27, 2014
0

found this helpful
Other people's pets can be a nuisance to others and it's an unsafe practice to allow pets to roam freely to wander off too far and get lost, picked up, hit by vehicles, fight with other dogs or bite someone else, get shot at or poisoned and/or contact an illness from another sick animal and bring it home to other household pets.
Go to the animal shelter and inquire about too many animals running freely and are disturbing your area. Take photos of all the animals that are running around on your property when you see them and take the pics with you. The proper chain of command in order to get running animals back on their own premise must be enforced and you need help from those who are in command. Start here and if you must, then climb higher steps to accomplish your goal of having no animals running loose.
Write an article about too many dogs running loose in the neighborhood and present it to the editor for publishing in your local paper. This alerts inconsiderate neighbors of a real problem that occurs to real people and others pets when a dog is allowed to roam freely. If you write it anger free, you can touch more people with sound reasoning and more might respond to the problem in a positive manner.
Post bulletins around town with permission from officials about roaming dog problem in the area. Take pictures of the dog and put it on the bulletin. People will recognize their pet or a neighbor's dog and maybe feel embarrassed enough to do something about keeping their dog at home.
This has got to stir people into action and the problem isn't going away by neglecting it. You might turn some neighbors into enemies, but you have the law to back you up and the animal shelter. If there's no license on the dog's collar, then it's considered a stray. Anyone who wants their dog back must buy a license for it before they get it back and also are warned about allowing their dog to roam; it must be on a leash.
I own three dogs and we had the problem of a neighbor's dog running freely and always crossed over our place on it's rounds. The dog started bringing home other dogs with it and they would stop by our dog who was tied to a long running line and eat his food and one time he was bitten and the bite got infected. Our dog couldn't defend itself well and run away from harm as it was an older dog, but it remained on it's own side of the fence and never bothered anybody.
I decided enough was enough and took action to stop all the loose dogs running around all over the place. I was concerned for our dogs too that a stray dog might bring a contagious disease home to ours and we take very good care of our dogs and they stay on our place only. Other people's dogs don't belong on our place to cause a problem for us. The animal shelter set up an animal trap and several dogs were caught in them and turned over to the shelter. Upon contacting the owner was made to understand he could not let his dog run freely.
I didn't bring the problem about, it was caused from neighborhood people who didn't show consideration for other people's pets or premise. If it was directly addressed to me by a neighborhood resident, I'd recite that to them. Now our neighborhood and county has a law that dogs cannot roam and when caught they are taken to the shelter and wait until claimed and pay a fine. This is a law that is now enforced and most every Spring an article is placed in our local paper about keeping your dogs leashed and not running loose as a reminder. I am happy to say that it has worked and I did make a few people upset at the persistence, but hey, everyone I would like to think is far happier and pets are made much safer in their environment from it. Hang in there!
Lois Lane is a 9 year old Cocker Spaniel and she has been with me since she was a puppy. I have had several grandchildren since she came to me and because she sheds I have recently been keeping her in the backyard which she resents tremendously. If she is not on a leash she crawls under the gate. If she is on a leash she barks all day. Can you suggest an inexpensive fix to keep her in the yard and my sanity?
By Pandora
September 28, 2014
0

found this helpful
You might want to try a Puppy Bumper to keep your dog from going under the fence. Puppy Bumpers are stuffed collars that keep dogs from squeezing through small spaces.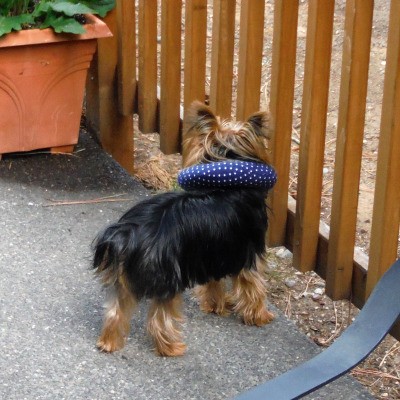 My family and I have a German Shepherd that keeps on running to the neighbors. We live on a dairy farm, so we can't put a fence up and she already ran out on the highway.
Please help us. We don't want to give her away.
By Rebecca M
September 9, 2013
0

found this helpful
First off I don't understand why you think you can't put up a fence. If it is landlord based then ask if you can use an electric fence. They are temporary and work well with dogs of all sizes. And once trained to the boundary then you only need a refresher course every so often.
We have a 6 year old yellow Lab that is used to being a farm dog, but recently we moved to town and we can't keep him in our yard. He is too big to be in the house so we have a wire kennel in the back yard, but he manages to get out of it either by ripping the door off or digging a huge hole.