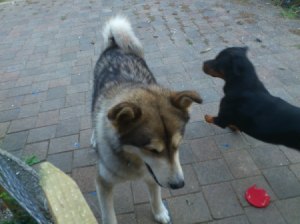 Our 1 year old Rotti has always been an escape artist since we first started keeping him in the back yard with our other dog. In the last few months, after we moved to our new house which has higher fences than the last one, he has been jumping/climbing the fence, getting into our garage and destroying anything he can find, stealing and destroying things from the neighbors garage, and ripping up all the neighbors rubbish bags on rubbish day.
We have tried tying him up, but he just sits there and howls all day, we started getting complaints from neighbors. So we decided to get an invisible fence that gives him a shock if he gets too close to it. That worked for the first half of a day, as it was something new, but as the day went on he started ignoring the shocks and sat right beside the fence which caused the battery to run itself out. We got a new battery and tried again, but as expected he just sat there by the fence and jumping up on it, twitching with every shock that he was getting as he was past the boundary limit that was set, which caused the new battery to die within half an hour!
We don't know what else to do as he is just not getting the hint. We take him for hour long walks but 10 minutes after we get back he is jumping the fence again. He never runs away and will jump back as soon as he hears someone coming because he knows he is about to get told off and tries to make it look like he was never out. We are only renting and are not allowed to adjust the fences, we love living here so don't want to move. He still has his testes as we were planning on breeding him, since he is purebred, but now we are thinking its' not such a good idea and may have to get him neutered, but we cannot afford it right now being only on one income with a baby. Please help. We don't know what to do!
By Missy
Answers
April 14, 2013
3

found this helpful
Best Answer
What we did and works greatly, is on the top of the fense facing inward, we put an electric fense, like you would do for horses. So they can play all they want in the yard with no problem but if they try to jump they get zapped. The horse electric fense is just a plug into your regular socket, not battery, so the power never gets weak.
April 14, 2013
2

found this helpful
Best Answer
I know how you feel. I have a boxer mix that can jump any 8 ft. fence like a deer. Luckily she doesn't do it so often anymore and also puts herself back in the yard. I would have him neutered as soon as you can. It will curb his wanderlust. Call around you can get this done free or low cost from Snap or a similar program in the area.
He is young and I think very smart. Dogs like that need lots of stimulus and being kept confined in the back yard just makes things worse for them.
Maybe a new home would be the best for all. He needs someone who can spent more time and keep him in line by constant training.
Good luck. I hope things work out for both of you.
April 14, 2013
2

found this helpful
Best Answer
He is a very smart dog to have outsmarted the electric fence. If you haven't already, it would be worth seeing if your landlord will work with you raise the fence a bit.
I also recommend getting him neutered. Our local Humane Society website has links to several spay and neuter options with coupons, assistance programs, and discounts.
You should check to see if your Humane Society does too. We were able to get our two kittens fixed through the Oregon Spay/Neuter Fund for significantly less than the vet had told us it would cost.
April 15, 2013
1

found this helpful
Best Answer
I have 2 dogs. One is very well behaved and the other is an escape artist, like yours. Both German Shepherds...I got 2 harnesses, not collars, and with a 3 foot leash, attached the escapee to the "warden"...in other words, I attached the leash to the harnesses on both dogs. The leash isn't long enough to let my climber/jumper get even half way up the fence.
Now my escape artist has to go wherever his brother goes. Just make sure the leash is short enough so the jumper can't get anywhere near the top of any fence, but long enough so they can sit, walk, and lay down comfortably. This is a temporary solution while my escaper is attending obedience classes. Good luck.
Answer

this Question

...
My dog can jump over my 4ft. chain link fence. What can I do to keep her contained?
By kim from Nashville, TN
Answers
April 8, 2009
0

found this helpful
Best Answer
Raise the fence 2 feet. It isn't that hard or expensive to do. The dog also shouldn't be left outside alone so long they're interested in running away. It's a poor life to be that lonely.
If you exercised the dog for 1-2 hours a day by jogging and walking fast with them; they'd happily be too tired to want to jump and run away. The dog would also get enough mental stimulation from all the sights, sounds and smells of a walk they'd be even less interested in running.
April 13, 2009
0

found this helpful
Best Answer
I watch a show called the Dog Whisper and one family had the same problem and he used a plastic mat by the fence that gave off a small charge when he stepped on it, just enough to startle them. The mat was about 20-30 feet long and maybe a foot wide. He did say that someone other than you lay the mat down, so there is none of your scent on it.
Good Luck
April 21, 2009
0

found this helpful
Best Answer
Make a small extension of the fence that slants toward the yard and that will keep the dog from climbing or jumping over.
Answer

this Question

...
We moved into a new home and the neighbors' dogs (3) are trying to jump and pull themselves over the fence to get to my dogs. It's an everyday thing now, I'm unable to leave my dogs outside for any period of time and am fed up with it. My dogs were very well behaved, but now when the other dogs try to climb over my dogs will go after them. How do I keep them off the fence? Please help.
By Tina R.
Answers
February 10, 2013
0

found this helpful
Hello. Have you tried speaking to your neighbors? If not, you should start there. You can always add more height to the top of your fence to avoid them jumping over. Please make sure your pets are fully vaccinared to avoid any conflict with your neighbors. Good luck
Answer

this Question

...
How do you stop your dog from jumping over the fence?
Kailey

Answers:
Keeping Dogs from Jumping Fence
New fence. (12/01/2008)

Keeping Dogs from Jumping Fence
I saw this problem once on the Dog Whisperer. The dog could scale a very tall wooden fence! What Cesar used during that episode for that particular dog was a "scat mat". I've seen them for sale here: http://www.drsfostersmith.com/product/prod_display.cfm?pcatid=3452, or I'm sure you could Google "scat mat". The mat sends off a static charge and the dog (or cat) will learn they don't like the little zap and they'll stay away.

If that doesn't work, I would talk to a vet or trainer. (12/02/2008)

By Jessica
Keeping Dogs from Jumping Fence
I sympathize with your problem; my hubby's had incredibly agile dogs since long before we met. One dog I most clearly remember actually climbed into the tree at the back of our property while chasing a squirrel at 2:00 AM!
We were blessed a couple of years ago with not only some corral fencing, but some really tall wire fencing, like commercial dog runs are made of. Hubby was able to get help mounting the corral fencing on 4x4s when we first got it. Then this summer, he and I used tie wire to attach the dog-run style fencing to our existing chain-link fence around 90% of our half-acre yard. Now the only area we have to worry about is the front gate, and a bit of supervision takes care of that. (12/04/2008)

What is the best way to keep a dog from jumping a fence? My dogs are tough. They even have the underground fence and still jump the fence. I love my boys but get so frustrated. My neighbors lab is the same way (they are brothers). Brandy
Answers:
Keeping Dogs from Jumping Fence
Hello Brandy,
I too, had 2 dogs who always jumped the fence. I was getting very frustrated until I found a small fence shocker at my local pet store. It's not as strong as the larger ones you see on cattle/horse fences, but it will give a jolt.
I checked with my vet prior to purchasing...and he said it was not harmful. It only took me a couple hours to run the wire at the top of the fence, and below where they had started to dig. It only took 2 shocks for them to stay away from the fence. After awhile, I could even unplug it and they stayed home. It was a good investment for me. Hope this helps!
Sharon (10/04/2005)

By Sharon
Keeping Dogs from Jumping Fence
The electric fence is the way to go - (10/04/2005)

By Brenda
Keeping Dogs from Jumping Fence
Line the top of your fence with inexpensive, PVC pipe by running a cable or some heavy wire through it so the pipe rolls freely when touched. The dogs might be able to reach the top of the wooden or chain link fence but when they attempt to climb the pvc it will just roll and roll and roll. They will tire themselves out trying to get over the fence! I read this idea in a book about Siberian Huskies who are known for escaping. (02/03/2006)

Keeping Dogs from Jumping Fence
What was the brand of fence shocker you used? (05/01/2007)

By Gary