We have a little girl that stays with us most every weekend and school breaks. She likes having friends over sometimes and we needed another bed in the room with her without taking up a lot of space.
My husband took down the closet doors and made a loft in the closet. He re-attached the rods under the new bed and the closet is still fully functional. We painted and papered the top of the closet in a jungle theme and call it the "tree house". He even added a shelf up there to hold books, stuffed animals, etc. It looks great!
By Donna S. from Marion, IN
Ad
---
By Becca25 11 111 06/04/2009 Flag
Is the photo a picture of the 'bed'? If so, seems to be pretty high up. Would it be safe to sleep on at that height, if so? Looks bit dangerous... while still a fun idea. Could he possibly build a pull out bed like a trundle under the daughters bed ( just get a thin piece of ply wood, add rollers, and a thin matress or even just pad the board with batting and fabric stapled underneath)? How about making a "tent" ( just attach pretty mesh/sheer fabric from the top corner to the floor ) in the corner of the room and have sleeping bags & other fun outdoors-y things (it would be a fun spot to hang out in and read or whatever as well)?

I am probably just visioning this totally wrong. If so, my apologies!
By Judi 18 938 06/04/2009 Flag
I think that sounds like a terrific idea! I'm sure you've considered the safety issue. You did say you lowered the rod. Little ones like to snuggle in cubbies and do different things. An adult friend with a very small bedroom built her bed over her desk since there wasn't room for both. I like your idea.
By Teresa Tart 1 345 06/05/2009 Flag
Why not put bunk beds in the room top bed could be used for sleeping or putting stuff animals or toys on when not used. Does it have a mattress and I don't mean any harm but it does look to high up for a child to sleep on, it is cute.
By Donna Small 1 2 06/19/2009 Flag
Hello all that responded to our idea. I started back to school a few weeks ago and forgot that I had posted this! To answer everyone's questions about safety issues. My husband had built a ladder for them to climb to the bed...and yes, there is a mattress. We had a mattress in a chair and a half that we had never used that fit perfectly. As for the the safety rails, we used outdoor landscape fencing that just so happened to fit the theme perfectly. My husband drilled holes in the rail and the spikes from the fencing fit into the holes. So there has never been an accident. We wanted to keep the bedroom looking much the same as it was for my daughter that is now married and living out of state. So we didn't want to add bunk beds. Tthe little girl just stays with us on weekends and school breaks. But things have recently changed and now the little 10 year old girl has moved in with us hopefully permanent! (she wanted to make sure that I added that). Thank you for the comments. It's nice to see an interest in our idea. Hopefully it is something that will help someone else.
Donna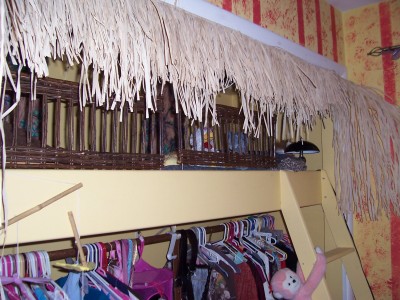 When my 4th child came along, we tried to put our twins back together to share a room, but they were just way to wild to get any sleep! So we laid the twin mattresses on the floor and asked the contractor to turn their room into two rooms! So now they have two tiny rooms. For one guy, we took the doors off the closet and his bed comes out the closet and he's left with about 8 sq" of floor space, ouch for a busy 6 year old! Note that all three of my boys wear the same size clothes so all the boys clothes are in the hall linen closet otherwise known as the Boy Closet. Anyway, I'm taking his nice big twin bed out of his room and bunking it in the other twins room and I'd like to build a loft bed in his closet so he has some floor space to place and relax in. Lucky for me the dimensions of his closet will fit an IKEA mattress perfectly! Anyway, I was wondering if you could provide some information on how your husband built the structure? I called our contractor, but he wanted $1200, ouch! I just can't swing that. I have some ideas on how to do it myself, but wanted to see how you did it. It looks great!