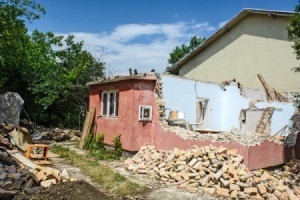 If you see a construction site or a renovation near your house, ask the contractor or site manager if you can have some of the scrap building material. They usually will be happy to oblige you as long as you don't get in their way. They are going to have pay to dispose of the refuse so any that you take off their hands will save them money. It's a great way to get scraps for fire wood, wood for small projects, or old bricks to use in your garden. Of course, always ask permission before removing anything from a construction site!

By Fisher
Comments
July 6, 2006
1

found this helpful
Top Comment
This is a really good idea for crafters....especially to get nice pieces of 2 x 4's and such that can be used in dolls, etc. My only advice is to be sure you can use the stuff you collect and haul away. My hubby and I used to be big into craft making and we did just that several times but then got away from the crafts but still had so much of that stuff stored in our garage.
Eventually my husband called for a dumpster delivery to the tune of $85 and threw all the scrap wood, etc into it plus other "junk" we didn't want and it was hauled away. Just wanted to caution you on taking too much freebie building supplies unless you know you can really use it or have plenty of room to store it!
July 6, 2006
0

found this helpful
PS: If the building site is pretty close you might just want to walk over with a wheelbarrow to collect scrap wood and such, or go in a pick-up truck. Most definitely you should ask permission. The builder and workers would be most happy for you to haul away the leftovers; however they may not take too kindly to you helping yourself w/o asking.
By joe (Guest Post)
February 18, 2007
0

found this helpful
Operated a successful craft business during the 80's and 90's selling most of my products to upmarket stores and craft shops.The products were constructed with between 40% and 70% recycled and excess materials from building sites and skips with permission from site managers and skip hirers. The secret is to look at materials with a broad eye and an open imagination, often out of the box.
December 2, 2008
0

found this helpful
Isn't most lumber that is to be used for housing, chemically treated? Not sure I would want to use it for fire wood! No telling what chemicals you would be inhaling.
We have a pallet company near my house and we were told to not burn the wood indoors because it had been chemically treated. We do use it for camping but not for anything else.
Read More Comments