Remove yellow stains from white appliances with two tablespoons of baking soda and four tablespoons of bleach added to two cups of warm water. Allow the mixture to set on the spot for five or ten minutes, then rinse thoroughly.
By duckie-do from Cortez, CO
Recent Feedback
Feedback about this article is posted here. Want to contribute? Click above to post feedback.

By Anonymous [848]10/22/2010
I am so sorry duckie-do but I can't say this warning enough! Never, ever mix bleach with 'anything other than water'! Bleach is a highly sensitive volatile and unpredictable reactive chemical! Don't even mix it with baking soda or vinegar or dish soap!
Questions
Here are questions related to Removing Yellow Stains from White Appliances.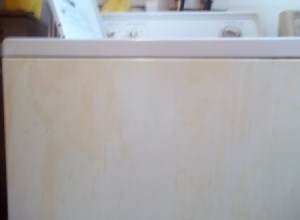 We have yellow stains on the front of our washer and dryer, possibly from when smoking was allowed in kitchen. I can't get them off. Does anyone know any tips on removing them?
By Christi M.
---
Most Recent Answer

By Frances Ann A.01/07/2013
Have you tried wiping it with plain ammonia? If you try it, leave all the windows and doors open, and don't linger over the solution!
I had to use that when we bought a used mobile home that had a layer of nicotine all over the walls and floors, it was even inside all the appliances.
Post Feedback
Add your voice to the conversation. Click here to post feedback.