Like Sandy from NC, I also had a problem keeping soups, stews, etc. from sticking and burning on the bottom of pots.

Now, most of you will probably not remember the glass coffee pots which were popular in our area many years ago (long before drip coffee makers!). In order to use the glass pots the manufacturer included a wire bent into four or five points (similar to a star) to sit on the stove eye before putting the glass pot on to boil. I had the idea to bend a metal coat hanger into four points and place it under my cooking pots. I figured if the wire kept a glass pot from shattering but still boiled the coffee/water, it should cook food while keeping the pot from sitting directly on the heating element. It worked.

No more sticking food for me! The coat hanger did not cost me anything either. I do not remove the hanger portion, just let it "stick" out to the side as a sort of handle to place or remove it as needed. I use mine on a glass top stove so some of you may need to make your wire into five points to fit your stove eye and pot. Try it; it's a very frugal way to get out of a "sticky" situation!

Sorry, I do not remember the name of the manufacturer of the glass coffee pots which triggered this idea.

By Sherry from Floyd, VA
By Sherry
Ad
---
Feedback Forum
Feedback about this article is posted here. Want to contribute? Click above to post feedback.

By LeeAnne67 [3]01/26/2014
I've also used a small wire cooling rack to prevent sticking. It works like a charm!

By beaverlaker01/26/2014
I have a glass top electric stove too and I would be worried the wire would scratch the surface. Does yours get scratched from using the wires?

By Jana [7]01/29/2009
Corning Ware also had a version. Of course theirs weren't clear glass, they were made of Corning Ware to match the rest of your set and also included the wire "star". My Mom loved hers and used it for many, many years, until finally the handle broke from use.

By mcw [78]01/28/2009
The glass coffee pots were manufactured by Pyrex. I own a 6-cup Pyrex coffee pot and I love it. It has a wire just as you mentioned in your post so the glass doesn't sit directly on the stove burner.

Very smart idea of making a wire out of an old coat hanger so your soup doesn't burn on the bottom of the pot. While we're on the subject of soup, I can't believe the price of canned soups in the grocery stores. I never buy soups and I make all my own.

Here's a photo of my Pyrex Coffee Pot. This should bring back some old nostalgic memories!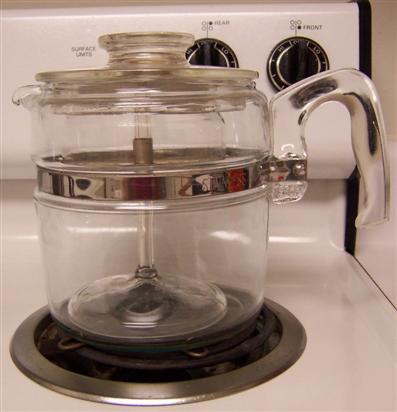 Post Feedback
Add your voice to the conversation. Click here to share feedback.