Anyone who needs help paying for their veterinary bills should contact:
There is a list of places to contact on that site. Hope this helps the animals.
By packlestax from Vandalia, OH
Ad
---
By Cindy Estes C. 1 3 10/03/2012 Flag
I talked to the dog warden and she told me of a place that has vets. that work there, and volunteer there time, and I can take my 3 cats and have them neutered for 40.00 dollars instead of 100.00 at our regular vets office. I figured 120.00 is a lot better than 300.00. Our cats are rescues, I think they rescued us, lol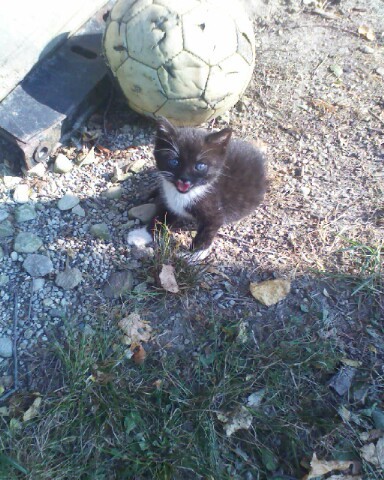 I've been reading so many posts from people asking how to get help to pay for their pet's vet bills. I don't understand. Don't people have any kind of an imagination here? I don't mean to sound mean or anything, but I would like to know what they have done to get those vet bills paid.

Have they asked for a loan at the bank? Ask their family for a loan? Sell things that they love, in order to have the money? Have a garage or bake sale in order to raise some money? I just would like to know what they have done themselves to get that vet bill paid off. If they've done everything humanly possible and sold a lot of their prized possessions in order to raise some money, and then are maybe still a few hundred dollars short, then I can understand why they're asking how to get some help. But if that's not the case, then I believe that people need to get an imagination, and really think hard on how to do it on their own, before they just go and ask for help from people or organizations.
By electriphy 1 03/04/2013 Flag
Hi I have a Maine coon who has been my best friend for around 11yrs now He is the sweetest little soul I could ever hope to know & right now I am writing this because I desperately need some help.

I don't know what to do where to turn so I am just trying anything in hopes of finding a way to get him the care that he needs I am on SSI & scrape by on 124.00 per month after rent and as of right now have less than 100.00 to my name I don't have much worth anything to sell if I did I would sell whatever it took to afford the vets help. I took him in a few times this year because he started having what seemed to be basic constipation issues which are apparently pretty common for his type on his last vet visit a few months ago they gave him an enema which they reported had "gone well" and (I'm sorry but too upset to try and come up with another way to say it) "he had left them a healthy poop" I have switched him to a wet food only diet for about 8 months now, but his problem now I fear has become serious & I am so worried about him so I get on the web and find this.

"In some cases, cats may suffer from obstipation, defined as total absence of bowel movements. This condition is extremely serious as it may indicate a fatal bowel obstruction. A cat that has had no bowel movements for several days, is vomiting, and seems weak should be seen by a vet immediately for treatment"

Well that is exactly what his situation yesterday and today is. My mom was able to help me pay his prior vet costs some but just the last visit was area of 300.00 which even with my Mom's help has set me behind a little on my rent, the vets won't work with me much as far as a payments plan in that they require more than 1/2 the total up front I just don't have it and my Mom has helped all she could.

I don't have much other family. I live in a very small town & shy so I also don't have many good friends. When I said this little guy is my best friend I wholeheartedly do mean it & I am seeing him suffering and it's life or death & I can't let this happen if I can't find a way to get him help I wont be able to live with myself please if anyone reads this and has any, & I mean any ideas that may be helpful please, please write back.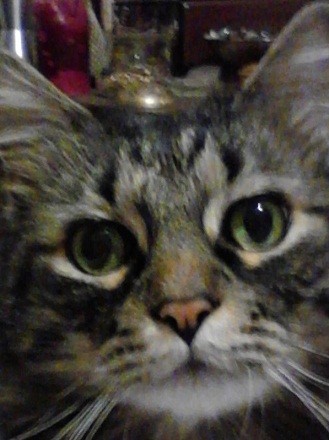 To the lady with the Maine Coon, I'm so sorry that you're going through this. Perhaps going to www.gofundme.com, you may be able to get more people to see your plight, and get some help. Good luck to you and your precious boy.
There is a thing called Pet Health Insurance out there and the monthly premiums are minimal. Depending on the insurance company you go with, and the plan you go with, but monthly payments are usually less than $50 a month for each pet. For our 3 cats, it's $30 a month for each. And the deductible is $200. That means that we would have to come up with the first $200, and then the insurance company kicks in to pay for it. That way, you don't have to ask for help from family or friends, or go on the Internet asking for donations.

Anyone who is a pet owner should at least consider it as you really never know when your beloved pet will face a medical emergency. Having pets is a HUGE responsibility. My belief is that everyone who wants to own a pet, needs to sit down beforehand, and figure out exactly how they are going to come up with paying for future vet bills. If they really don't think they can afford it, then perhaps it would be better for them to not get a pet until their finances are better.
Questions
Here are questions related to Getting Help to Pay Vet Bills.
I need ideas on how to pay my vet bill. My kitty is sick and I don't have the money right now to pay for the vet. Any ideas how to pay them?
By Crystal from Santa Ana
AnswerWas this interesting? Yes No
Ad
---
---
Most Recent Answer
You asked for ideas on how to pay for your cat's vet bills. Have you tried getting a loan at the bank? What about selling some things in your home that you can do without? Have a garage sale. Or even a bake sale. Is there any furniture that you can do without? If you have two cars, sell one of them. If you have two chairs to sit on in your living room, sell one of them.

All you have to do is be creative, and really think about it. I bet if I was in your home right now, there would be at least 3 or 4 things that I could find that you could sell, in order to have some money. Sometimes you have to give up stuff that is important to you, in order to pay for other things that are also important to you. Think about it. What is more important to you? Having things that you like and want for yourself, or making sure your cat gets the very best care?

Good luck, and I hope my ideas can help you or others out there, who read this.
---
Archives
Thrifty Fun has been around so long that many of our pages have been reset several times. Archives are older versions of the page and the comments that were provided then.
My boyfriend and I adopted our 3 month old puppy Isabel, June 7, 2008. We were told the following Wednesday, that one of the puppies in her litter had Parvo and that she should be tested. She tested positive. Though she did recover, treatment cost over $1300. While that put a financial strain on us, that wasn't the end. After recovering from the Parvo, she came down with pneumonia and that treatment has cost us an additional $450+.

We've taken out some loans but the problem is that my boyfriend and I are both students and are only working part-time to pay for other bills (car, our medical bills, school, etc.). If we don't get help, we'll be behind on other bills. We've searched for organizations that can help but most are for future treatments. Does anyone know of any organizations or perhaps even individuals who can help us? We love our puppy and have tried to do what's best for her.

Diana from Dallas, TX

Feedback:
RE: Ideas To Get Help Paying Vet Bills
Please do what is best for the dog and find an owner that has money saved for these types of things. (08/19/2008)

By michawnpita
RE: Ideas To Get Help Paying Vet Bills
You might want to try the Web site http://www.modestneeds.org/. (08/19/2008)

By chretienne
RE: Ideas To Get Help Paying Vet Bills
You are not at a stage in life for having pets, you should be free and not tied down, but then again puppies are irresistible. The vet will help you find a home for her, and the vet's staff is probably attached to her by now. Pay the bill however you can, but let your pet-owning days come when you are sitting on a pile of cash and life is stable. (08/19/2008)

By kimhis
RE: Ideas To Get Help Paying Vet Bills
This is part of being a responsible pet owner, being able to pay for unexpected expenses. Most puppies don't survive Parvo, so in that respect you are lucky. There is veterinary pet insurance available for future issues, your vet probably has fliers about it in the clinic. (08/19/2008)

By Linda
RE: Ideas To Get Help Paying Vet Bills
Here is an idea you might want to try. Try volunteering your time at the vet's office to trade for hours for payment. I had a couple of local bills and suggested that I could volunteer as a trade to pay off my bills. Some disagreed, but several companies loved the idea. I set a plan based on the going hourly rate and signed a contract to work a certain amount of hours until the bill is paid off or at least lowered. (08/24/2008)

By Georgette Ruth
RE: Ideas To Get Help Paying Vet Bills
Geez ... what a combination of feedback. How many people expect the worse in various situations and are prepared for it? Not many, I'm sure. It seems that this is an old post so hopefully things have worked out by now. We take on things in our lives that sometimes make us struggle and have to hope for the best. Everyone experiences this. To imply that you are not responsible is unfair and a bit harsh. You may get to the point where you can't continue to keep the animal, but do the best you can and keep faith.

Things have a way of working out, usually for the best. No one can or should fault you for taking in a pet who later had major problems. Just hang in there and take it one day at a time. I see there were some very thoughtful people who offered to send your vet money. Count your blessings and consider those human beings at their finest. Hope it's all worked out. (06/10/2010)

By dusty6788
My neighbors brought me a sickly kitten two weeks ago who I nursed back to life but it still has a bad upper respiratory problem. It has now spread to my other babies.
Does anyone know where or how I can get help with veterinarian bills? I'm living on Social Security. My kitty has an eye infection, and I can't afford to take her to the vet. Thanks so much for any help or suggestions.
By Donna from Sacramento, CA
Feedback:
RE: Getting Help to Pay Vet Bills
There is a credit card that is only used for a few places, like dentist, eye doctor, and veterinarians. It has to be accepted by the doctor. Not everyone accepts it, but ask anyway. You are given a credit limit and if you are not late with the monthly payments, no interest.
http://www.carecredit.com (01/05/2011)

By Pamela21554