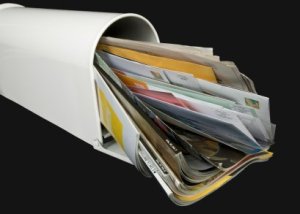 We get so much junk mail on a daily basis that sometimes all you can do is recycle it. However, there are other things that can be done with these unsolicited mailings. This is a guide about uses for junk mail.
Ad
---
Solutions: Uses for Junk Mail
Read and rate the best solutions below by giving them a "thumbs up".
I use the unprinted side of paper from ads, bills, and other letters received to copy and print grocery and drug store coupons. Paper that hasn't been printed on either side is saved for important correspondence.
By Bettie from Rocky Point, NC
I cut the envelope open with a letter opener (unless the flap can easily be opened without cutting). Uses: store coupons, to do lists, store receipts.
If it has see through window on back, with plastic then when I am done with the envelope, I cut that out with border to use for crafts. Put 2 back to back and put a fortune cookie paper inside. Glue 3 sides then fill with confetti or glitter. Seal 4th side = gift tag.
Use the inside and outside to write lists, etc. If it has flap reuse for mailing or see above. The insides: find and cut out my address-use as return label on mailings with glue stick. There is normally an extra envelope or 2 use them! Colorful paper gets saved for crafts; confetti, paper punches and shredded for packaging gifts.
If there is plain paper with a blank side it gets saved for lists or writing on. Any images that can be saved for collage get saved, too. If you have to store anything fragile save the unusable paper and scrunch for protection. Anything else unusable gets recycled!
By Caeridwen from Kent, OH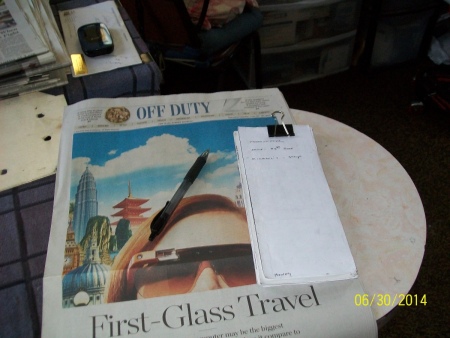 I've mentioned this before but methinks my tip is too cheap and easy for most people to accept.
Inspect your junk mail. If there is/are one third blank sheets cut and save them. You'll soon have way many more than you'll need.
Use a spring clip to hold them in a pad. Use both sides of the pad. When more than half of one page is used up, move the spring clip to the other end.
Source: I'm too cheap to buy Sticky Pads. They are way too expensive!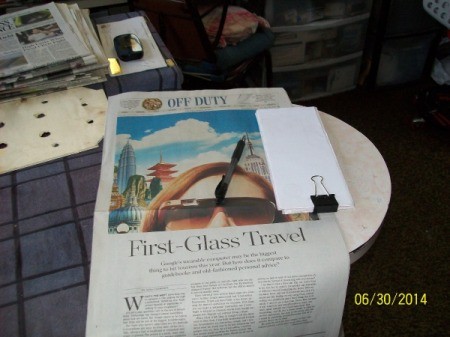 By Chuck [22]
I take all the junk mail and newspapers that come to our home and shred it and use it for mulch in my garden. It is very colorful and works great. I will run it through the shredder or let my grandkids cut the paper up. They have a really good time cutting and spreading. The paper helps keep the grass down, but be sure to water well so the mulch will stay in place.
By Mariyn from Lewisburg, TN
If you are like 98% of all Americans, you get mail you would rather not receive (and I'm not talking about bills - who wants those). Here are a couple suggestions of things to use that unwanted mail for.
The most obvious, is to use old mail to start a fire with if you have a wood stove or fireplace. Just don't burn mail with plastic return labels (the plastic melts and makes a mess).
If you get mail with envelopes for response you can use them in two ways. One is helpful: reuse the envelopes to mail others. For envelopes of odd size or with "windows" you can either cover the windows with a mailing label and use them anyway. The other option is to keep them to organize. I keep my receipts every month to keep track of how I spend my money. I make an envelope for a particular month and put the receipts in it as I get them. If you have to keep seperate receipts for company reimbursement you can mark one for a month and put the company name on it.
Another thing to do (if you have a mischievous streak like my dad) when you get envelopes with return postage already on them, is to take the junk mail and mail it to the place who provided you with a postage paid envelope. Another option would be to fill it with something personal: your opinion of unsolicited mail, a Bible verse or two, poetry, or be imaginative and send something that will really get noticed (like a dead roach or some other bug). The thing is the company that supplied you with the postage paid envelope still has to pay for it no matter what you send them. Maybe if enough people sent them junk back, they would stop harassing people with their junk.
Another thrifty tip, if you get a package of any size you can reuse it by taping it back together. You just have to make sure the original mailing label has been removed or blacked out with a magic marker. And by "original mailing label" I mean any labels: return address, send to address and post office labels/postage stickers.
By suntydt from Tazewell, TN
Before I throw out the junk mail that comes through the post (in the recycling bin of course) I cut out my address. I save them to use as returns labels when I send out parcels (for eBay etc). Now I don't dread the junk mail coming any more!
I save envelopes junk mail comes in and use it to stash my coupons and shopping list when heading to the grocery store.
By Becki in Indiana
If it is blank on the other side I use it as scrap paper to write on. If not blank, I put it my recycle bin.
By firstborn from King of Prussia, PA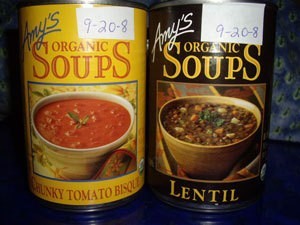 I always date mark my cans when I bring them home so I know to use them on time. More and more, labels are too slippery to write on and I hate the smell of markers. So now I use the flap of envelopes from junk mail that are going to paper recycling. I write the date on the opposite side of where the glue is and simply stick it to the can. No wasted scotch tape, no marker smell or marker headache, and a good use of envelopes that had no use otherwise.
By OhioGal from OH
The first thing I do upon receiving my AARP magazine is tear out those pesky mail-in reply cards that make the magazine difficult to handle, but before pitching them, I check for blanks. Since I do not regularly stock postcards, these are a handy substitute for business-related needs. I have also cut them down to use in a rolodex file or even for recipe cards I do out for others. They are already perforated and quite easy to remove, most of them are a convenient-to-use size, and they didn't cost me anything.
By Ronsan from Southwest Missouri
Many of our ads and coupons come in envelopes. Many of the slips of paper inside are printed on only one side. They are all cut the same size, so I pull them out, staple them in the corner and viola a nice tablet! I NEVER have to buy tablets. Same goes for the inside of the envelopes. They are blank. Use a letter opener to pull on three sides. Store flat till you have a few. Staple. A larger tablet for free thought writing.
By JazzyMe from Los Angeles, CA
Give a "thumbs up" to the solution that worked the best! Do you have a better solution? Click here to share it!
Questions
Here are questions related to Uses for Junk Mail.
I want to use junk mail as printer paper. I was wondering if anyone has an idea of a way to fade the writing on junk mail so that I can print something else on it and be able to read it. I would prefer not to use chemicals.
By Comral
AnswerWas this interesting? Yes No
Ad
---
---
Most Recent Answer
By Jill 4 738 09/13/20110 people found this helpful
I don't think you will be able to remove the ink without chemicals; and even if you were willing to use chemicals, it seems the cost and trouble would erase any savings in using your junk mail this way. I don't know about your junk mail; but I know most of mine is printed with colored ink on coated paper; and I don't think you'd be able to re-use that for the printer, at all. You can easily re-use flat paper that only has print on one side, just put that in your printer, so that it will feed with the blank side for printing.

You can recycle junk mail in making homemade paper; but it is not generally suitable for printers, though it is a lot of fun to make and use.

To save money and resources when printing: set your printer to default to "draft" mode, you will save a lot of ink; and also set the default to black and white. (You can choose color or high quality for those occasions when you need it.) Purchase the least expensive printer paper you can, and be sure to print both sides. If your printer cannot do this automatically, only feed one sheet at a time, so you can reverse it and run it through the next page.

Lastly, and maybe most importantly, think twice before printing. Can you save the page to your hard drive instead? Can you copy the information (by hand) onto scrap paper? Do a "print preview" before printing from the internet. Very often, you only want one or two pages, but with all the ads and comments, you get six or eight! If all you want is 2 pages, or specific pages, only print those!
Ideas for using junk mail in a productive way. Post your ideas!
AnswerWas this interesting? Yes No
Ad
---
---
Most Recent Answer
By onewithnoname 3 08/13/20110 people found this helpful
I put a stack in my camper along with dryer lint I save in an empty coffee can. It's great for starting campfires when we are camping. For the mail that comes with return envelopes, I usually rip up the mail in tiny bits and mail it back to the sender in their envelope :-)
Archives
Thrifty Fun has been around so long that many of our pages have been reset several times. Archives are older versions of the page and the comments that were provided then.
Ideas for using junk mail in a productive way. Post your ideas!