Reducing Junk Mail
Solutions
Share on ThriftyFunThis guide contains the following solutions. Have something to add? Please share your solution!
I noticed different mail arriving with a spelling mistake in my name. It kept coming, from increasing different sources, including a political party! I had read that organizations sell their mailing lists and now I watched it happening.
From that point on I "returned to sender" by a slash through my name toward the return address. I wrote "unsolicited mail". There were many stops at the mailboxes. I systematically eliminated any legitimate mailings that I knew were selling their client base of names and addresses.
It means no more subscriptions, but now I receive only my bills :( and solicited mail. I think Reader's Digest is the worst offender for this practice. That's where my misspelled name originated. But I can't do a thing about those ones marked "Occupant". They go in the cat box as great scratch it up stuff.
Source: Observation. Deduction. Research. Patience. Success.
By Carol W. from Canada
When I receive junk mail with a postage-paid envelope included, I take the time to tear off the part of the page that has my name and address printed on it. This is usually the top third of a page, which will have enough info on it to identify the mailing. Then I write on it, in bold lettering, "Remove from mailing list". Then I seal it in the post-paid envelope and mail it back to the sender.
I've done this for a long while, and I can assure you that it has considerably reduced the amount of junk mail that I receive. Only occasionally will a sender ignore my request, and if they persist, I send them back the entire mailing, including the envelope it came in. The theory being that it makes them pay more for the return, and gets the attention of whoever opens the mail, making it harder to ignore my request.
If there isn't a post-paid envelope, I look for a toll-free number and make a phone call to get off the mailing list. This works especially well with unwanted catalogs. If I don't have time to make the call right away, I put it in my "To Call" file, and make a string of calls, when I do have the time. (With catalogs, I tear off the back cover, which has the pertinent address info on it, so I don't make my file too bulky by putting in the whole catalog.)
Just remember, the sooner you do it, the less junk mail you'll have coming in. Mailing lists get traded and sold, so junk mail tends to multiply, exponentially, over time. So, don't just trash it, nip it!
Taking these steps really takes very little time to do, in the moment, and pays off, in the long run. And it not only reduces the amount of junk mail that I have to deal with, but saves a lot of paper! I'm an avid recycler, so I know first-hand how much paper flows through my home, just from stuff that I choose to deal with.
I hope you'll try it and see for yourself how well it works.

By Merry Couponer from Missouri Ozarks
You can cut down on the amount of junk mail you receive by registering at: dmachoice.org.
You can pick and choose what types of mail you receive. This site is recommended by financial expert, Clark Howard.
Source: Clark Howard on his radio show
By Sandy from Memphis, TN
Opt out of junk mailings, tele-marketers calls and e-mail lists. It is easy and free:
Read More...
Questions
Ask a QuestionHere are the questions asked by community members. Read on to see the answers provided by the ThriftyFun community or ask a new question.
I apologize for the 'lateness' of this question. A few weeks ago, I read about how you can get product samples and give them to homeless shelters. I LOVE this idea but I have a question for those who order samples. Do you get junk snail mail or other spam because of this? If so, how do you handle this problem?
That's my only concern otherwise, I'd sign up for everything. Please let me know the answer to my question. If my concerns aren't a problem, I look forward to helping out others by doing this simple thing.
Dawn from Apple Valley, MN
Answers
January 31, 2008
0

found this helpful
Hi--I think it was my tip that I submitted that you're referring to! :) So far, I haven't had a big problem with a lot of spam, etc. In some cases, if they ask for an e-mail address, I use one that I rarely use. Then if I get any kind of ad from them I just delete it right away. Also, I just give the bare minimum information--that is, I don't fill in any of the "optional" information boxes. Of course, I can't guarantee that you wouldn't get spam--it depends on the company, I suppose. I just think this is a pretty simple way that I can try to help out, while being on a limited budget myself! Some people may not be comfortable with having to give their information to get the samples, but if you don't mind, it's an easy way to help out! Glad you liked the tip!
January 31, 2008
0

found this helpful
Yes, that's one of the big drawbacks of free samples.
If I don't want emails from the company, I'll opt out by choosing the "Unsubscribe" option, generally at the bottom of the email.
February 4, 2008
0

found this helpful
I have also gotten some free samples from Walmart. I just fill in the name & address section of the form to receive my sample and I haven't received any junk mail and very minimal junk emails.
Many of the companies ask for additional information and if you're willing to review their product, but I choose not to fill in that part of the form.
By Christine IN (Guest Post)
February 5, 2008
0

found this helpful
I have more than 1 address & only give out my dummy address to companies. You are usually allowed more than 1. Hope this helps.
Answer

this Question

...
I am trying to help my elderly parents to get their name off mailing lists. I feel they are getting targeted for buying things they really do not need. I have seen this happen to other older people. Please advise me how to stop junk mail as a free service. Thank you.
By Barbara from Boerne, TX
Answers
June 1, 2012
0

found this helpful
When I get junk mail I give it back to the postman. He told me I could go on line to USPS.gov and have my name taken off the junk mail list. Going to that site I can't find any link to do so. I would ask you postman about it.
June 3, 2012
0

found this helpful
To eliminate a lot of funk mail don't sign up for any free items; don't subscribe to any magazines, don't contribute to charity organizations and don't register to vote. That's a hard one because I vote but I don't like all the junk mail and phone calls from people running for political office. Any time your name, address, and phone number is given to any organizations one is subject to junk mail and unwanted phone calls. Sad, but it's the world we live in and you can't trust any organization to not sell your information.
Answer

this Question

...
Photos
Share on ThriftyFunCheck out these photos. Click at right to share your own photo in this guide.
January 6, 2000
0

found this helpful
We received 351.5 pounds of junk mail at our home office last year (1999). We had a the question a few weeks ago from Joyce wondering how many trees that equaled. From the research we've done:
351.5 pounds of junk mail equals approximately
3 trees
1238 gallons of water
82.4 gallons of oil
725.7 kilowatt hours of electricity
104 pounds of air pollution particulates
and will take
.52 cubic yards of landfill space if not recycled.
This does not include colored inks, postal and transportation costs, (gasoline, oil, emissions.)
What's sad is that we did not request any of it and it is not read. We do recycle and use as much as possible but would rather not have to receive mail we don't want.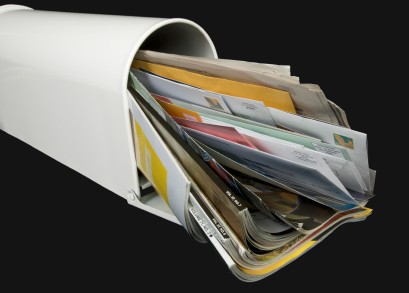 Related Content