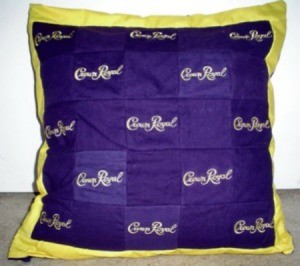 I made a pillow using Crown Royal bags. I couldn't find any cool patterns online that utilized the unique Crown Royal signature logo, so my mother and I designed our own pillow. I would love some feedback. Thanks.

By smokey84 from Charleston, SC
Ad
---
By mcw 80 1,752 01/12/2009 Flag
Very nice job! Did you center the Royal Crown Cola fabric and sew it on top of the lighter color fabric?
By Barbara 20 121 01/12/2009 Flag
What a really neat idea....and a beautiful pillow...I sure would love to make one for my son-in-law's game room in his house...but I would have to find a whole lot of the Crown Royal bags, and being a non drinker, it would be hard for me to find...is there anywhere i can buy just the bags?
By nina94 (Guest Post) 01/13/2009 Flag
Um, that's Crown Royal (whisky), not Royal Crown (cola). Bet you had fun getting those empty bags! ;-D
Pretty pillow, very creative!
By graciola (Guest Post) 01/14/2009 Flag
Really nice. I would have liked to be at the party trying to help you empty what came in the bags. LOL
By Priscilla (Guest Post) 01/14/2009 Flag
I think its great. I have seen it done with a blanket. I was looking for one and found the RC web site was interesting. Also I have lots of the bags from Nina shoes. Am working on one simular but as a twin quilt. Keep up the good work.
By Pua from Hawaii (Guest Post) 01/21/2009 Flag
Very nice job. Wondering if you would have put the yellow or gold instead of the blank blue blocks. I think it would have standed out more. But anyway it's still nice, and little did you know you've recycle.
By wanda (Guest Post) 02/16/2009 Flag
That's an awesome idea. I have lots of empty crown royal bags too, that I didn't want to throw out that are just taking up space. I never thought of doing something like that!
I love your pillow. i am in the process of making a quilt an was wondering what the name of the yellow/gold color is that you used. I have been trying to find a color to match but am having troubles. Mary
By Johnnie K. Fellinger 1 09/17/2009 Flag
Love the pillow, I am in the process of cutting out Crown Royal bags to make my son a quilt. Having to design my own pattern, and really like your idea. Thanks for sharing