lalala...
Gold Post Medal for All Time! 899 Posts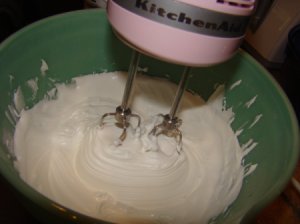 Making Royal Icing can be a bit tricky, but it is great for making beautiful flowers for your cake. It is important that you follow the recipe and instructions carefully, to ensure a good result.
This recipe makes Stiff Consistency icing. Since most flowers will require Medium Consistency, you can add up to an additional 1 Tbsp. of water (1/2 Tbsp. at a time).
Ingredients:
3 level Tbsp. meringue powder (Wilton carries it)
1 lb. sifted confectioners' sugar (4 cups)
5-6 Tbsp. water, lukewarm (6 for a hand mixer, 5 for a stand mixer)
Note: It is very important that all utensils and bowls used for making Royal Icing are grease-free! I prefer to have a separate set of couplers to use with Royal Icing (I keep them in a separate baggie). It is also best to use disposable piping bags or have a dedicated re-usable one just for Royal Icing. Grease will cause the icing to not set properly.
Directions:
Add confectioners' sugar and meringue powder in a bowl. Mix on low speed until blended. Add water and mix for 10 minutes (with a hand mixer) OR 7-10 minutes (with a stand mixer, Kitechenaid type). When it is ready the icing loses its sheen. Be sure to beat the entire time stated for proper drying, otherwise it will puddle and lose its shape later, no matter how stiff it seems!
Important Tips:
Many stand mixers require you to make a double batch in order for there to be enough icing for it to beat properly.
If your mixer is struggling, add one Tbsp. of additional water.
It is best to make it thinner and add confectioners' sugar to thicken it. Adding water to thin it down after it has been beaten will cause it to puddle.
It must be store in an air-tight container. It will last up to 2 weeks this way. To reuse, beat on low to restore its original texture.
Medium consistency is best for making all flowers.