My kitchen chrome faucet is stained with white marks, like drips or something. The metal polish cleans the chrome, but does not remove the spots. I tried baking soda, vinegar, and steel wool. No luck. Can someone help?
I saw this tip in a video on the internet and had a chance to try it out on an old faucet that had years of calcium buildup on it.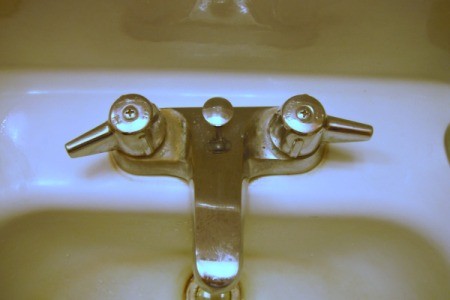 To remove calcium deposits on a faucet, wrap a cloth or small towel, that is soaked with white vinegar, around the faucet and let it sit for several hours. It will remove most of the calcium deposit. Afterwards, scrub with steel wool or a scrubbing pad to remove any that remains.
In this case, I wrapped the vinegar soaked towel around the faucet and poured more vinegar on the towel and let it sit over night. I was surprised at the results when I removed the towel.
I didn't have time to do any scrubbing with steel wool, but you can tell the difference just by looking at the photos that the white vinegar removed most of the calcium deposit.
I really didn't think it was going to work and I was so amazed at the results that I didn't think to take a picture of the towel on the faucet.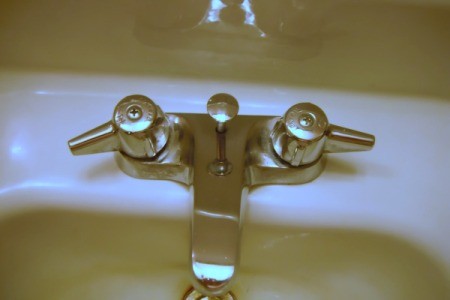 How do you get hard water stains off a faucet?

By Kathy from Fullerton, NE
Answers:
Removing Hard Water Deposits from Faucets
Try soaking a rag or paper towel in just vinegar, and cover the hard water deposits with it. I usually wrap it around the faucet base where I find the deposits. Let set for 2-3 hrs, rewetting with vinegar if needed. Then clean as usual. Works for me. (05/20/2010)

By Omanana
Does anyone know how to remove calcium water marks on polished brass shower doors and faucets? I don't want to ruin the finish, as I am sure you can understand. They have so many little spots on them because people would not wipe them dry after showering. Thanks so much.

By Tilly007 from Carlisle, PA

Answers:
Removing Hard Water Deposits from Faucets
I don't know about brass, but we use cider vinegar to clean our stainless steel sink surround. Maybe malt vinegar would work equally well. (03/14/2010)

By dumb0
Removing Hard Water Deposits from Faucets
Have you seen CLR on the store shelves? It stands for calcium, lime, and rust. I use this sometimes. Vinegar will work for most faucet stains, also. (03/15/2010)

By MartyD
Removing Hard Water Deposits from Faucets
Just put a paper towel or washrag on the offending faucet and pour vinegar over it. Let it sit a while and it should begin to loosen and come off. May take a couple of tries. (03/18/2010)

By HalfWhit
Removing Hard Water Deposits from Faucets
You can use a metal cleaner approved for polished brass. Brasso or Flitz. You may get some protection against buildup with these products. (03/18/2010)

By Lizzyanny
Stubborn hard-water stain on my chrome faucets. Any ideas? I tried a rag soaked heavily in white vinegar for hours, no effect at all. Won't even scrape off with a plastic knife. How can I do the fizz idea given for showerheads with this faucet base? Thanks!

Kim from Moses Lake WA
Answers:
Remove Hard Water Deposits From Faucets
I have well water and very bad rust stains I use The Works Tub and Shower Cleaner. All the rust stains come right off. The smell isn't nice but it gets the job done. Be sure to rinse well after use.
Have a great day! (06/26/2007)

By mommy8532
Remove Hard Water Deposits From Faucets
We have a water softener, but because we're on well water we still have some hard water stains on our faucets. We've tried it all, from baking soda to store bought 'solutions'. None of them worked.

We now use Turtle Wax Rubbing and Polishing Compound. It's easy, it's inexpensive, relatively safe, and there's no odor. We even use the polishing compound to polish the laminate countertops, and the Corian (was actually recommended for the Corian). (06/26/2007)

By Anonymous
Remove Hard Water Deposits From Faucets
Try a product called Bar Keepers Friend. I have never used the powder, but I love the liquid. I don't even buy kitchen or bathroom cleaners anymore. This works so well! (06/27/2007)

By Heather
Remove Hard Water Deposits From Faucets
Try using a Magic Eraser. I get the ones at the Dollar store 2/$1. Removing soap scum from chrome is the thing they do best! We have very hard water and a lot of soap scum. I was amazed how well it cleaned my faucets and chrome trim. (07/23/2007)

By Joy
Remove Hard Water Deposits From Faucets
Try Bring-It-ON water spot remover. It's a paste that you wipe on, leave on for a few minutes to dissolve the minerals, and wipe off. Invented by a gal that got tired of trying things that didn't work!
(09/04/2007)

By donrowlett
Remove Hard Water Deposits From Faucets
I use Comet or baking soda on my bath tub faucets. The Comet worked quicker and did not take as much "elbow grease" as the baking soda. (03/11/2008)

By brunyon
Remove Hard Water Deposits From Faucets
Or you can just install a filter that removes hard water sediment, sand, and soil deposits. (04/22/2008)

By Adrian
Remove Hard Water Deposits From Faucets
Thanks y'all, I'll try those, and thanks for the caution on vinegar damage! --Kim (06/26/2007)

By kimhis