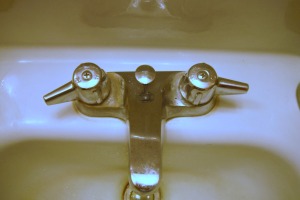 I saw this tip in a video on the internet and had a chance to try it out on an old faucet that had years of calcium buildup on it.
To remove calcium deposits on a faucet, wrap a cloth or small towel, that is soaked with white vinegar, around the faucet and let it sit for several hours. It will remove most of the calcium deposit. Afterwards, scrub with steel wool or a scrubbing pad to remove any that remains.
In this case, I wrapped the vinegar soaked towel around the faucet and poured more vinegar on the towel and let it sit over night. I was surprised at the results when I removed the towel.
I didn't have time to do any scrubbing with steel wool, but you can tell the difference just by looking at the photos that the white vinegar removed most of the calcium deposit.
I really didn't think it was going to work and I was so amazed at the results that I didn't think to take a picture of the towel on the faucet.