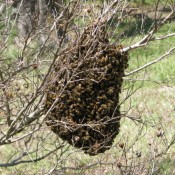 This bee cluster was in a very small tree in front of a residence. The bees were probably keeping the queen bee warm. The cluster of bees stayed there for approximately 2 days.
By LaDonna B.
Ad
---
Feedback Forum
Feedback about this article is posted here. Want to contribute? Click above to post feedback.

By Vivienne05/11/2011
First thought get an exterminator in.and take them away. But they are so small to be able to give us honey which is good for everyone.
Vivien N Z

By MB Norton [6]05/10/2011
Cool photo. Thanks for sharing!

By Robyn [366]05/10/2011
This is absolutely an amazing photograph, I shared it on my facebook!
Post Feedback
Add your voice to the conversation. Click here to share feedback.