Getting Red Hair Dye Off Your Forehead
Answers: Getting Red Hair Dye Off Your Forehead
Read answers for this question below.
Its so aggravating when something like this happens! ( I've had a few mishaps) use dawn dish soap, it will remove the color. I usually alternate it with baking soda. Hope this helps.
I am thinking you mean dye actually on your scalp and not your forehead? If that's the case then you can purchase a special shampoo brush and they are gentle on your scalp. I did hair for thirty five years and some peoples scalps are just prone to be stained and this brush is what I used to help remove the stain. Simply shampoo your hair gently using this brush instead of your fingertips. It may take two shampoos but I've never seen them not work.

Some have different types of handles so it doesn't need to be the type of handle showing in this photo. What's important is the placement of the bristles and their softness. Sometimes you can find them at the pharmacy in the haircare department. You should definitely be able to find one at a beauty supply. They are not at all expensive and last a really long time.

If you mean the skin outside of your scalp there is a product called Clean Touch by Clairol that will remove it. The instructions should be on the bottle.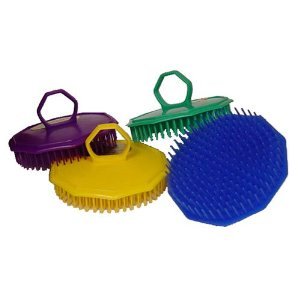 Answer This Question
Add your voice to the conversation. Click here to answer this question.
Related Guides
Related Posts