A female puppy wandered up into our yard yesterday. She has decided to stay, which is fine by me but I would like to know how old she might be and what breed she is. We have an idea on the breed but we want some other opinions to feel sure. Thanks for your help.
Courtney from Clover, SC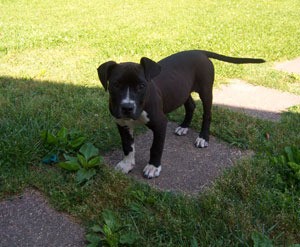 Add your voice! Click below to comment. ThriftyFun is powered by your wisdom!
What breed do you think my dog is? When we got her we were told that she is a lab mix, so we know she's part lab, but what do you think the other part is?
It might be hard to tell from the photo, but she is very stocky and muscular, with short legs.
May 11, 2008
0

found this helpful
She looks exactly like my dog .He is Lab/Pit. How tall and what is her weight? My dog is 92 lbs. Same ears too!
May 12, 2008
0

found this helpful
Hi pepperjack,
She is only 38 lbs and will be 2 years old next month, so we're not expecting her to get too much bigger. That is why I'm guessing Staffordshire, since they are a smaller type of pit from what I understand. Because both labs and pits are large breeds, her size is what stumps me!
For those of you who have lab/pit mixes, do you find that they are good family dogs? I have had Sadie for almost a year now, and she is amazing with my kids. Very protective and a good guard dog. I have had people tell me that because she is part pit, even though she loves my kids now, she could just "snap" one day and attack one of my kids. Which I don't believe at all, she is so loving to them.
I do worry about her with strangers as she has snapped and growled at a couple of people she didn't know. She hasn't bit anyone yet, but we are very careful when introducing her to new people. And I am trying to socialize her as much as possible. I have seen a huge improvement from when we first got her from the pound.
I think the biggest problem is that when people see her, they think she looks like part pit bull, which she does, but they get scared, automatically assuming that she is aggressive. She picks up on their fear and growls at them. But when people walk up to her assuming she's lab and friendly, she'll lick them to death. She is very intuitive on picking up on people's feelings. When my kids have friends over, if they ever fall down and scrape a knee or anything makes them cry, she'll run over right away and make sure they are alright and lick them all over. It's really very cute. Well, whatever she is, she is a very intelligent and loving breed.
By guest (Guest Post)
Flag
May 24, 2008
0

found this helpful
I have a dog that looks just like yours. Its a mix of lab and staffordshire terrier I think
By guest (Guest Post)
Flag
October 13, 2008
0

found this helpful
i have a lab/pit mix. He is a year and half. My son brought him home at six weeks and said he was half lab half boxer. There is no way he has any boxer in him. I think they only told him this because they thought if it was pit he wouldn't take him. Anyway I could tell right away he had pit in him but it didn't matter. I fell in love with him right away and he is so smart, protective and gentle.
He loves playing with the kids and is very protective of them especially when they are swimming. If he is isn't playing with them he is standing guard. He is the best dog we have ever had. People keep telling me he is a bad breed and will turn on my children. I don't believe this he loves the kids and I don't believe he ever would. He is very gentle. He looks a lot like your dog but quite a bit bigger. I wouldn't trade him for the world, so if yours is anything like mine enjoy it cause they are a special treasure.
October 14, 2008
0

found this helpful