What breed do you think my dog is? When we got her we were told that she is a lab mix, so we know she's part lab, but what do you think the other part is?
It might be hard to tell from the photo, but she is very stocky and muscular, with short legs.
May 1, 2008
0

found this helpful
Boy, it is hard to get her to stand still :) Here is the best side view photo I could get. She weighs 38 lbs and is almost 2 years old. When her ears flop forward, she looks more lab than anything. But they go back or perk up when she's happy, then she looks more pit or terrier. Thanks for all the feedback so far, this is very interesting. I never knew you could get a DNA test for a dog! We love her all the same no matter what breed she is, she is a sweet heart. I'm just curious, that's all.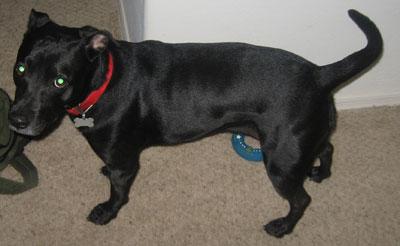 May 2, 2008
0

found this helpful
Hi
I worked for twenty years as a Veterinarian nurse, as we used to be called, and in many settings including running a shelter. This is a tough question, lab is a dominant gene, so breeds mixed with lab can be very subtle. Labs also seem to really get around. I have seen lab/basset, American Bull Terrier, and some kind of wiry long haired terrier mixed with lab. And the Boxador, like my boy Duke. His mom was a pure boxer, but boy is he golden lab. The idiots who bred him docked his tail till it looks like an old english. The only hint of boxer is a slight stockiness, shorter muzzle, very subtle hints.
She could be American Bull, and that would be my guess. But it really could be any dog that has a shorter, stocky very muscular build. And individual dogs have very widely different characteristics even if pure.
Since there can be up to three dads in a litter with multiple breedings, you can't even tell by siblings. The little long haired terrier mix was Dukes sister, and she looked nothing like him. Then there were obvious boxers also. Its really interesting to me. She looks adorable, enjoy her.
Angie
May 2, 2008
0

found this helpful
Hi again, forgot something. She could also be half Staffordshire Bull Terrier, she is small enough. Take care.
Angie
May 2, 2008
0

found this helpful
Linda - My dog's name is Sadie - only a couple of letters off!
Tina- Her coat is short, somewhat stiff, waterproof, and sheds a lot.
Angie - That was my first guess, lab and staffordshire. She has a lot of the characteristics.
I probably won't get the dna test done because it wouldn't make much difference, other than to satisfy my own curiosity. She is so great with my kids and we love her to pieces. She's really protective and a good guard dog too, which would explain the pit or staffordshire. I do have to be super careful when introducing her to new people and socialize her a lot. Thanks everyone for all of your feedback.
~ MJane
May 3, 2008
0

found this helpful
Definitely a type of Pit bull. A common pit breed in this country is American Staffordshire Terrier (or AmStaff.) Get the AKC (American Kennel Club) standards book from the reference section of the library, go to the terrier section, and look at the pictures and descriptions of the different pit bulls. You'll be able to decide which one your baby most resemble in looks *and* personality.
The temperament and personality of the dog are as important in determining breed type as looks.
Please don't be put off by the bad reputation some pit bulls have; that is because of their training and their owners. I know many pits who are sweet as lambs. One, belonging to my SIL and her family, has been dealing beautifully with the addition of three new human grandbabies in the house in a very few years, at a time when she thought she would be enjoying her golden years in a quiet empty nest --haha! Last week, the youngest started to toddle up the stairs, and dear sweet Ruby ran over and made a wedge on the staircase right above the child, so that she couldn't go any further, and then barked so that grandma could come and pluck up the tot. Good Dog!
May 3, 2008
0

found this helpful
It really does look like a pit bull to me. Staffordshire Terrier is a common one that I think she looks like!! She sure looks like a sweetheart!! Pits always get a bad rap, but I think they can make great companions when their human treats them with love and affection! This is very obviously the case with your cutie!
May 11, 2008
0

found this helpful
She looks exactly like my dog .He is Lab/Pit. How tall and what is her weight? My dog is 92 lbs. Same ears too!
May 12, 2008
0

found this helpful
Hi pepperjack,
She is only 38 lbs and will be 2 years old next month, so we're not expecting her to get too much bigger. That is why I'm guessing Staffordshire, since they are a smaller type of pit from what I understand. Because both labs and pits are large breeds, her size is what stumps me!
For those of you who have lab/pit mixes, do you find that they are good family dogs? I have had Sadie for almost a year now, and she is amazing with my kids. Very protective and a good guard dog. I have had people tell me that because she is part pit, even though she loves my kids now, she could just "snap" one day and attack one of my kids. Which I don't believe at all, she is so loving to them.
I do worry about her with strangers as she has snapped and growled at a couple of people she didn't know. She hasn't bit anyone yet, but we are very careful when introducing her to new people. And I am trying to socialize her as much as possible. I have seen a huge improvement from when we first got her from the pound.
I think the biggest problem is that when people see her, they think she looks like part pit bull, which she does, but they get scared, automatically assuming that she is aggressive. She picks up on their fear and growls at them. But when people walk up to her assuming she's lab and friendly, she'll lick them to death. She is very intuitive on picking up on people's feelings. When my kids have friends over, if they ever fall down and scrape a knee or anything makes them cry, she'll run over right away and make sure they are alright and lick them all over. It's really very cute. Well, whatever she is, she is a very intelligent and loving breed.
May 24, 2008
0

found this helpful
I have a dog that looks just like yours. Its a mix of lab and staffordshire terrier I think
October 13, 2008
0

found this helpful
i have a lab/pit mix. He is a year and half. My son brought him home at six weeks and said he was half lab half boxer. There is no way he has any boxer in him. I think they only told him this because they thought if it was pit he wouldn't take him. Anyway I could tell right away he had pit in him but it didn't matter. I fell in love with him right away and he is so smart, protective and gentle.
He loves playing with the kids and is very protective of them especially when they are swimming. If he is isn't playing with them he is standing guard. He is the best dog we have ever had. People keep telling me he is a bad breed and will turn on my children. I don't believe this he loves the kids and I don't believe he ever would. He is very gentle. He looks a lot like your dog but quite a bit bigger. I wouldn't trade him for the world, so if yours is anything like mine enjoy it cause they are a special treasure.
October 14, 2008
0

found this helpful
Hi Trish! Your dog does look a lot like mine. You know, just in the last few weeks I actually considered Sadie to be a lab/boxer mix, because when I came home, she was so excited to see me that when she jumped up to greet me, she "boxed me" bruising both my thighs in the process. She only does this with me, not the kids. But my son, who is 6, gets hugs and kisses from her, and she curls her paws up like a boxer when she hugs him. I googled this, and there is actually a name for them "boxadors". I found lots of dogs who looked like Sadie. But I've come to the conclusion that she could be lab with anything stocky and muscular...which could be a number of breeds. We love her and she is everything we could have wanted in a pet and more. Pit, staffordshire, boxer, whatever she may be I'd love her just the same!
Oh, and she has mellowed out a LOT since I last posted. She is friendly to everyone and no longer has any aggression. But she is still on guard and protective of the house and family. I contribute this change to getting a friend. We got a second dog, who is a lab/german shepherd mix. (this time we are sure, we met the parents!) She's going to be huge and is only 5 months old and has already passed Sadie in height and weight. But they play together so much that it has completely changed her, all this extra exercise. Here's a picture of her new buddy:
Read More Answers...