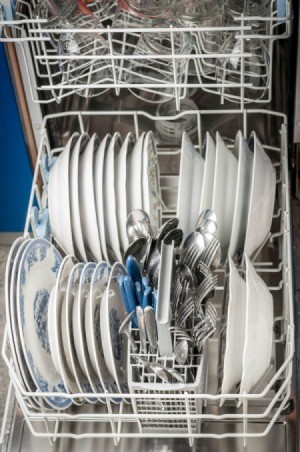 It is really frustrating to open the dishwasher only to discover that the soap dispenser did not open during the wash cycle. This is a guide about dishwasher not releasing soap.
Ad
---
Questions
Here are questions related to Dishwasher Not Releasing Soap.
The house we just bought has a small GE stainless steel dishwasher and it will not dissolve the soap. After running the cycle, even twice, the soap is stuck (not dissolved) in the holder. I just want to save water by washing the glasses in the dishwasher. Please help.

Java :)
By Java from Newport. MI
AnswerWas this interesting? Yes No
Ad
---
---
Best Answers
By elva 1 80 07/22/20100 people found this helpful
Try adding vinegar to your detergent, also I notice that when I used cheap dishwasher detergent this happen. But adding vinegar to it the dishes comes out sparkling.
Also, that powder detergent will get old and it will not dissole properly, but add vinegar to it and you will not have any problem.
---
By susan 33 441 07/23/20100 people found this helpful
Check to see what your water heater's setting is, we turned ours up so our DW would dissolve the soap. Good luck.
---
By Stephanie 149 248 01/14/20140 people found this helpful
Make sure you are not loading the dishwasher in a way that is blocking the soap dispenser. I used to have this problem when we put plates in the area that was in front of the dispenser, until I realized it wasn't getting a direct hit from the spinning water sprayer deal (also make sure that's not blocked). I moved my silverware basket to the area in front of the dispenser and make sure that only short stuff goes in the compartment closest to the door and haven't had a problem since.
---
I have a 9 year old Whirlpool dishwasher that is not opening up the dispenser to release the liquid detergent to wash the dishes. I have tried using alcohol to clean the springs, because I thought it might be just build up on the little door. The door opens and closes when we pop it ourselves, but just doesn't open automatically when it is supposed to in order to dispense to wash our dishes. It's frustrating. Help.
By ScrpBkBon from Cincinnati, OH
AnswerWas this interesting? Yes No
Ad
---
---
Best Answers
By Krista (Guest Post) 12/30/20080 people found this helpful
Fill your soap dispenser with either powdered Tang or powdered lemonade and run empty of dishes.
I did this twice and it cleared up the problem. The ascorbic acid cleaned up the problem.
---
By Lora 7 02/19/20100 people found this helpful
We had the same problem with our 2 year old dishwasher. Too new to replace and not worth a repair bill. Now we just fill the cup as usual, but we don't close the door to the cup. We just wait to fill it until we are ready to run the dishwasher and then close the dishwasher door and start it. It has worked great so far...nice clean dishes every time.
---
My Airstone LKF6 dishwasher's soap dispenser not working during cycle.
By Sona
AnswerWas this interesting? Yes No
---
Most Recent Answer
What would cause an automatic dishwasher dispenser not to eject the soap when cleaning the dishes? I can tell because I have not had to refill it in quite a while.
By Arlene
AnswerWas this interesting? Yes No
---
Most Recent Answer
By Frugal Sunnie 11 1,653 09/11/20130 people found this helpful
Do you have hard or soft water? It sounds as though you've been using too much detergent for the type water you have coming into your home and as a consequence dishwashing detergent is probably caked behind the dispenser.

If you can see caked detergent in the dispenser cup, scrape as much of it as you can out of that cup and discard it - it isn't effective soap anymore, trust me. The only thing cleaning your dishes right now is the hot water, not the soap.

After you get all of the caked soap out that you can see, run your dishwasher empty (no soap, no dishes) at least twice at the hottest setting. Add a full cup of white distilled vinegar (put the vinegar in both dispensers if you have one for something like JetDry) each time to boost the cleaning of the hot water.

Do this at least once a month for the rest of the time you have a dishwasher. Also, to prevent future build-up, go easier on the detergent. Use half of what the package or the directions for the machine suggest.

If you continue to 'not need detergent', you have a more serious problem and should call in a repair tech.
Solutions: Dishwasher Not Releasing Soap
Do you have knowledge about this guide topic? Feel free to share a solution!