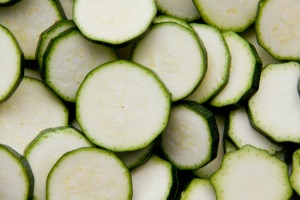 Freezing zucchini will make it more watery on thawing. This doesn't necessary cause a problem when adding it to a recipe. This is a guide about using frozen zucchini.
Ad
---
Questions
Here are questions related to Using Frozen Zucchini.
I followed the directions on this site to steam-blanch my grated zucchini for freezing. Now it appears that I have about half the amount of fresh grated zucchini I started with.
Will this affect the amount of zucchini I use in my recipes? For example, if it calls for 1 cup should I consider the steam-blanched zucchini as 2 cups since it seems to have shrunk in size?
By Mary from Meridian, ID
AnswerWas this interesting? Yes No
Ad
---
---
Most Recent Answer
By Darlene 52 13 09/22/20100 people found this helpful
Mary
Yes it is the same all you have to do is squeeze out the water and your good to go!
Aziriel
---
I used frozen zucchini the other day and drained the liquid and my bread did not turn out the same as if it was fresh. It's dry inside and the outside doesn't even have the same look as when it does with the fresh. Did I maybe drain to much of the liquid off?
My refrigerator accidently froze my zucchini. Now what?
Last year I grew a ton of squash and zucchini. I decided to freeze a good amount of it. I cut it into slices and put in vacuum sealed bags. However, when I attempted to use the veggies, they were mushy. Why?
By Kim C
AnswerWas this interesting? Yes No
Ad
---
---
Most Recent Answer
By Susan 04/17/20120 people found this helpful
They got mushy because of their high water content. I freeze shredded zucchini and sliced yellow squash, and use them in recipes. You must thaw and drain them first. The texture will not be the same, but for zucchini bread or a squash casserole, they are still fine (and tasty!).
I froze so much of my zucchini over the summer. Does anyone have a good soup recipe I can use them in?
By JenU
Solutions: Using Frozen Zucchini
Do you have knowledge about this guide topic? Feel free to share a solution!