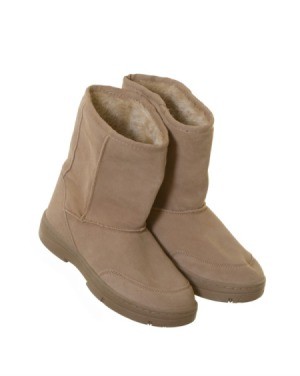 When the sidewalks are icy and salt gets put down, it's easy to get salt stains on suede boots. This is a guide about removing salt stains from suede boots.
Ad
---
Solutions: Removing Salt Stains from Suede Boots
Read and rate the best solutions below by giving them a "thumbs up".
If you get salt stains on your leather shoes or boots in the wintertime, mix one tablespoon of white vinegar in one cup of water. Dip a clean soft rag in the liquid, the wipe the salt stains. Allow to dry and your shoes should be good as new!

By Becki in Indiana
Give a "thumbs up" to the solution that worked the best! Do you have a better solution? Click here to share it!
Questions
Here are questions related to Removing Salt Stains from Suede Boots.
How do you get salt off suede boots?
By Grace Ann
Ad
---
---
Most Recent Answer

By Abigail A. [11]01/09/2015
Here's another way of doing it: http://www.thriftyfun.com/tf574995.tip.html
Will using a toothbrush with toothpaste remove stains from my suede shoes?
By Eric
Ad
---
---
Most Recent Answer

By Abigail A. [11]01/20/2015
Try this guide: http://www.thriftyfun.com/tf574995.tip.html
My suede boots are a very bright and light blue color. How do I use vinegar to remove salt, but not to discolor my boots?
By Marina
---
Most Recent Answer

By gine12301/12/2014
I got new red suede boots for Christmas and wore then out in the snow and got salt stains on them. Was heart broken as they were so comfortable and cute! I used the 1 tablespoon of white vinegar in the cup of warm water, wiped this on the boots and let dry. They look great, salt stains are gone and no discoloration. It is not a good idea to brush them or rough them up, because you are wearing the suede away.
How do I use a home remedy to clean salt from suede shoes?
By Dahlia from Philadelphia, PA
---
Most Recent Answer

02/04/2011
I just use an old soft bristled toothbrush to remove as much of the salt residue as possible, wipe with a damp rag, then lightly rough the suede up with the toothbrush again and allow to dry. I've had my snow boots for 19 years (16 winters of which were worn in highly salted Michigan instead of the sand used here in Washington State where I live now) and they still look almost new.
How should I clean salt stains from boots that are not suede, but look like suede? It is a manmade product that's not named.
By Judy C.
I just bought a pair of chocolate brown Ugg boots. I wore them out in the snow once, and now they have huge salt stains on them. I don't want to use vinegar or black coffee because I don't want to change the colour. Any ideas?
By Nicole J.
How do I get rid of the salt stains on my suede boots?
By Elda
How to clean road salt from suede boots?
By Chris from Ottawa, ON
How can I successfully clean my suede boot that has salt stains around the toe and heel?
By Regina M.
Archives
Thrifty Fun has been around so long that many of our pages have been reset several times. Archives are older versions of the page and the feedback that was provided then.
I have salt stains on a pair of my favorite black suede boots. How do I go about restoring them? I thought that I could get them dyed black and it would cover the stains? Any suggestions? - Renee
---
RE: Salt Stains on Black Suede Boots
I use a rag soaked in vinegar, dab it on the salt stain. It may take several applications. When the boot is dry, I then steam the boot over a pan of boiling water while brushing the suede with a wire brush. Boot comes out looking like new. Just be careful not to burn yourself. There is a product called Suede Renew which can be applied when the boot is clean and dry. (02/03/2005)
By Denise
RE: Salt Stains on Black Suede Boots
I used hairspray, I sprayed two coats and rinsed with water. It seemed to work for my stained black suede boots. I think this is a nicer method,because I hate the smell of vinegar. (10/01/2007)
By AR
RE: Salt Stains on Black Suede Boots
White vinegar makes your boots smell funny. I tried it once and the smell was horrible. So if you have a little money to spare, you can buy a product at UGG, its a shampoo for suede boots and it costs like 15$. Just follow the instructions on the back and it works really well. Putting your boots over steam, after cleaning, and brushing them with a wire brush in one direction works well also. If you wanna avoid getting salt stains, get a stain and water repellent for suede and apply it on dry, clean boots and let them sit overnight. Reapply once a week and that should work well. If you can't buy the UGG product, use white vinegar but don't get frustrated if it doesn't work the first time because that's usually the case. You should usually dilute 1/2 cup vinegar in 1/2 cup warm water. Dealing with salt stains right away is always better than waiting until the salt has already sunk into the suede because that makes it harder to remove.(02/17/2008)
By Naomi
RE: Salt Stains on Black Suede Boots
Yeah, it really helps if you use a rotating toothbrush with vinegar. (01/07/2009)
By
RE: Salt Stains on Black Suede Boots
This works really well. I just cleaned my boots using a nail brush instead of a rag because I found that the rag removes some of the boot's dye. So use a nail brush, but don't brush too hard. Also, use a little more vinegar than water when diluting the solution. Just let the vinegar dry, apply again if the stains are still there, then once the boots are completely dry, apply a suede protector to prevent more salt stains.
(01/20/2009)
By Kathy
RE: Salt Stains on Black Suede Boots
I tried a 50/50 vinegar and water solution on my suede boots earlier this week and it took out the salt stains, but also some of the dye. They are much lighter in the toe area now, which doesn't look great, but maybe it's better than the salt-encrusted rings I had before. (01/22/2009)
By Karen
RE: Salt Stains on Black Suede Boots
Scrub surface of boots with toothbrush when dry to remove as much salt as possible, use a circular motion. Then bring to a boil a pot of water over the stove. Hold boots above the steam from the pot and dip toothbrush in vinegar/water solution. Apply and scrub salt spots on boots. Stuff the boot as much as possible when drying to get the shape back. Don't dry close to heat, only naturally. I used this method on my $350.00 UGG Knightbridge boots and it works amazingly well. (01/24/2009)
By Angel_Undercova
How do I get salt out of faux suede boots? I have flat black boots that got stained by street salt, the kind used to melt the snow. Now the boots have white stains. What can I do?
Sofia
---
RE: Salt Stains on Black Suede Boots
I'd say let them dry, then brush off with a shoe brush. Then if the stains are still there, dab or carefully wipe with a damp cloth. Let dry and brush again. I'm sure there are also suede care products out there. The boots I used to own came with a packet of something like Scotch-gard. (01/28/2009)
By JustPlainJo
How do I remove snow salt from suede boots?
By Susan from Denver, CO
---
RE: Salt Stains on Suede Boots
Read 'JustPlainJo's' advice in the archives below and you should be good to go ;-) (12/14/2009)
By Deeli
RE: Salt Stains on Suede Boots
Has anyone ever used a mixture of alum to also clean salt stains? (01/09/2010)
By chstellhorn
I need advice for cleaning salt stains off suede boots.
By Gail from Revere, MA
---
RE: Salt Stains on Suede Boots
Take a toothbrush, of course not one you'll use again. Rub vigorously to remove the salt buildup, then lightly apply some water on a rag and then rub with toothbrush again to rough up the suede and allow to dry. (12/27/2010)
By Deeli
RE: Salt Stains on Suede Boots
Vinegar works just fine, I use it all the time and the smell goes away quickly. If anyone says it doesn't they don't know what they're talking about. (12/27/2010)
RE: Salt Stains on Suede Boots
Warm water and vinegar. Use a clean cloth to gently clean the area. (12/28/2010)
By goose19804