Max (Golden Retriever)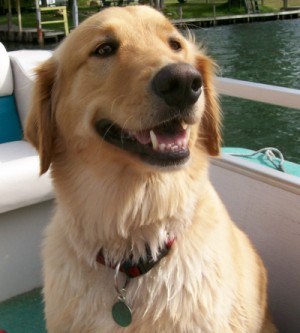 Max is a 6 year old Golden Retriever. Max is dog number three that we inherited from our son. He is a 100 pound retriever, and fits the name "Howard the Coward."
He loves to retrieve sticks and toys, and is obsessed with tennis balls. He enjoys going for walks, hikes and rides in the car. He is extremely intelligent, and I believe someday he will be able to talk to us.
He loves his little brother Milo (a Shih Tzu mix, about a tenth of his size) and is very intimidated by him. He loves being on our pontoon boat, and is truly the captain!
By MI Sandi
Feedback
Read feedback for this post below. Click here to post feedback.

By
05/06/2010
All dogs have their own grand qualities, but if you need to pick only one dog then just mix up everything you can want and everything that you have ever loved, ect and after you shake it up a Golden Retriever will fall out!

By
05/05/2010
Max is such a happy looking fellow. He looks very
intelligent as well. I like the way Merlene said it...
"It's good to be me." says the look on his face.

Thanks for sharing him with us.
Julia in Boca Raton, FL
Post Feedback
Add your voice to the conversation.
Related Guides
Related Posts