Craft Project: Paper Rose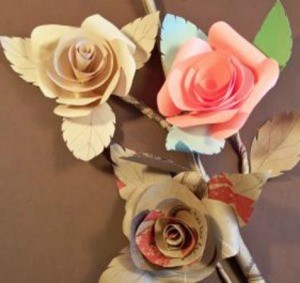 How to make realistic paper roses from various papers and materials.
Approximate Time: 30 minutes
Supplies:
Scissors
Paper
Glue
Marker(s) or pens
Floral wire
Forceps
Instructions:
Cut out pieces of rose as follows. One rose is made from recycled grocery bag (kraft paper).

You want 3 outer petals, 4 inner petals and 2 or 3 leaves.

Pieces are manipulated to resemble rose petals/leaves.

Following photos, the outer petals are cut out, a small cut is made in the bottom of the petal. The resulting two pieces are glued by drawing one edge over the other.

The top edges of the petal is curled with scissors and your thumb.

The inner pedals: cut 3 or 4 circles as shown. The center is cut out so that you have a round piece as shown.

Using forceps, wind petal around itself, so that a cone shape is made.

Glue in one spot at the end of the circle. Hold until dry. (7-10sec.)

Glue the three outer petals together at the bases.

Add three strips to inner cones that have been glued together. These will allow the fastening of the cones to the outer petals.

Add two or three leaves by cutting patterns, serrating the edges with scissors, and gluing to the bottom of the petal structure.

Rose(s) can be used for corsages, display, or in floral arrangements.

By Creativeman
Feedback
Read feedback for this post below. Click here to post feedback.

By
10/22/2012
Yet again another tutorial on how to make a paper rose WITHOUT a pattern to use for cutting the pieces....how lame.

By
11/09/2010
Am I missing pictures on how to cut out circles for roses because all I have are a few pictures of the finished project. If there are pictures of how to cut these out and put together I would love to have them because I think they are beautiful. I unfortunately at times learn by seeing and not reading so I really hope you can provide me with the pictures if my computer is just not picking them up.

Thank You!
Debbie

By
01/13/2010
redhaterb, gree. I'd also like to see how the "leaves and petals" look cut before the finished product. Tweezers would work just fine. I have locking forceps I found at a yard sale.

By
01/12/2010
These are really beautiful! I am guessing that both pliers or even tweezers would work as alternatives to the forceps.

By
01/10/2010
I agree it looks complicated and where does the average person get forceps? They would be kind of expensive to buy for just one craft item. It might be easier to picture if there was step by step pictures along with the directions and the already assembled flowers.
Post Feedback
Add your voice to the conversation.
Related Guides
Related Posts