By guest (Guest Post) Flag
July 29, 2006
There was a recall on these pots years ago and they highly recommend not using them. They said there was a problem with the handle-whatever- which could cause burns damage or something like that. I have not gotten rid of mine as I still use it when our electric goes off, but they told me not to use it anymore.
October 1, 2007
I have a new never used 9 cup perculator from corningware, If anyone would like to purchase it.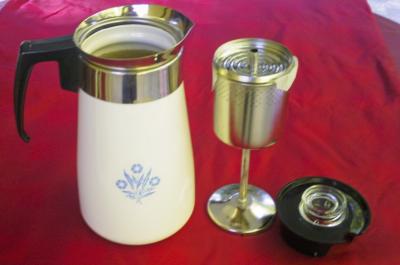 By guest (Guest Post) Flag
October 24, 2007
I have a new recalled 9 cup stovetop percolator I would like to sell it for parts only, it is complete and new with instruction book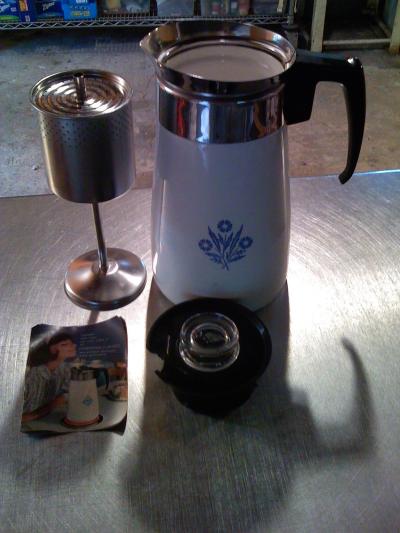 By guest (Guest Post) Flag
December 14, 2008
Good luck with your coffee pot. I have an electric 9 cup that leaks near the handle as well. This is common for these pots as far as I know. There was a recall because the handle would suddenly fall apart and caused some injuries. I have used my corning ware coffee pot for over 20 years after I found it in the back under my mothers cabinet. She put it away when she bought a Mr. coffee back in the 70's. I'll keep using this pot leak and all for many more years.
By Karen Minnear 1 Flag
March 6, 2009
I am not sure how to fix the problem, I have one I found several years ago and use it all the time. I found a copy of the recall and it pertains to the electric pots. Mine is electric and have the same problem. When the handle goes I will find a way to use it any way. I would like one for the stove top or another electric. Love it!
By karmeea a. 1 Flag
August 9, 2015
I have a corningware stove top 9 cup coffee pot white blue corn flower and I need either the inside set or the
Filter Basket Lid ( flat lid Top for coffee grinds holder)
does anyone know in central NJ where I can find or does someone have one to sell ?