Garden: Peony
I always get excited about my first peony bloom of the season. I think they are one of the most beautiful flowers. I wish they lasted longer!
By Elaine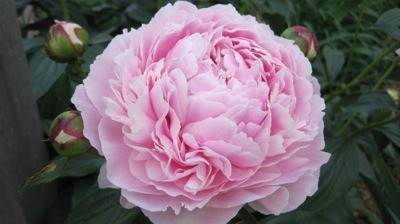 Add your voice! Click below to comment. ThriftyFun is powered by your wisdom!
This is a close-up of one of my peony blooms after a rain shower.

By Debbie
Answers:
Garden: Peony Photos
Very pretty. Good luck. (05/26/2010)

By kffrmw88
Garden: Peony Photos
Awesome close up.Thanks for sharing. (05/27/2010)

By keeper60
These are some pictures of my Mom's Peonies. I think they are just beautiful and so very fragrant

By Debbie from Berwick, ME
Answers:
Garden: Peony Photos
Ooo - I wish I could grow something like that! I don't think peonies do well in the south, tho. Thanks so much for sharing this beauty with us. God bless you. (07/02/2009)

By tedsmom
Garden: Peony Photos
Beautiful picture! Peonies are my favorite flower because of their beauty and smell, but most of all they remind me of my beautiful grandmother because they were her favorite as well. I have not yet tried to grow them myself. (07/02/2009)
By Cindy S.
Peonies and ants, what to do? You can't have Peonies without ants. (As far as I know from experience). The ants love the sweetness of the budding beauty. Don't let that stop you from cutting them and putting them in a vase. Shake them, gently tape them on the ground or flick those little trespassers off with your finger.

The perfume will fill your room. I've brought hundreds of Peonies into my house and never have I gotten invaded by ants. You might get a few, but they won't overtake the premises. If that bothers you, then put them on a covered porch so you can sit and enjoy their scent.

By Deb H. from East Brunswick, NJ
Answers:
Garden: Peony Photos
That sounds fun I am going to plant some this year. I already have morning glories! Robyn (04/29/2009)

By Robyn Fed
Garden: Peony Photos
Just lovely - this is what I miss about living in FL. (05/02/2009)

By LadyDi1947
Garden: Peony Photos
God gives us all lovely flowers, but sadly HE decided to give us in So.Ca. many plants just as pretty, but no peonys for us. These are pretty enough to eat!! Having worked as a floral designer and having peonys shipped in. They didn't have a fragrance after being refrigerated.
sigh....GG Vi (05/02/2009)

Related Content
(article continues below)
My passion is gardening and one of my many favorites are the Peonies. This Peony is ready to burst into glorious bloom! And the fragrance fills the air, how serene.

Don't be afraid to divide these beauties. I've done it with a shovel in the fall or early spring. It might sound harsh, but I just put the shovel where I want to divide, leaving at least 6 sprouts, and shove the shovel straight down.

Then dig around the perimeter, about 8 inches deep. Loosen from the existing plant and transplant to another sunny location. They won't put on a great display the 1st year, but your patience will be rewarded!

By Deb H. from East Brunswick, NJ
Answers:
Garden: Peony Photos
These are beautiful pictures. We have a couple of peonies in our garden and love them. Thanks for the idea about dividing them. We may try that this fall. (04/24/2009)

By Happy05
I simply love peonies! Their beauty in the Spring and their fragrance just warms my heart!
I use the typical peony rings to support those big beautiful blooms, but I also use medium size round tomato cages. I spray painted them green and put them in place in April before the plant gets too tall. Over the years as the peony widens I just put a 2nd cage next to the other. They stay in place all summer because the leaves of the peony hide the cage. The cages are a bit taller than the typical peony rings, which helps hold their blooms up high! A proud flower I'd say!

By Deb H. from East Brunswick, NJ
Answers:
Garden: Peony Photos
Deb, that is beautiful! Don't you wish they lasted longer? (04/17/2009)

By Laniegirl
Garden: Peony Photos
Hi Deb!
Peonies are my favorite flower too! Just like Laniegirl said, I wish they would last longer. I love their scent. What is the name of the peony in the photo? Every year I add one or more peony plants to my garden. (04/19/2009)

By SueBee
Garden: Peony Photos
Guess this is the "peonies lovers club" cause I'm joining. I have several peonies. One is a deep cerise. It's from my mother-in-law's peony. She is gone many years now. The beauty of the peony reminds me of what a beautiful person she was. She used to call them peony roses. they do smell like roses don't they? Yours is beautiful! (04/19/2009)

By Jan Lee
Garden: Peony Photos
SueBee, I don't know the name of my peonies. My neighbor was getting rid of hers and offered them to me! She had them planted in a very shady site, so they never flowered for her. I told her to plant them in the sun and they'd probably flower by the next year. She didn't want to do that, I was thrilled to receive them and have enjoyed them for years.

BTW Janlee mentioned her mother-in law's peony. My Aunt had my grandmother's peony, about 70-80 years old! It was never divided so it was big enough for me to divide and give to my uncle, 2 cousins and myself, and leave a big portion for my Aunt. It is a beautiful reminder of the beautiful people who have graced our life! (04/19/2009)
By Deb H.
You are viewing the desktop version of this page:
View Mobile Site
.
© 1997-2017 by Cumuli, Inc. All Rights Reserved. Published by
ThriftyFun
.
Page
generated on March 24, 2017 at 2:20:19 PM on 10.0.2.112 in 2 seconds. Use of this web site constitutes acceptance of ThriftyFun's
Disclaimer
and
Privacy Policy
. If you have any problems or suggestions feel free to
Contact Us
.