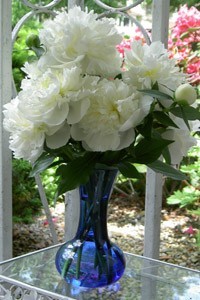 Peonies and ants, what to do? You can't have Peonies without ants, as far as I know from experience. The ants love the sweetness of the budding beauty. Don't let that stop you from cutting them and putting them in a vase. Shake them, gently tape them on the ground or flick those little trespassers off with your finger.
The perfume will fill your room. I've brought hundreds of Peonies into my house and never have I gotten invaded by ants. You might get a few, but they won't overtake the premises. If that bothers you, then put them on a covered porch so you can sit and enjoy their scent.

By Deb H. from East Brunswick, NJ

Answers:
Garden: Peony Photos
That sounds fun I am going to plant some this year. I already have morning glories! Robyn (04/29/2009)

By Robyn Fed
Garden: Peony Photos
Just lovely - this is what I miss about living in FL. (05/02/2009)

By Di
Garden: Peony Photos
God gives us all lovely flowers, but sadly HE decided to give us in So.Ca. many plants just as pretty, but no peonies for us. These are pretty enough to eat! Having worked as a floral designer and having peonies shipped in. They didn't have a fragrance after being refrigerated.
sigh. GG Vi (05/02/2009)
By Vi Johnson