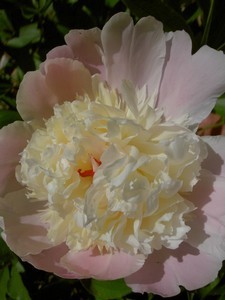 I simply love peonies! Their beauty in the Spring and their fragrance just warms my heart!
I use the typical peony rings to support those big beautiful blooms, but I also use medium size round tomato cages. I spray painted them green and put them in place in April before the plant gets too tall. Over the years as the peony widens I just put a second cage next to the other. They stay in place all summer because the leaves of the peony hide the cage. The cages are a bit taller than the typical peony rings, which helps hold their blooms up high! A proud flower I'd say!
By Deb H. from East Brunswick, NJ
Answers:
Garden: Peony Photos
Deb, that is beautiful! Don't you wish they lasted longer? (04/17/2009)

By Laniegirl
Garden: Peony Photos
Hi Deb!
Peonies are my favorite flower too! Just like Laniegirl said, I wish they would last longer. I love their scent. What is the name of the peony in the photo? Every year I add one or more peony plants to my garden. (04/19/2009)
By SueBee
Garden: Peony Photos
Guess this is the "peonies lovers club" cause I'm joining. I have several peonies. One is a deep cerise. It's from my mother-in-law's peony. She is gone many years now. The beauty of the peony reminds me of what a beautiful person she was. She used to call them peony roses. they do smell like roses don't they? Yours is beautiful! (04/19/2009)

By Jan Lee
Garden: Peony Photos
SueBee, I don't know the name of my peonies. My neighbor was getting rid of hers and offered them to me! She had them planted in a very shady site, so they never flowered for her. I told her to plant them in the sun and they'd probably flower by the next year. She didn't want to do that, I was thrilled to receive them and have enjoyed them for years.
BTW Janlee mentioned her mother-in law's peony. My Aunt had my grandmother's peony, about 70-80 years old! It was never divided so it was big enough for me to divide and give to my uncle, 2 cousins and myself, and leave a big portion for my Aunt. It is a beautiful reminder of the beautiful people who have graced our life! (04/19/2009)

By Deb H.