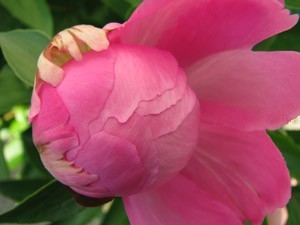 My passion is gardening and one of my many favorites are the Peonies. This Peony is ready to burst into glorious bloom! And the fragrance fills the air, how serene.
Don't be afraid to divide these beauties. I've done it with a shovel in the fall or early spring. It might sound harsh, but I just put the shovel where I want to divide, leaving at least 6 sprouts, and shove the shovel straight down.

Then dig around the perimeter, about 8 inches deep. Loosen from the existing plant and transplant to another sunny location. They won't put on a great display the first year, but your patience will be rewarded!

By Deb H. from East Brunswick, NJ
Answers:
Garden: Peony Photos
These are beautiful pictures. We have a couple of peonies in our garden and love them. Thanks for the idea about dividing them. We may try that this fall. (04/24/2009)

By Happy05