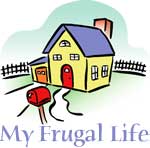 I have been collecting disability since 2000. I was previously living in a Women's Homeless Shelter. I learned while I was homeless how little that I really need; but, it was a very hard lesson to learn, as I used to live from day to day, paycheck to paycheck. Now I live in subsidized housing and I am thankful every day for my apartment.
Years ago, one of my friends told me that I should save my pay raises as I had been living on the lower amount anyway. I have done this for years, and I love my little nest egg, I also round up to the next dollar in my checkbook. I have a no fee (so far) checking account. But with the cost of everything it is getting very hard.
I used to have free dial-up, but about a month ago that died so I had to get my internet from Comcast. Another bill that I do not look forward to every month. I have basic (very basic) cable, because my television is old and I needed it for the reception. I have not had a car in seventeen years, so I am no longer able to go to the yard sales and thrift stores. If I did not have Walmart and the DollarTree, I do not know what I would do.
We are very lucky in our town that we have a Council On Aging bus that takes us to various locations during the month. It costs for each trip, so I try to limit them. The grocery shopping bus is free, thankfully. I do not get newspapers, I only dry my sheets and towels, the rest of my clothes I hang around to dry.
I learned much to my regret that I should have taken better care of my teeth. Even though I go to a Dental School in Boston, it is costing me a fortune to catch up on my poor hygiene. Besides if you do not take care of your teeth, you are sure to finally get a very painful reminder and expensive dental bill.
I love BOGOS,but I am careful to only buy the products that I really need. I have a Christmas Club (actually two - I got two free gifts). I have been doing this for years and it really helps when I get those checks in October. I was not receiving all the benefits that I was entitled to in the beginning, but I met someone who helped me get through all the information. Also, our town employs a fantastic social worker at the Senior Center.
I probably spend more than I should for food, but I do not have the luxury of shopping around, nor do I get any coupons. My computer is my lifeline, and it was a second-hand one from my niece. I dread thinking about this computer dying on me. I have no printer, as the ink refills tend to cost more than a new printer. My clothes and shoes are all very old (and a lot were second-hand), but they look new because I take care of them. I do not buy anything that needs to be dry cleaned.
Last year, it was brutally hot in the summer, and I had no air conditioner. I kept the shades down all day long, and I used a fan. It was hot, but I made it through. I am trying to save up some money in case my television conks out.
I do go out about once a month to eat, but my favorite meal is breakfast and that is cheaper. Because of the sodium, I eat very little processed food. When the fish that I would normally buy went sky-high in price, I tried cheaper ones that were new to me - and I liked them. I am always open to other people giving me hints on how to save money. I love ThriftyFun, and I look forward to all the tips.
I just bought a Trac phone for safety reasons and because my family worries about the times that they cannot get in touch with me. I am very lucky in that my family and friends either give me money or gift cards for presents.
My downfall is Ebay. It has ninety-nine cent auctions but they cost a lot in the long run, I hope someday to be able to sell some of my "stuff" on Ebay and bring some money in instead of paying out.
Oh, and I cut my own hair. It is very curly, and it hides any mistakes
By Irene from Boston, MA
Do you have a frugal story to share with the ThriftyFun community? Submit your essay here: http://www.thriftyfun.com/post_myfrugallife.ldml
Ad
---
By PENNY K 14 562 05/17/20110 people found this helpful
I want to tell everyone about this tip for keeping cool during hot weather.
Collect and save a few liter bottles from pop or Gatorade type bottles, keeping the caps also. Rinse out of course or you may have ants. Fill each one about 2/3 full, cap, and put in freezer. You will need 3-4 during a heat wave, for yourself, two more if for more than one person. Take them out, one at a time, and put an old tee shirt over them. Hold them next to your trunk/abdomen/side while you sit when watching television, or knitting, etc. It will cool you just like a hot water bottle warms you. You may need one on each side if you are overweight or if it is over 90 degrees. Rotate them in and out of freezer of your fridge as they begin to melt. This will also work at night if you have difficulty sleeping. Just put them outside your sheet, but next to your body.

This is also a tip for small children who can suffer heat stroke easily, if
you do not have reliable air conditioning. You might use smaller bottles for
children.

Further tip for women. Discovered this one summer during a heat wave, when the air conditioner at work was broken for weeks and we had to
work in polyester uniforms. Never wear polyester anything in hot weather...it doesn't breathe. Take a paper towel or heavy napkin or cloth handkerchief and wet thoroughly and squeeze out extra water. Open up and wrap two ice cubes inside and tuck in center of your bra. Works the same to cool the core of your body. If you are in a situation where you would be embarrassed by a wet spot on your shirt, put a dry napkin, etc. on outside of your cooling bundle inside bra.
By pam munro 523 790 05/17/20110 people found this helpful
Re: polyester in hot weather, on the plus side, polyester doesn't wilt in the heat, so you can use it judiciously.
By Frugal Mommie 1 05/23/20110 people found this helpful
Irene, you said you don't get coupons. I am not sure if there is a common area or room where you live - maybe even the rental office or something?, but perhaps you could take the following idea and make it work.

In my community there are a few women who have organized a coupon swap box. It can be anything really an old shoe box, that has been decorated but clearly marked. Ours is located at our local library. They maintain it a few times a month.

They collect the expired coupons and send them off to the military since military families can use expired coupons up to 6 months or even a year past the posted expiration date. The idea is that those who *do* get coupons, don't use all of the ones there are. So the choice is to throw them out or swap them.

Perhaps you could be the recipient of some of these coupons. I also hit my neighbors up for the coupons they don't want. I come to collect them, and they are more than willing to do this. Its a great community service and for us, a great way to help the military!
Hope that helps.
By Pixiedust7 7 834 05/23/20110 people found this helpful
Irene, it sounds to me like you might be eligible for food stamps, which would save you a great deal of money & allow you to eat properly. Go to the link below & see if you qualify in your state. I know this has helped me a great deal while I am unemployed. They issue you a card that functions like a debit card & your purchase receipts will show your balance. A single person can get about $200 a month, which is quite sufficient. Hope this helps you!

http://www.fns.usda.gov/snap/applicant_recipients/eligibility.htm
By Melody Bressler-Hay 19 59 05/24/20110 people found this helpful
Irene, you mentioned that you do not use coupons when shopping. Since you have internet, go to the websites for brands that you purchase and like. Give them comments and frequently, they will send you coupons often for $1 off or sometimes even free. They so often get complaints but they like to hear positive comments also.

Do you have a library near by? This is a good place to connect on the internet if your computer should die and also a place to get cool in the summer heat waves or warm in the winter chill. Find a comfortable chair and read the local newspapers, magazines for free, or even a book off the shelf. Some even have listening areas to hear cd's of music, foreign languages, etc. A good place for an outing. Best of luck to you.