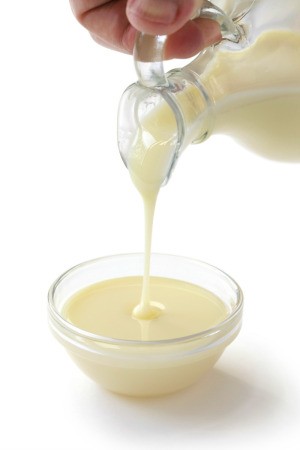 When using canned condensed milk in place of regular milk you may need to make some adjustments. This guide is about substituting evaporated milk for whole milk in recipes.
Solutions: Substituting Evaporated Milk for Whole Milk in Recipes
Read and rate the best solutions below by giving them a "thumbs up".
I pick up a can of evaporated milk every time I do my weekly grocery shopping. It is very inexpensive and good to have on hand. It can be used in place of light cream in recipes, in place of milk (my mother always made her rice pudding substituting a can of evaporated milk and I still make it that way!)

By Carol from Lancaster, PA
Give a "thumbs up" to the solution that worked the best! Do you have a better solution? Click here to share it!
Questions
Here are questions related to Substituting Evaporated Milk for Whole Milk in Recipes.
I need 1/2 cup of milk, but only have evaporated milk. How can I substitute it? Help me plz.
By Colleen A.
Can I use evaporated milk in making mashed potatoes as a substitute for whole milk?
By Marge J.
---
Most Recent Answer

By Judy = Oklahoma [57]11/30/2011
Absolutely, and you will love the richer flavor it gives your potatoes! I also use it in my potato soup & you can really tell the difference compared to using regular milk - just not the same!
Can I use Carnation (or store brand) evaporated milk the same as whole milk in a recipe? Or is there some "rule of thumb" to go by when cooking with canned evaporated milk? Does it need to be diluted?
By Sandy from Richmond, VA
---
Most Recent Answer

By Sheila [3]11/28/2011
You can dilute it if you want, but I wouldn't, might make potatoes runny after you add butter. I used whole milk or canned milk, which ever I have on hand and use it full strength.
Can you substitute 2% or any kind of milk for evaporated milk in recipes such as pumpkin pies? If so, how much?
By Linda from Brighton, MI
---
Most Recent Answer

By Jacque [4]10/26/2010
My neighbor lady gave me this recipe that her mother used for years.

Canned Or Sweet Milk

Yield: 1 Cup

3/4 cup Sugar
1/3 cup Water
1/4 cup Oleo
1 cup Powdered Milk

Place first three ingredients in saucepan and bring to a boil.
Pour into blender, slowly add powdered milk as blending.
Blend until smooth
Store covered in refrigerator.