Although many recipes call for wine, substitutions can easily be made without affecting the flavor of the finished dish. This is a guide about substitutions for wine in recipes.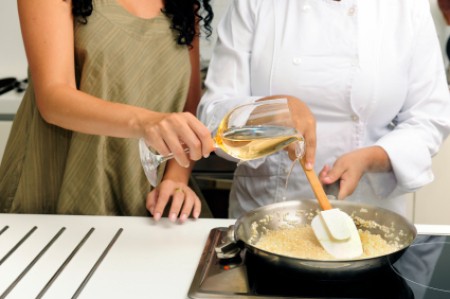 What is a good non-alcoholic substitute for red wine or white wine in recipes?

Sabrina from Golden, CO
---
Most Recent Answer
September 8, 2011
Having taken meds that prohibit alcohol I have found that using soft drinks as a substitute for wine in marinades is an excellent alternative. Cherry Dr Pepper, Coke, Pepsi, Sprite, ginger ale, 7-up, etc all provide very different flavor profiles in the same way wines do and using diet sodas diminishes sugar content.
---
By Free2B 217 350
Wine can be too expensive to include in your cooking budget. Or you might just not want to use it. Well, that's no problem, because there are good, healthy substitutes for it. Cranberry juice is an excellent substitute for red wine, just choose the kind with as little sugar added as possible.
To substitute for white wine, I like apple juice, but white grape juice can be used. In dishes where the wine is not the dominant flavor, I really can't see any difference in the results. Using the juice is healthy, for you, and for your budget.
Source: I don't remember which cook book it was in, but cranberry juice was suggested as a good substitute for red wine. I started using apple juice on a hunch that it would be just as good a substitute.
By Copasetic 1 from North Royalton, OH
I have tried many things but cranberry juice works the best as a wine substitute. It has just the right amount of tartness and sweetness to taste very similar to wine. And where color matters it is perfect.
Source: My experience.
By Lilac from Springfield, MA
What can I substitute for white wine in a recipe for cooking chicken?
By Marty from Oklahoma City, OK
---
Most Recent Answer
September 8, 2010
I either use apple juice or cider or white grape juice.
---
By bunny 1
I am making creamy shrimp and fettuccine and need a substitute for dry sherry.
By bunny from AR
---
Most Recent Answer
November 29, 2010
I usually use chicken broth if I don't have the right wine on hand.
---
What can I use for a substitute?
By Bobbie
Can I use dry vermouth instead of dry sherry in a salad dressing for an Asian salad?
By Willa