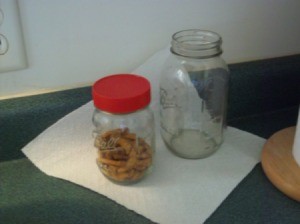 I use peanut butter lids on regular canning jars for everyday storage. They don't rust if used in the refrigerator, and keep food fresh on the counter. I use them for non-food storage as well; such as band-aids with ointment. I haven't found anything to use on the wide mouth jars yet, any suggestions?
By Judith from Central IL
Ad
---
Feedback Forum
Feedback about this article is posted here. Want to contribute? Click above to post feedback.

By Denise05/26/2013
This isn't as thrifty as reusing a lid off of other jars, but they do sell wide mouth lids in the canning section. They usually come 12 to a box. They are usually white and plastic.

By 1stborn [1]05/26/2013
I am doing the same. For me it is the 2-cup size, I have found for the Ball mason jars the generic mayo lids fit well. For some reason the peanut butter any kind and Hellmann's mayo lids do not work on Ball mason jars. On the other kind of mason jars they work fine.

By Maryeileen [76]05/26/2013
Great idea. I just finished a jar of peanut butter and will be sure to keep the lid. I have seen the Ball plastic lids at Kmart.

By Robyn [366]05/25/2013
You have shown me how to reuse another plastic item in the house! Thank you so much!

I have found the little round things that go inside canning jars, the metal round piece, fits nicely over the top of some tin cans of green beans where you open the top of the can by a pull tab. This keeps flies out and such or you can store it in the fridge.

By Debbie Dzurilla [24]07/13/2011
I just put this idea into use! Thanks for the tip!

By xintexas [28]07/12/2011
That is a nifty idea. Glad you thought of it. I must try more plastic jars tops out on some of my jars that need them

By Paula Jo C. [7]07/12/2011
I use my jars (rather large or small) for our left overs. This saves aluminum foil being used constantly (an expense we can not really afford.) The left-over's heat right in the jars (with a heating pad sitting atop them) as they heat up in the microwave and is then used to carry the hot jar to the table. I like to live and be as simple as I can be for my family.
By Sandi/Poor But Proud [426]07/12/2011
Try the wide mouth Mayo jar lids. I think they work. If not, you can almost always find rings at a thrift store, and the lids are cheap.
Post Feedback
Add your voice to the conversation. Click here to share feedback.