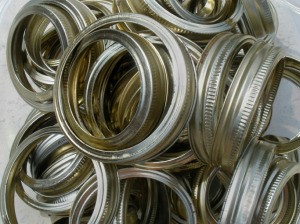 Don't discard those canning lid rings when they no longer are suitable for canning use. They are handy in the garden when you have young ones helping you with the gardening. Plant your seeds in the center of the rings or place the rings over young seedlings. It makes it easier for the young ones to distinguish what and what not to pull. The rings don't hinder the plants growth or production and can be use year after year.
By Timelessneed from Erie, PA

I do a lot of canning and jam/jelly making and always end up with used lids. They can't be reused for canning since used ones don't seal. I have hundreds of them and just can't just throw them away. I've already used many for storage but still have lots left over. Any ideas, crafts or otherwise, are appreciated.
Thanks,
Karen from East TN
Answers

Vi Johnson
Silver Post Medal for All Time! 288 Posts
January 12, 2006
0

found this helpful
Best Answer
You can punch/drill a small hole on two sides and spray paint them , then string them together for garlands to trim outdoor trees and bushes for Christmas. Or string them in groups of 3-5-7 to hang down from the branches.

January 13, 2006
0

found this helpful
Best Answer
"Mixes in a jar" are a great gift idea...many recipes on the net...if that is something you'd do, those saved lids would work great for that since the mixes in a jar don't require a new (vacuum) seal.
By Yvonne (Guest Post)
January 13, 2006
0

found this helpful
Best Answer
Your local girl scout council would LOVE to have them if you don't have a need for them. They make all sorts of crafts from lids.

January 14, 2006
2

found this helpful
Best Answer
Karen,
I agree with Luvyabye. I have reused canning lids many, many times. First I carefully look at the lids. If they are bent or are rusty or damaged on the underside or if there is some of the rubber missing they are thrown out. But otherwise, I wash them and then I place them in a pot of boiling water and boil them for about 10 minutes. The rubber bounces back and looks like a brand new lid. I have recanned with the lids for years and years and have had nearly 100% recanning ability by using the used-once-before lids.
Try it on something like jam where the batch is small and can be stored in the fridge if you find that your lids do not reseal. I've never had a problem.
I take the old lids that definitely cannot be used again and store my empty jars with those "bad" lids on them, on the shelves in the pantry. (I do not place any rings on the jars though because if it ever gets damp, then the rings can rust onto the jar and then there is a problem to get the ring off the jar later.) With a lid on the jar, no dust can get into the jars and the jars stay cleaner for future use.
Best Answer
I use the canning lid rims for my grand babies; I tie them together with a strong ribbon; they play with them for hours; the lid rims clang together and also make good teething rims; I disinfect them after the baby plays with them.
By Rhonda (Guest Post)
October 5, 2008
0

found this helpful
Best Answer
You can use them for educational games. Glue capital letters on some and the small letters on others, have the children match them up, or do the same with adult animals and babies. Things that go together, you get the idea.
Rhonda
Answer

this Question