Freedom Belle is 8 to 12 years old. She was adopted, so I am not sure of her age. She is a domestic short hair Tortie.
I got this precious gal 3 years ago. I was on the internet checking into local Humane Society volunteer work and decided to click on the cat pictures. It was an omen! The first picture I clicked on was almost a duplicate of what my other cat looked like!
She is just a cuddle cat that kisses me with licks.
She was at the humane society for 5 months and was on the list to be put to sleep, since I freed her I named her Freedom Belle and my other cat had the name of Liberty Belle.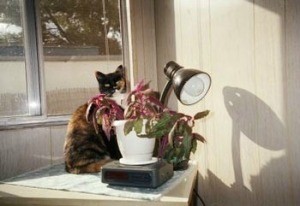 Liberty Belle is 4 years old. She is also a DSH Tortie.
I got her on 9/11 the day of my birthday and terrorist attack. I was depressed by tv news coverage. To get out I went to Petco and a man was standing out front giving away 3 week old orphans. I had no intention of replacing my cat that died of old age a few months earlier, but I could not resist, I needed comfort and a birthday gift and she needed a home!
She was a teeny 3 week old kitten and is now a 15 pound gal!
By Linda from Oceanside, CA