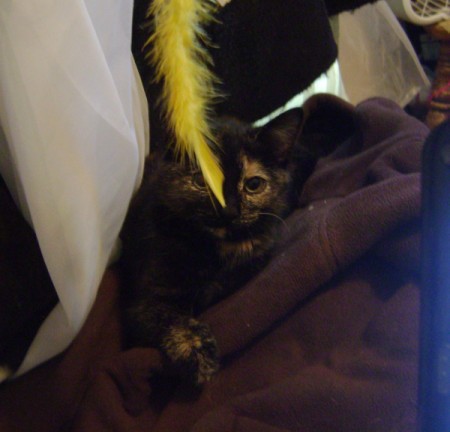 Your Pet's Age
4 months
Your Pet's Breed
Dilute Tortie
How and when did you get your pet?
She was abandoned by her mom in a shed, when the mom felt threatened. She walked out to me, crying pitifully, both of her eyes glued shut, she had barely opened them at the time I saw her. We nursed her and she drank so much and before long was ripping the nipples off of the nurser, and soon she was healthy and ready to pose for this picture. She is one of the five cats who reside with us. In the past she has been very difficult to photograph due to her muted colors. Now she seems to have a good time posing for pictures!
What does your pet like to do for fun?
She likes to lay on the bed and play with the feather I have hanging next to me, and she loves to play with the ferret and the other cats in the house! She even loves the dogs. When she gets up from a nap, instead of stretching, like most cats, she will roll on her stomach and then roll all the way over, like a barrel three or four times and then she will stretch.
Do you have anything else to share about your pet?
She will always be remembered for being that little kitten that fit in all our hands, even though she has long grown out of that stage. She is a very happy little cat, and she brings us lots of enjoyment and loves to share in love and be petted all the time. Her purrs will match that of any full grown lion.