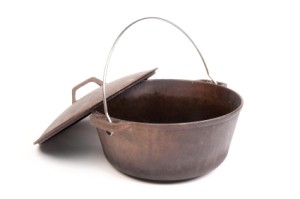 If your cast iron cookware is not properly seasoned or cleaned it can get rusty very quickly. getting rid of the rust will allow you to start over seasoning and cooking with your cast iron. This is a guide about removing rust from cast iron.
Ad
---
Solutions: Removing Rust from Cast Iron
Read and rate the best solutions below by giving them a "thumbs up".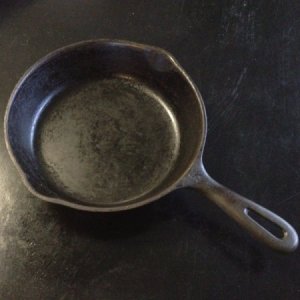 If cast iron is rusty, use steel pads to remove rust and wash in hot Dawn detergent really well. Dry cast iron. I use cooking oil to season the cast iron; using paper towel, rub oil generously onto cast iron, inside and outside. Place a heavy duty piece of foil on the shelf of the oven and turn thermostat to 350 degrees F. Place cast iron top side down and season for 1 hour. This will allow the excess oil to drain off the cast iron. Allow to cool and wash with warm water. No soap.
My first item cooked in my iron skillets, is a pan of cornbread. I place 2 tablespoons of oil into the skillet and heat to slightly smoking and pour the mix into the skillet and bake at 400 degrees F. It slides right out. No sticking.
By Grandma Ree from VA
We had several old iron cooking pots and pans, that had been left in storage for many years. They were rusty, and really corroded.

I put them in a plastic garbage bag, soaked a towel with ammonia, and left it tied in bag for several days (maybe 4 days.) As I took each one out to wash and clean, I left the others in the bag. They clean well with a little elbow "grease". They looked almost new.

I had a dutch oven, a huge skillet, a large pancake griddle, and several pans with handles. I used steel wool on some and scraped residue off with a knife, then washed and dried them. I used Crisco and rubbed each one with a paper towel. I set them in the oven for several days when not in use. They looked like new and would have been discarded as useless.

By Beulah
Give a "thumbs up" to the solution that worked the best! Do you have a better solution? Click here to share it!
Questions
Here are questions related to Removing Rust from Cast Iron.
How do I remove rust from cast iron skillets?
By Terri from Medford, OR
AnswerWas this interesting? Yes No
Ad
---
---
Most Recent Answer
By dna53 [3] 06/19/20100 people found this helpful
Cast iron pans can be cleaned with a homemade paste of course salt and cooking oil. Rub vigorously with a dry cloth or a plastic scrubber and do not use any water.
---
How do I clean a rusty iron skillet?
By James
AnswerWas this interesting? Yes No
Ad
---
---
Most Recent Answer
By John 02/26/20110 people found this helpful
Put the skillet in the oven on a sheet of foil and run the oven cleaner. Then reseason.
---
We use a cast iron pot filled with water on our wood stove for humidity. Rust has formed on the pot and I am not sure how to clean it. Any suggestions? Thank you.
By Patricia from Dansville, NY
AnswerWas this interesting? Yes No
---
Most Recent Answer
By Sandy [8] 02/21/20100 people found this helpful
Sprinkle salt in the pan and rub with a paper towel. Works like sandpaper.
---
How do I get rust out of cast iron pans and also off a cast iron lamb mold?
By mb
AnswerWas this interesting? Yes No
---
Most Recent Answer
By Daisy [1] 11/17/20130 people found this helpful
Cut a medium sized potato in half. Pour kosher or sea salt in your pan and rub with the potato, wiping clean with a paper towel, old shirt or rag. Add more salt until finished. Season immediately.
---
How do I remove rust from a cast iron Dutch oven?
By Linda
How do I remove rust from a cast iron Dutch oven?
By Jeanne C from Cortez, CO
Archives
Thrifty Fun has been around so long that many of our pages have been reset several times. Archives are older versions of the page and the comments that were provided then.
Don't use fancy chemicals to clean rust off of your old cast iron. Simply dunk in a solution of half water and half plain vinegar.

By Connie
I have a cast iron wash pot that was my grandmother's. She used it to heat water for her laundry. The pot has a lot of rust on the outside of it. Is there a way to remove this?
I have been told to build a fire around it and that would removes the rust. Is this safe to do? I don't want to damage it. The pot is well over 100 years old. Thanks for any help.
Pat from Texarkana, TX
---
RE: Removing Rust From Cast Iron
You can clean the rust with a mechanical method. You can buy a product made by 3M Co. and is available at automotive stores. It is called Scotch Brite. You can buy it in a sheet about the size of a 9 by 11 inch sheet and use it by hand or buy the product in a disc form with a back up pad to be used in a drill. The product is made from a nylon web and is impregnated with a grit similar to sandpaper. It is water proof so it can be used with water. (06/23/2008)
By Harry
RE: Removing Rust From Cast Iron
Just do a search for seasoning cast iron on this website. You will get lots of good information. (06/23/2008)
By G R I T S
RE: Removing Rust From Cast Iron
I got a cast iron griddle out of the "free" pile at a yard sale because it was full of rust. I scrubbed it with a Brillo pad, rinsed, dried, and then coated it with plain, old vegetable oil. It came out looking like new and I still use it to this day.
But, I also have some very old family cast iron skillets that the build-up on them is so bad that they are kind of bumpy. I know that no amount of scrubbing will clean them up, and I wouldn't want to take the risk of damaging them by using something as abrasive as a Brillo pad on them.
Just try rubbing some vegetable oil onto your grandmother's wash pot with a soft rag and see how it looks. I love my grandmother's cast iron skillet with all of its lumpy, bumpy build-up and wouldn't give it up for anything. Please share with everyone what technique you do use and tell us how it worked out for you.
Good luck, Paula (06/23/2008)
RE: Removing Rust From Cast Iron
Removing Rust Stains:
Use Tang, Lemon Crystal Light or Lemonade Powder
First wet the pot, then take a some Tang or some instant powered Lemonade mix and sprinkle this on to the rust, now scrub it a bit with a scrubbie brush, or vegetable brush. Scrub just enough to mix it around, now leave it sit for about half an hour. Then sprinkle more Tang or Lemonade mix on and scrub again until the rust is gone. The rust should be all gone.
The Tang or Lemonade mix works because of the citric acid. You can always buy plain citric acid if you like. I've seen it sold at most "ethnic" type grocery stores, especially East Indian stores. It's super cheap and adds tang to fruit puddings and pies, if you like 'em a bit sour (like I do!).
This rust removal technique also works on rust stains inside the toilet, or bath and counter tops, also on cement floors, too. You can use it around pools (from metal pool furniture) or garages floors. I saw this tip on "Queen of Clean" TV show on DIY several years back. (06/23/2008)
By Cyinda
RE: Removing Rust From Cast Iron
To clean a cast iron pan or pot I put them into a self cleaning oven and they come out looking brand new. Then season as normal. This works for me. (06/28/2008)
By Trina
Can you get rust off a cast iron pan and use it again?