Many, many dogs are walked by my house and lots of them use my flowers and shrubs to relieve themselves. I've asked the owners not to let them, but they seem to think because it's pee it's no big deal. I prune and fiddle regularly, and I DO think it's a big deal touching dog pee. I have some trampled and/or sick looking plants and flowers to boot. Is there something I can put in my beds to deter the dogs since the owners won't respect my repeated requests?
Lisa from Tampa, FL
December 18, 2008
0

found this helpful
Best Answer
Been there, done that. Some dog owners are so rude, thinking it's their Constitutional right to let their dogs urinate on other people's property, damaging lawns and plants.
What I did was to get red pepper and sprinkle it everywhere I wanted to guard against the dogs. I observed it in action, and let me tell you, dogs do NOT like the smell!
If, for some reason, that doesn't work (wind blows it away, etc.), there are animal-repellents available.
God to Amazon and there are lots of products. Here's the sort of thing I'm referring to:
By guest (Guest Post)
December 21, 2008
0

found this helpful
Best Answer
Put transparent plastic bottles full of water and place them near the flower beds. Dogs will be afraid to see the water reflecting and will not pee in your flowerbeds. Good luck!
By guest (Guest Post)
December 21, 2008
0

found this helpful
Best Answer
We had this problem, too.We had a huge (Costco-sized) container of crushed red pepper, the large flaked kind, that we never used. I had my oldest daughter sprinkle it everywhere in the areas where we were getting 'bombed'. No more problems! We do reapply once in a while!
By guest (Guest Post)
December 21, 2008
0

found this helpful
I have this same problem. Sometimes the cats, too. Here is what I do. I have a number of books by Jerry Baker. He tells about things in your kitchen that are remedies for yard problems. He gave this recipe of stuff cats & I've found out, dogs too, don't like. They always sniff first. So you mix like 1/3rd black pepper, 1/3rd red/cayenne pepper, 1/3rd ground peppers, like for pizza & then for a mix of about 2-3cups. I mix in dry, hot mustard, maybe about 1/2cp.
It's pretty strong (you get this in the import or oriental section of the grocery store). Be sure to do this outside & b upwind. It's pretty potent. I then put it in something with a small opening or use a small scoop, & sprinkle it around where they like to pee on the ground & even on the plants. What I do is garden & water like normal. Then sprinkle & leave the area alone for at least a few days, longer if you can, and hey, that pee can cause you to get parasites, this is a health hazard and it kills the plants, if done enough.
I've lost some nice plants from those pets & inconsiderate people. I have used it on the top of walls & fences, to keep the cats away. This last for a long time. They learn that it's not good there & it gets their noses really well. It won't hurt them, but it does give them a real nudge to go somewhere else. Hopefully away from your yard. It really works, try it. Personally, I'd like to sprinkle it on those idiots who don't listen to you.
December 21, 2008
0

found this helpful
I've heard that cirus peelings will repel a dog from an area - unfortunately, my daughter's dog hasn't read that bit of information.
December 21, 2008
1

found this helpful
Hi, I am a dog owner who walks her dog and find Allie, as all dogs do, MARK their territory by doing this pee thing. So we walk on the street and when we get back to our yard, she stops to sniff, then pees to re-establish her yard. Other than this, she pees only in one spot in the back yard.
Enough about that, mothballs are toxic to children who may pick them up, they may get tossed back into your garden which transfers the toxic to your plants, esp if edible types growing.
I would put some signs posted about 10-12 inch high stating toxic chemicals have been used in treating the yard, PLEASE keep children and pets from transferring it on their shoes or feet. Or something to that order. If you have a friend who's yard is treated, ask for a flag or two left by a lawn service to put in your yard. Or ask a lawn service for some tips/flags.
I am not beyond yelling out the door when I see this to pick up poop or wipe up the pee. This evokes a response of some type, enough to get a visual description. Often helps to have a phone in hand, stating you are calling the authorities. Good to do the photo via cell phone or camera.
It is the owner who is stupid and needs to be dealt with, not the leashed animal. THEN if it off a leash, call and report it to the proper number. I have caught and tied up wandering dogs without owners running around destroying yards and flowers and an officer promptly shows up to take it.
Licensed? Cost you $70 for first time picked up. Unlicensed--additional fees, meaning a rabies vaccination, license and the $70. If they are a repeat offender-I think x3, they go to court automatically. Then the court cost goes into the hundreds.
So keep your dogs leashed, licensed, vaccinated and off the yard that is not your own!
December 21, 2008
0

found this helpful
I neglected to say, when we walk in the street, my dog has no desire to pee anywhere. She does not try to get up on the yards, do sniffing, etc. When we walk, she is on her leash and right by my side. Won't even chase squirrels running in front. If we walked on the sidewalk, different story. Too many distractions.
December 31, 2008
0

found this helpful
It's amazing how dog owners seem to think it's ok to let their animals pee all over other people's yards. It isn't necessary to allow your dog to pee on every pole or plant they walk by, they are only marking everything and not doing it to empty their bladder, if your dog has to pee several times a day, let them do it in their own backyards. I did the ceyenne pepper thing in my back yard where a neighbor's cat kept pooping, it works pretty well when they sniff that stuff into their nose. Also people seem to think that their cats need to run around the neighborhood it's extremely irresponsible and unhealthy for the animals. I've had cats for several years and didn't let them outside.
December 27, 2015
0

found this helpful
I agree you need to have a cell phone or small digital camera that you leave by the front door or window. Make sure people see you taking a picture but you can retreat quickly if they try to confront you. Some people get unreasonably mad even if they're the ones in the wrong.
July 29, 2016
0

found this helpful
Sounds good but does it kill plants with flowers? My dog has turned my flowers black with hardly a glimmer of coming back THanks
Read More Answers
May 11, 2011
0

found this helpful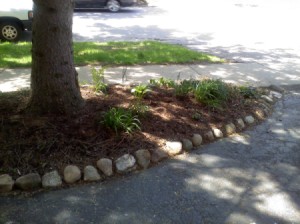 I have a flower bed area between the sidewalk and the semicircle drive. Unfortunately, many people on my street don't seem to care about keeping their dogs out of this flower bed area. They even allow their dogs to do their business (whether it be 1 or 2) right in front of me. I'll even ask that they move their dog over to the devil strip and they don't.
Anyway, I'd like to spray something or put something in my flower bed to deter the dogs from walking through my plants to do their business since their owners seem unqualified for the job. I would appreciate any suggestions. Obviously, I don't mean any harm to the dogs, it's not their fault their owners are oblivious to common courtesies. Needless to say, when my children ask me to get them a dog I answer I'm too busy picking up the mess from all the neighbors dogs. Thank you!
By Michelle H. from Middletown, MD
May 16, 2011
0

found this helpful
Dogs won't go where fresh water is, put out gallon jugs of water. Looks bad, but works!
May 17, 2011
0

found this helpful
Critter Ridder - Basically red and black pepper in a spray or as granules that are safe in flowerbeds, pathways and lawns, and claims to last 30 days, although in the Pacific Northwest I think it lasts about 3 weeks before the squirrels are climbing back up the bird feeder poles. I used the granules to stop my dog from digging when she was a puppy, sprinkled it in the hole she had dug and when she went back to it, she got a small taste and never dug there again. Also have sprinkled it on top of the garbage in the kitchen and although my dog had turned the garbage can over, no garbage was eaten or strewn about the kitchen. I also use the spray on the birdfeeder poles and the top and sides of the feeders. It deters squirrels from climbing up the birdfeeder poles. (It does not bother the birds if they ingest it, they have no taste buds and cannot taste the pepper) It is a natural deterrent, not a poison. It can be pricey, $15-$30 depending on what size and formula you get. The reviews on it are very mixed, so I would buy a smaller size to see if it is effective for you. It works well for me, even with the rain here.