There is nothing worse than opening up your dryer and seeing crayon stains all over your clothes. Cleaning the stains off the clothes is only half the battle, cleaning the crayon out of the dryer can be daunting as well. This is a guide about cleaning crayon out of your dryer.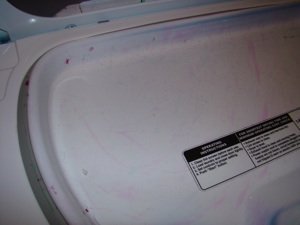 By Amanda 1
Okay I've just experienced the crayon in the dryer and tried a few of the ones mentioned, but I remembered we just brought a product called Spray Nine. It is for cleaning marina items (environmentally friendly) and does a great job. Well, it did one heck of job cleaning the inside of dryer without having to worry about the enamel being ruined or anything else. Terrific :) Remove all the crayon and even marks that were there from something else.
By Geri from Jax Beach, FL
We have now joined the ranks of people with the dreaded problem of removing melted crayon from the clothes dryer. After my brief crying spell, we were able to devise a removal plan based on other people's suggestions on ThriftyFun.
Here are the steps we used to remove the crayon:
Run the dryer for 15 minutes to heat up the crayon.
Sprinkle Comet on a wet sponge and gently rub the crayon spots. (Rubbing to hard will damage the enamel coating!)
A toothbrush dipping into a comet and water paste worked well for the cracks and crevices. (It is important to clean the crevices so that crayon wax doesn't seep out when running future loads of laundry!)
Once you have removed the crayon with the Comet use a damp rag to wipe out the Comet and crayon residue.
If there is still crayon left after doing this, run the dryer again for 15 minutes and repeat the above cleaning process until all the wax has been removed...DO NOT run the dryer with any cleaner still inside!
Finally, to "test" whether it is completely clean, run a few clean white rags through a drying cycle and inspect them for crayon marks! If there aren't any you loads of good clothes should be safe!
I have included some before and after pictures of my dryer...to give you the hope and encouragement you might need to tackle your disaster! Good Luck!
Laurel and Lewis from Port Orchard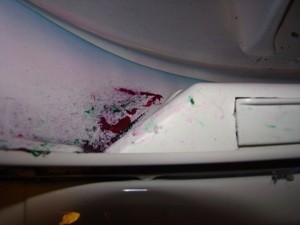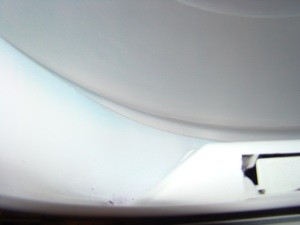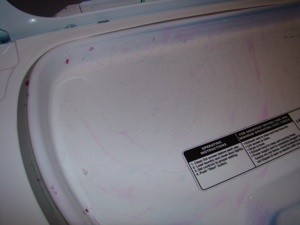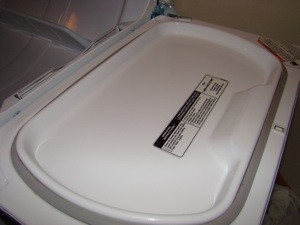 Crayons can leave a very hard thing to clean up, unless, you have WD-40 on hand. All you have to do is spray a little on and it melts the crayon so all you have to do is wipe off! It also works well on your childs artwork on walls or anything eles.
I was a daycare provider many years ago and found this is the best for crayon removal. Then just use a good cleaner like 409 or windex to cut the oils from the WD40, Super easy and no scrubbing!
By Teresa from Lynnwood, WA
How do you remove crayon from clothes and the inside of a dryer?

By Mother of 9 from Pensacola, FL
---
Most Recent Answer
Soft Scrub works well. Just a bit on a sponge scrubs it off easily. Rinse and sponge periodically and reapply more soft scrub until initial coat is up. Follow with a rinsed slightly damp sponge to make it easy to wipe up remaining film with an old towel.
Source: Other tips from website led me to understand that a grainy cleaner works best, and it did.
By Mack Daddy from Gainesville, VA